2019 National Day of Racial Healing
On Jan. 22, celebrate our common humanity and take action toward a more just and equitable world. 
ALA will join the W.K. Kellogg Foundation and organizations across the country in observing the 2019 National Day of Racial Healing on Tuesday, Jan. 22. On that day, thousands will celebrate our common humanity and take collective action toward a more just and equitable world. (Read the proclamation by ALA President Loida Garcia-Febo.)
In commemoration, ALA invites library workers and others to: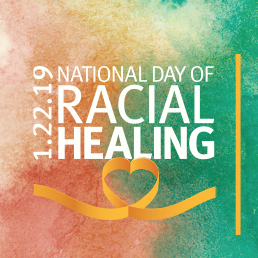 Get patrons and staff thinking about race and equality
Offer reading recommendations, programming and displays about race and equality and share messages of solidarity at your library. To start, visit our compilation of recommended reading lists on race and equality for all ages and reading levels.
Support the movement on social media
Join the conversation on social media by posting images and comments using the hashtags #LibrariesRespond and #HowWeHeal. You could create a short video addressing why racial healing is important to you, or see below for several sample tweets to share.
SAMPLE TWEET 1: The 3rd annual National Day of Racial Healing honors our common humanity and creates space to celebrate the distinct differences that make our community vibrant. [LIBRARY] is proud to be part of #NDOHR today! @WK_Kellogg_Fdn @ALALibrary #HowWeHeal
 
SAMPLE TWEET 2: On this National Day of Racial Healing, read books to your kids that teach kindness, unity, and peace. Check out a list of recommended reading from @ALALibrary. http://www.ilovelibraries.org/librariestransform/library-not-just-resource-its-community @WK_Kellogg_Fdn #HowWeHeal
 
SAMPLE TWEET 3: On this National Day of Racial Healing — as every day — [LIBRARY] stands against racism. Let's celebrate the diverse individuals that make [CITY/COMMUNITY] unique and fight together for a more just and equitable world. @WK_Kellogg_Fdn @ALALibrary #HowWeHeal
Host a book discussion
Convene a book discussion focused on themes of race, identity and healing. Download ready-to-use discussion questions for books including Ta-Nehisi Coates' "Between the World and Me" and Elizabeth Acevedo's "the Poet X," available for free through ALA's Great Stories Club.
Download a free sign
Print and post a sign at your library or your home to show your support.
Visit the National Day of Racial Healing website or the #LibrariesRespond website for more ideas and ways to participate.
Conceived in 2016 through a collaborative effort of more than 550 U.S. leaders, the National Day of Racial Healing is a time to reinforce and honor our common humanity while celebrating the district differences that make our communities vibrant; acknowledge the deep racial divisions that exist in America and must be overcome and healed; and commit to engaging people from all racial and ethnic groups in genuine efforts to increase understanding, communication, caring and respect for one another.
The celebration is a part of the Kellogg Foundation's Truth, Racial Healing & Transformation (TRHT) effort, a national and community-based process to plan for and bring about transformational and sustainable change and to address the historic and contemporary effects of racism.
ALA is one of 100 voluntary National Partner Organizations in the Kellogg Foundation's TRHT efforts, along with 44 scholars, that participated in the 2016 TRHT design phase. More information is online at http://healourcommunities.org/.
Recently, ALA announced 70 libraries that will participate in the TRHT Great Stories Club, a reading and discussion program that will engage underserved teens through literature and racial healing work. The selected books encourage participants to look beneath the surface of racism in America to see how the past is alive in the present, and explore the power of young people taking a stand against racism and other injustices to make the world a better place. The program is supported from a grant from the Kellogg Foundation.
Date / Time
Wednesday, January 16, 2019 - 11:00