Library Designs Doll to Celebrate Community
A librarian and her patrons created a doll celebrating their community's Indian American population.
Since January 2015, the Allegheny County (Pa.) Library Association has allowed children to check out American Girl dolls, along with educational pamphlets about the time period they represent. The dolls come with clothes, hairbrushes, books, a carrying case and a journal where users can write about their experiences with the dolls.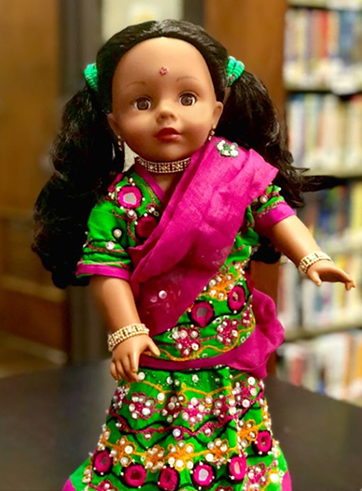 The South Fayette Township Library offers four dolls: Julie, a white girl representing the 1970s; Josefina, a Mexican girl from 1824; Melody, an African American girl representing the 1960s; and Samantha, a white girl representing the Edwardian era. While they are popular, Library and Youth Service Coordinator Nicole Harding has struggled with the fact that the American Girl company did not offer a doll that represented a large part of her community: Indian Americans.
Creating the doll with input from the community
Harding contacted American Girl to see if they had plans to offer a doll from India, but received an email reply that the company doesn't take suggestions from the public. So in spring 2017, she set out to create her own doll that would represent the children of her community. She found an 18-inch Madame Alexander doll with the appropriate skin tone. In collaboration with families in her community, she named the doll Sundari, pronounced "soon-dah-ree," which means "beautiful" in Hindi, and got to work creating its attire and backstory.
One of the patrons, Kavitha Niranjan, offered to purchase fabric during her next trip to India and brought back material for a sari for Sundari as well as a toddler's outfit consisting of a choli, lahenga and dupatta. Other community members provided hair ties and bangles, and another placed a bindi, a small decorative dot worn on the forehead, on the doll.
"Each step of the way, I have checked in with as many of the women of our Indian dispora as I could, to make sure that Sundari was as authentic as possible," Harding says.
Sundari's story
Niranjan helped Harding draft a fictional, yet realistic, backstory, for Sundari based on Niranjan's own childhood. According to the story, Sundari is 7 years old with a mother named Prema and a father named Nagaraj. She's the youngest child in her family and has an older brother and sister, a dog and a parrot.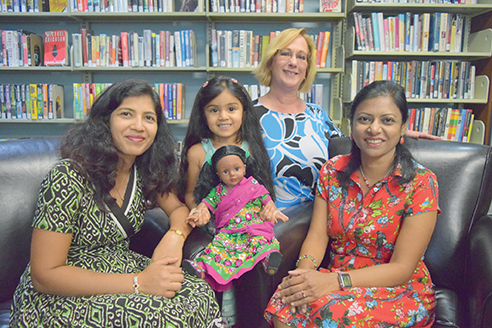 The story follows Sundari through a normal day, from waking up and brushing her teeth to listening to stories by her grandparents at night. Readers learn about how Sundari creates Hindi art called Rangoli. She enjoys hobbies, such as picking flowers to put in her hair, and she spends time in her place of mediation and spiritual worship, called God's Room, also known as Pooja, where she draws Rangoli and prays to different gods and goddesses.
Available for check-out
A print-out of the story accompanies Sundari when a child checks her out from the library. Patrons also get a journal that encourages them to share their stories about India. As more patrons check out the doll and share their stories, more will be added to Sundari's story. Sundari's case also comes with a picture book of the ancient Indian epic poem, "Ramayana."
While Sundari is still undergoing some changes — there is additional jewelry to be added, and her sari is a work in progress — the doll started circulating October 2018 and is now available to be checked out for one week at a time. There is already a wait list. One of the children on the wait list, Anvi Gupta, said she was excited to bring Sundari home so she could read to her and comb her hair.
Read more about Sundari in South Fayette Township Library's magazine, South Fayette Connect.
Date / Time
Monday, November 5, 2018 - 08:45
Job Functions
Resources and Program Starters
Audience
Adult
Children / Family
College Students
Community Members
Tweens and Teens