Hosting a Drag Queen Story Hour
A library director shares his experience hosting the popular — and controversial — storytime event.
Port Jefferson (N.Y.) Free Library recently hosted its first Drag Queen Story Hour, an all-ages story time in which a drag queen reads stories with messages of love and acceptance. These events — many organized by the nonprofit Drag Queen Story Hour — have been popping up in libraries, schools, summer camps and community spaces, attracting the attention of news outlets like USA Today, Huffington Post and American Libraries.
What does hosting a Drag Queen Story Hour entail? Port Jefferson Library Director Thomas Donlon shares his experience hosting the event, from finding a drag queen, promoting the event, handling backlash and receiving community feedback.
Programming Librarian: How did you get involved with Drag Queen Story Hour?
Thomas Donlon: A patron brought it to our attention back in the spring. She thought it would work here, so we looked into it. We reached out to the nonprofit group Drag Queen Story Hour because we wanted a performer with experience doing story times, something the nonprofit promises. We wanted the event to be about diversity, acceptance and tolerance, and we wanted to stay away from sexuality and gender questions, which we felt wouldn't be age-appropriate for everyone in the room. We set the criteria, and they picked the performer — who ended up being fantastic.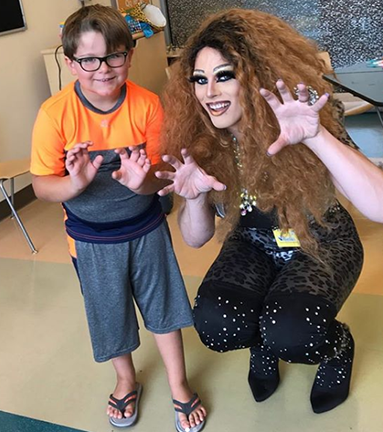 It was important to us that the event be patron-driven. We were thinking about the public's reaction the whole time. As we were working with the nonprofit, we were constantly asking patrons: "Hey, we're thinking about doing this kind of event, would you be interested? Would you be opposed?" I'd estimate that 90 percent of the people supported it, so we ran with it. Unfortunately, it did make the news, and some people who were very much opposed, who generally don't use this library, came out to complain about the program.
PL: That must have been difficult. We'll talk more about the opposition in a minute. First, how did you promote the event?
TD: We handled it like any other story time: We put it in our newsletter and posted on Facebook about two weeks before the event. We also have TVs in the library that advertise our programs, and the Drag Queen Story Hour was on rotation for a little bit, as well as on a display of the month's programs by the front door.
PL: Tell us about the event itself.
TD: It was designed for kids ages 4 to 8. The room was a basic story time set-up. We had tables in the back set up for the craft, which was to make a star wand, and then we had an open floor in front, and the performer had a chair. The children's librarian introduced Ms. Sunbeam (the performer), and it was short and sweet, "Everyone welcome Ms. Sunbeam!" We didn't give an intro or go into any details. We didn't name the books beforehand and just let the performer do her thing! We chose three books: "It's Okay to Be Different" by Todd Parr, "A Family Is a Family Is a Family" by Sarah O'Leary, and "Pete the Cat, I Love My White Shoes" by Eric Wittman.
PL: What was the cost to the library?
TD: Around $500. A little pricier than a normal story time, but not out of the pale.
PL: How many people showed up?
TD: It was our largest turnout ever for story time. We capped registration at 35, but we hit that after four days, so we made a wait list. And people on the wait list showed up. Officially we had about 50 families signed up; if one child signs up you have to assume they are bringing one parent, sometimes two parents, so you have to estimate a little bit. The room was packed, and it has a 100-person capacity.
PL: Let's talk more about the complaints. How did they start?
TD: We didn't get any backlash when we put the event in our newsletter, but when we posted on Facebook we started getting some complaints. Then it was picked up by Breibart News and a couple other conservative groups who oppose these programs.
There were three types of responses. One was over-the-top negative, people calling us pedophiles and child abusers. Then there was a middle-road response; these were people who didn't really agree with the program, but once I explained the idea to them — that we were not introducing topics of gender or sexuality, that it was a program about differences — they usually came to the conclusion that they wouldn't come to the program, but they understood other people would. Then the third response were people who just loved the program and were really supportive.
On the day of the story time, some people did protest outside, but they never came into the event itself. For the most part, it was civil. They were upset about something and voiced their concern. I have no problem with anyone objecting to what we do as long as they are civil.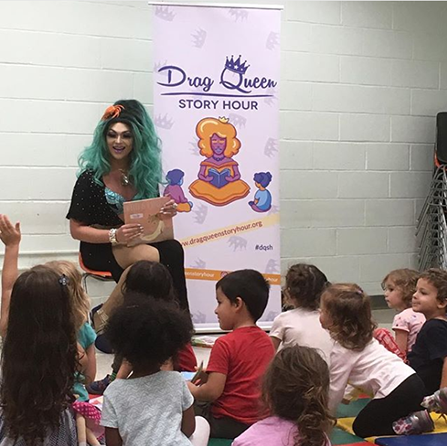 PL: How did you go about preparing for and handling the backlash?
TD: We wanted to make sure, first, that the people coming into the program didn't feel threatened or violated. At the same time the people protesting — they have a right to protest. We couldn't disrupt library services; we needed to make sure the people coming to get DVDs or to print boarding passes, or whatever reason they were here, still had access.
So when we heard there would be protesters, we reached out to our local constables and the police department and said, "We think this is going to happen, we just want everything to be civil." We put more security guards on duty to make sure everything went well, and we let the protesters do their thing.
When the protesters first showed up, we didn't even let the police know they were here because everything was fine, but then they started getting a little snippy with our program attendees, so we called the police and they sent representatives. Hats off to them for keeping everything civil and treating everyone with respect. There were 20 or 30 protesters. Some of them had signs that said things like "no indoctrination at taxpayers expense" and "children too young to make cognitive decision, stop indoctrination." However, once the program was over, the performer left, the protesters left, and we went about our day.
PL: Do you think you'll hold another Drag Queen Story Hour?
TD: We never say never. We currently have no plans to do another one. If we feel that we have a lot of support, we might, but as of right now no one has asked us to do it again. We'd have to really take into consideration the backlash we had. However, a lot of participants thought it was a great program, and said their kids already had questions after the event. Many community members thought it was great to see the library reaching out to groups that might not have been represented before.
Date / Time
Friday, October 26, 2018 - 11:30
Job Functions
Resources and Program Starters