Copyright Tips: Storytimes
Is storytelling an infringement of copyright?
Librarians generally don't ask if storytelling is an infringement of copyright. Don't worry — it isn't. But have you ever considered why? Telling a story aloud to a group of people technically is a public performance, one of the exclusive rights of the rights holder. Rights holder could sue libraries for an unauthorized public performance, but thankfully, they don't. Why?
The benefit of storytelling to the public far outweighs the interests of the rights holder to collect a fee. Storytelling is a fair use. Digging down a bit deeper, let's explain why this is so.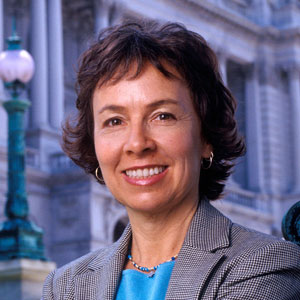 The protections of fair use
Fair use is an exception to the copyright law that allows for the use of a protected work without prior authorization. It is based on the real circumstances that are occurring at the time. The four factors of fair use provide a method for determining if a use is fair when we ask the "why" question.
•   The first factor of fair use: What is the purpose of the use of an exclusive right of copyright (public performance = storytelling)? Telling a story to children helps them develop important literacy skills, such as reading. Reading is a socially beneficial activity because it advances learning. Storytelling is a non-for-profit, educational activity. No money will be made with storytelling.
•   The second factor of fair use: What is the nature of the work (storybook) that we are reading aloud? It is a book specifically made for children. Often it includes a story that might entertain a youngster. Often it includes illustrations to enhance the reading experience. It is a creative work that the library purchased potentially for storytelling.
•   The third factor of fair use: What amount of the work do we plan to use? We plan to read the entire book, from beginning to end. In general, using more of a work is not as fair as using smaller portion of the work. But story books are written to tell a story, and storytelling requires reading the entire work. Using an entire work can be a sign of an infringing use, but for this situation, it is only way to achieve our purpose.
•   The fourth factor of fair use: If we use this work, will the market for the work be harmed now or in the future? No, because storytelling makes the work known to the children and their parents. In a way, it is marketing for the book, and if anything, will enhance sales of the work or bring attention to the author.
After examining and considering these factors, storytelling is fair use. No need for prior permission or a licensing fee. Take note as well that our own behavior influences our understanding of the law. Storytelling is a norm, a traditional library service, an accepted way of doing things. It would seem silly if it were not lawful.
Where you might be breaking the law
Storytellers often augment the reading experience by adding value-added elements — story boards, puppets, enlargements of book covers or other illustrations, even painted murals with story book characters on the library wall. These enhancements often implicate the copyright law. For example, showing a book cover enlargement is a reproduction and a public display. Do a fair use analysis for each right of the copyright you may be using.
Going digital with storytime? Because perfect copies of digital formats are easily copied and distributed by others, a fair use analysis can dramatically change. If attempts are made to ensure that copies will not easily "escape" the library building, all the better. Imagine that a librarian plans to make a recording of a storytelling performance to post on the library website, complete with all of the illustrations from the book. Is there a need to post each illustration on the web page? The posted illustrations can be easily copied by anyone coming to your library website and potentially redistributed. Conduct a fair use analysis and discover that this use seems to run afoul. Consider tailoring back the use by eliminating the illustrations and providing just a book cover image instead.
What about making an audio file of reading for a book that is already available in the market as an audiobook? Conduct a fair use analysis. Consider if you are making the recording so you do not have to buy the audiobook. There is clear harm to the market, which likely overrides the social benefit of the use. But it may be necessary to have a make an audio recording in different way — perhaps reading slowly and repeating sentences or words — to meet a special need of students with disabilities or for students learning English as second language. Then this use looks fair, especially if the audio is only made available to students with specific needs.
One should also assess the risk involved when using an exclusive right of copyright. In many instances (especially in the non-profit, educational environment), certain uses may be "tolerated" by the rights holder. They do not care about storytelling, they do not want to sue the library, and they have bigger fish to fry. Be comfortable with fair use and practice with colleagues. You may discover that copyright law is not that complex at all. It has a lot to do with common sense.
Date / Time
Tuesday, December 6, 2011 - 13:00