Bring Generations Together through Storytelling
O'Hara Elementary School in suburban Pittsburgh participated in the "grandbuddies" program in 2011.
The classroom was filled with forty-five excited third graders. They were in place. The teachers were in place. The storyteller had arrived. But where were the guests of honor? And then twenty older adults entered, some walking briskly, some in wheelchairs, all of them smiling. The children's "grandbuddies," the guests of honor, had arrived. O'Hara Elementary School in suburban Pittsburgh participated in the "grandbuddies" program during the 2011–2012 school year, and this was the culmination of the program.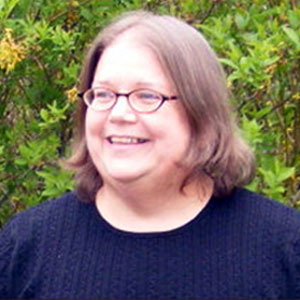 I was invited to tell stories to the group when the teachers running the program were looking for a commonality—something that both groups could share equally. Folktales became that bridge. As the storyteller, my job was to spend an hour telling traditional folktales to the group. The folktales connected the lives and experiences of both groups. As often happens with storytelling, one story leads to another, and children and grandbuddies were soon swapping both real-life and imaginary tales.
What Is Intergenerational Storytelling?
Storytelling is a natural intergenerational activity. Long before the invention of writing, people told stories—all kinds of stories to all ages. The concept of an older generation specifically telling stories to children is relatively recent, and shows up in literature from the nineteenth century on.
Libraries have a broad range of possible intergenerational programs to choose from. The ever-popular "family program" is just an intergenerational program in disguise, with older adults, other adults, and children all in the audience at the same time. At my library's annual Three Rivers Storytelling Festival, crowds range over all ages, from child to older adult. A good storyteller appeals to all ages, with each age getting something different from the story.
In addition to regular family programs, specific intergenerational programs run the gamut from adults telling stories to children, to children telling stories to adults, and from adults teaching children to tell stories, to both groups learning to tell stories together.
How Do You Create an Intergenerational Storytelling Program?
First, as for most programs, you need to determine just what kind of program you want to do. A storytelling concert for the whole family is the simplest to put together, so we will start there. The critical decision is choosing one or more storytellers for the program. Three major factors affect the choice of storyteller—availability, budget, and storytelling skills.
Availability
Do you have any experienced storytellers in your service area? Children's librarians are often trained in storytelling as part of their MLS program. Professional storytellers do this kind of program for a living, but you may also have someone on staff that you can call on. You may have a library patron who is a skilled storyteller. A note of caution: Don't take the potential teller's word for their storytelling ability. Get several recommendations or, better yet, see them in action for yourself. They may be good at what they do, but is what they do appropriate for your program?
Not sure if there are any storytellers in your area? A good source of information is the National Storytelling Network. They have a directory of storytellers, but they also have a "Links to Resources" section that includes the names of storytelling guilds around the country. Many of the guilds list their members, both pro and amateur. And don't forget to check with other libraries and schools in your area for their recommendations.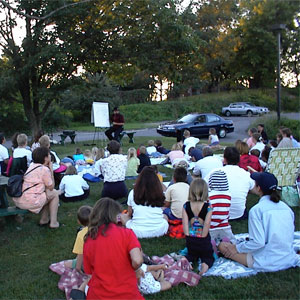 Budget
If you have a programming budget (or even if you don't), you may be able to hire a professional storyteller. Prices vary greatly depending on the part of the country and the skill of the teller. A journeyman teller may charge from $100 to $500 for a basic program. Professional storytellers have to pay bills, too; no matter how generous they are, they cannot do pro bono work all of the time. While they may only be at your library for an hour, they have put hundreds of hours of work in finding, learning, and polishing stories. That said, if the teller seems out of your budget range, say so. It never hurts to negotiate.
Skills
Amateur or professional, not all storytellers can work with a wide age range. Some are really only comfortable telling to kids, others stick to adult audiences. Whether you hire a pro, or you find one or more good volunteers, ask if they have told for other groups like yours. Ask for references—either in person or by checking the teller's website.
Okay, I Have a Storyteller—What's Next?
Marketing
We all deal with marketing our programs. A good audience for a program justifies the expense and generally is a lot more fun than little or no audience. In addition to your regular program marketing, you may want to send information (flyers or emails usually) to churches—a great outlet for family programming for all ages. Popular phrases to use instead of "intergenerational" include "for all ages," "for the whole family," and "for kids 6 to 106."
Set Up
There is often a tendency to want to seat children on the floor in front of the rest of the audience. Don't do it! They will be better behaved and more focused on the program if they are with adults.
Instead of the usual auditorium set up, with the stage at one of the narrow ends of the room, consider turning the audience 90 degrees to place the stage at one of the long walls of the room. Storytelling is a very personal program, and the closer an audience is to the teller, the better the connection between them. If you happen to have a room with adjustable lighting, keep the audience lit at least a bit. Storytellers need to see their audience to do their best work.
Before introducing your performer, remind the audience to turn off sound on their phones. Also let the adults know that if a child becomes restless they can just step out of the room with them for a bit, and return when the child settles down. I usually follow that with a comment to the kids, asking them to please take their parents out of the room for a bit if the parents get restless. It reinforces the reminder to adults to set a good example gently.
One final tip for set-up: If you expect a group larger than twenty or thirty, consider using sound amplification. Most professional tellers have strong voices, but even then, older adults sometimes have difficulty hearing clearly. I use a Danelectro Honeytone N-10 mini-amp. It weighs less than a pound, is about 6"x6"x3" and costs under $25. It is battery operated, but you can also get a cord to plug it into an outlet separately for about $10. (We use this for most of our outdoor programs, too.)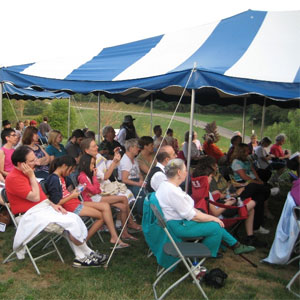 How Else Can I Get Generations Together through Storytelling?
Beside basic storytelling concerts, one of the easiest and most popular ways to promote intergenerational storytelling is to encourage family stories. Keeping family stories alive can involve more than just two generations. This is an opportunity to share family memories, and participants do not need to be polished storytellers. Libraries in New York, Colorado, and other locations use intergenerational storytelling as a way to acknowledge and document the immigrant experience. Participants do not need to learn anything new—they just need a little help putting it all together.
Check out the the Further Reading section below for a list of books and websites, including some very good, very easy-to-use guides to developing family stories, to help you craft your own intergenerational storytelling program.
Further Reading
Books
Chasse, Emily. Telling Tales: A Guidebook and DVD. New York: Neal-Schuman, 2009.
Davis, Donald. Telling Your Own Stories: For Family and Classroom Storytelling, Public Speaking and Personal Journaling. Little Rock: August House, 1993.
MacDonald, Margaret Read. The Parent's Guide to Storytelling: How to Make up New Stories and Retell Old Favorites. Little Rock: August House, 2001.
Moore, Robin. Creating a Family Storytelling Tradition. Little Rock: August House, 1999.
Reid, Robert. Family Storytime: Twenty-four Creative Programs for All Ages. Chicago: American Library Association, 1999.
Date / Time
Tuesday, October 2, 2012 - 16:15
Audience
Children / Family
Older Adults / Seniors