Intergenerational Dessert and Discussion
Some things lend themselves well to bridging the generational divide, and what better than a good novel?
Editor's note: We're continuing with the food theme for the upcoming Culinary Arts Month with this great blog post on an intergenerational book discussion group at the Burnham Memorial Library in Colchester, Vermont.
As most YA librarians would agree, the past couple of decades have been the Era of the Young Adult Novel; that is, we have seen a surge in innovative, edgy, thought-provoking literature aimed specifically at the 12-to-18 set. It is no coincidence that the teenaged patrons have followed, dropping in to snap up that latest hot read and, if we do it right, returning to join the Teen Advisory Board or sample one of our YA program offerings. At our library, most of these are only for teenaged participants: our film crew, YA writing group, and most of our summer arts workshops work better when they are teen-focused. However, some things lend themselves well to bridging the generational divide, and what better than a good novel?
The idea began on our now-defunct bookmobile, when entire families would board and gravitate toward their respective shelf areas. However, as our YA literature collection grew, it seemed to beckon to the adults, and soon they were standing beside their adolescent offspring or neighbors, asking what was good; was there anything they would recommend? When I moved to the Young Adult room at the main branch, I couldn't help but notice how many parents would sidle in from the Children's section, looking a bit sheepish, hesitantly plucking at the latest volume of vampire lit or dark romance with a sidelong glance at me, making a remark like, "I know I should say this is for my teenaged kid, but…" We'd have a little talk about how YA books tended to have a strong, intense story with vivid characters and plenty of action, without the need to toss in gobs of philosophical rumination or polysyllabic brain-teasers; reading can be a powerful escape, and yes, adults are allowed to read—and enjoy—"teen" books. And my teenaged friends, when looking for something good, might not know about some of the "old-school" stuff that entertained us when we were their age. Then there were the parent-teen duos who wanted to read something together, and did we have multiple copies? So the monthly Intergenerational Dessert Discussion was born.
What do we read? The Vermont Department of Libraries creates annual lists of the best in recent youth literature, chosen by appointed committees of educators and librarians. The Red Clover Committee highlights excellent picture books for the preschool-to-third grade set, while the Dorothy Canfield Fisher (DFC) Committee chooses stellar books for students in grades four through eight; the Green Mountain Book Award (GMBA) Committee is for literature for grades nine through twelve. I choose discussion books from the "older" (grades 7 and up) DCF list and selections from GMBA, as well as the Vermont Reads book of the year and discussion group member requests. Initially, we purchased ten copies of each book, but with the Dessert Discussions in their fifth year of operation, it makes more economic sense to borrow the needed number of copies of the featured monthly book on interlibrary loan from the Department of Libraries' central book exhibit and from ever-generous libraries around the state (with a small state, a "stone soup" philosophy can really stretch a limited budget).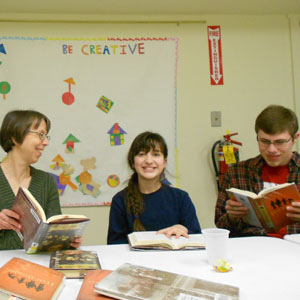 What do we do? We meet on the last Monday evening of each month, and, because, face it, food draws people, everyone brings a dessert or snack, often something referenced in the book (recently, when we read Kenneth Oppel's Half Brother, about a linguistics experiment with a chimpanzee that also has serious implications for the researchers' teenaged son, we had banana splits and chocolate "chimp" cookies, ha ha). We may end up with an odd assortment of foods and drinks, but this is part of the charm of the group and, with several adolescents in the room, none of it lasts long. I will often ask one of the frequent attendees if they will lead the discussion, offering talking points and prompts to the group. I try to decorate with related objects and books: for example, when we studied To Kill a Mockingbird last fall, I displayed books on the Civil Rights Movement and the Great Depression as well as Harper Lee's bio; there were carved soap dolls in a cigar box and a Lane cake on the table. We talk about everything: perspectives, motives, plot, characters and their potentially tragic flaws—you name it; the people attending are the ones who drive the conversation. It often becomes a larger discussion about human nature and current issues we face, both teens and adults. I keep a Dessert Discussion distribution list, and I send reminders, let everyone on the list know in advance what the next book will be and when it comes in. We also advertise in local papers and with flyers, and anyone in grade six through adulthood is invited to pick up a book and sign up for the discussion.
Who comes? Our group, averaging about eight to ten people at each discussion and evenly divided between adolescent and adult attendees, has ranged in age from eleven to mid-seventies. While we do have parents attending with their teenagers, adults and teens come independently as well. The group makeup varies with the time of year and what we're reading, and reactions to the commonly read book of the month have been passionate, both pro and con. I would advise anyone wanting to try this not to be afraid of vociferous debate. Anyone with a strong reaction to what they've read, and who cares enough to attend the discussion, will be an asset to the group. As long as people are respectful of one another and everyone gets to speak, it's a good thing. And yes, it's even a positive if one of the group members loathed the book; I've urged the critics to come and rant, to present the opposing viewpoint. After all, if everyone were required to feel just the same about a book, it would be called a book agreement, not a discussion. Literature should provoke passion and yes, even argument. Participants should feel free to speak up.
What else to say about this? I make an effort to keep it fun. Although my background is in secondary education, I remind myself that this isn't school, and book groups shouldn't feel like a test of how well you remember the details of the story; it's the bigger picture that's important, and this isn't for a grade. People get up and stretch, graze from the dessert table and refill their drinks, still talking casually like they're at a dinner party. Some people love to read favorite passages from the book, and we make time for that. We laugh a lot, making wisecracks about some of the characters we love to hate. We have a running joke about the library's "evil" ice cream scoop, which has become legend over the years (it refuses to release the ice cream, then suddenly flings it). If there's something the group wants to read together, I try my best to make it happen. I make sure there's variety in our selections: novels, graphic novels, books in verse, classics, popular lit; we do a little of everything. There are some months when most people are away and only a handful of members are able to come. I don't take it personally, and sometimes a small group discussion can be a great thing, especially for those who are nervous in larger group settings.
Will this work in your community? If you have the desire and the resources to get it started, it's a worthy thing to try. Although it's certainly easier to draw participation when your library is conveniently situated, don't let location stop you from giving it a go. Our library is at the far edge of town, away from the municipal offices and schools, and we have had the attendance to keep the group going; since we began, an elementary-aged book discussion group has been introduced by the Youth Services librarian and is thriving. And while I could go on about the importance of literature in developing adolescent intellect and culture and promoting lifelong learning in adults, which are foremost amongst our reasons for offering such library services and programs, my personal response to the question "Why have an intergenerational book group?" is this: It has been good for everyone who comes, including me. People of multiple ages and decided opinions have all read the same thing, and this is our forum to say our piece about it within a comfortable, safe, and social setting. It has made all of us look twice at a quote, a page, an entire book, and get something new from it this time around. It has forced us to step outside ourselves and look through someone else' eyes. I think we all leave the table understanding each other a bit better, a circumstance in which you can't help but bond with one another; as a group, we have indeed become a "we." And the desserts aren't bad, either. May you have the same experience.
Date / Time
Thursday, June 21, 2012 - 12:30