One Book, One Community Programs
The Chicago Public Library celebrates the 10th anniversary of One Book, One Chicago.
This fall, the Chicago Public Library (CPL) celebrates the tenth anniversary of one of its most popular programs, One Book, One Chicago. I have been with CPL working on this program for just over four years, and have learned more than I could ever share in one article. It's a rich, rewarding program, as much for me working on it as for readers who participate.
But first, a confession: I am not a librarian. I am a lurker in this world of the "Programming Librarian," and am, in fact, a programmer—an arts administrator—who happens to work at the library. At prior jobs I curated an enormous variety of public programming—from music performances to film series to public policy debates. I like to think that my background lends a unique angle to my job, to the library, and certainly to this forum for sharing ideas on creating programming. So forgive me for lurking, and thanks for letting me share my thoughts on how the city reads formula can work best in a library system, and in the larger community.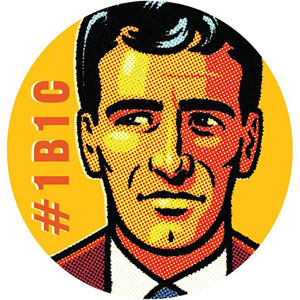 Why Read Together?
This is the first question that the public asks when they learn about a program like One Book, One Chicago, and certainly is a question we should ask ourselves. When I meet people who dispute the concept of a community reads, arguing that reading is a solitary act, I actually don't disagree with them. Of course it's satisfying to finish a book, then mull it over by oneself for an hour, an evening, a day, or whatever the time frame is before picking up the next book. Yet how many of us, after finishing a book, read up on the author or peruse articles we find through a Google search? Do these things make that novel last in our memories? Absolutely. And who does not want a great book to last? There are some books that leave you seeking more; for those books, the community reads provides the additional content, the programming, and the discussions that enhance the experience of a great book.
So, what enhances a great book? Discussion with friends, neighbors, or fellow library patrons is an obvious answer, and rightly so is the foundation for a lot of community reads programs in the country and around the world. However, here in Chicago we get many people participating in the program in a more anonymous way. These are the people who attend our public programs or use the many things offered in our reading guides on their own, but never attend a discussion. I feel a responsibility to these people when creating a program around a book. How can their reading experience of this great work of literature be enhanced?
My philosophy of programming is rather liberal. If your budget allows, the author event or staged reading are obvious choices. However, I'd encourage programmers to think beyond these, and look for more tangential programming as well. I frequently look to the themes of a book and try to think very creatively about how a program, rather than a discussion, can highlight those themes. One of the best books to work with recently was Tom Wolfe's The Right Stuff.  Not only did we talk about the book from an historical perspective—a panel on how the space program defined our country in the mid-twentieth century—but we offered a discussion of the new journalism with writers, filmmakers, radio hosts, and more who offered an interesting perspective on storytelling and the media from the past to the present. Here were two vastly different programs inspired by the same book.
CPL is incredibly lucky to have a very successful public/private partnership through the Chicago Public Library Foundation that allows us to offer such programming. However, creating an array of programs does not always require a lot of funding. I'd guarantee that there are great thinkers in every community that can add to a program. The community read should, after all, point back to the community. So, look at the artists, writers, journalists, and many more in the community whose work can reflect back on themes of the book.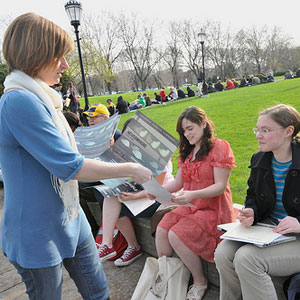 Partners
There is a rich cultural world out there. You don't need to be in a large city with a slew of institutions with which to partner on creating programming. All that's needed is an intellectually curious community. You can find small groups and even individuals wanting to highlight their work alongside the themes of a book. Can't find a theater troupe to do a staged reading, or can't afford to pay actors? Create a way for people to sign up to attend a mass public reading, each person reading a section and then "passing the hat" to their neighbor. There was recently a day-long reading, done mostly by regular citizens, of Moby Dick in Portland. It started in a book store and ended in someone's living room, but it was an event, and it was exciting. The point is, involve your community, whether that means tying your book selection into an initiative of another institution in town, or rallying individuals around a common event.
Book Selection
Programming is very important to getting readers interested in a book selection, but should not drive the selection of a book. There are innumerable factors that go into choosing a book, programming being one. Others are accessibility to a variety of people, how popular the book is (whether you want popularity or want to steer from it), and often simply the length of the book. For One Book, One Chicago we like to look at what we've already read, and what's been done elsewhere. We then veer from that slightly, so that the selection is something that perhaps people have heard of and want to read, but haven't yet. (We like that "aha!" reaction to a selection.) The story must be engaging and universally interesting and thought-provoking; and it absolutely must be well-written. We are, first and foremost, enthralled by the well-written sentence, the remarkable turn of phrase. A book that engages with its language or its storyline will get people talking. A great book will spur discourse on its story, its themes, and its style in a productive way that sheds light on our community and our times.
Invite All Opinions … Even the Dissenting Ones
As I said earlier, one need not participate in a formal group discussion in order to participate in a One Book program. However, there is nothing more heartening than to overhear two readers engage in an impromptu discussion of a book. This proof that a selected book is inspiring discussion is incredibly satisfying. It needs to be pointed out, however, that discussion is the goal, and not praise for the book selection. For someone to say that they did not care for a particular book selection is not a critique of your One Book program. That person is, after all, at a discussion or a program, or filling out a survey, and therefore participating in your program, still part of the community discussion. No book will please everyone, nor should it. (What a boring world that would be.)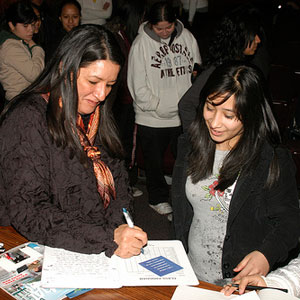 Physical vs. Virtual
I write this article just after the announcement that Borders is shutting down. No one is more aware of the changing times for readers, book sellers, publishers, and librarians than we are. Downloading books and learning about new books from forums like Goodreads or Facebook, rather than your local book review section, is the norm these days. Before we judge life online as something that is pulling people away from their neighbors, let's consider the opposite. I recently read a blog post by someone who follows One Book, One Chicago on Twitter who wrote that Twitter "makes it okay to talk to strangers." Last summer, a gentleman named Jeff Howe started a Twitter book discussion of Neil Gaiman's American Gods and has continued with a book each month this summer with the backing of The Atlantic. Taking a cue from that effort, we too are looking at the potential for the One Book format in the virtual world, and this fall One Book, One Chicago will offer a discussion, via Twitter, of its fall 2011 One Book, One Chicago selection. Ours will have a slightly different schedule. People who want to be led in discussion by a librarian, albeit virtually, simply have to follow on Twitter (@1book1chicago), see what section is being discussed at that time, and follow along and participate.
We also, for the first time ever, have invited readers to guess what the fall 2011 tenth anniversary selection might be, via a virtual teaser campaign. We created advertising asking "Who Am I?" next to an image of the main character from our fall book and passed out buttons with a searchable hash tag—#1b1c—inviting people to follow us on Twitter and guess. People can also go to Facebook or our Tumblr blog and see which book we are hinting at. The buttons are going fast, people are having a lot of fun, and it's fascinating to see people online interacting this way. There is a thrill in being part of something, whether it's virtually or in person at your library.
Creating programming for this coming fall has, as it always is, an incredibly fun challenge. We'll be announcing the book and our program line-up some time in the next two weeks. In the meantime, Programming Librarians, check in with us online (via Tumblr, Twitter, Facebook, and Flickr) and play the guessing game!
Editor's Note: Want to learn more about community reading programs? Check out the One Book, One Community guide (PDF) from the ALA Public Programs Office.
Date / Time
Thursday, July 28, 2011 - 17:15
Audience
Adult
Older Adults / Seniors