A Community Banned Books Marathon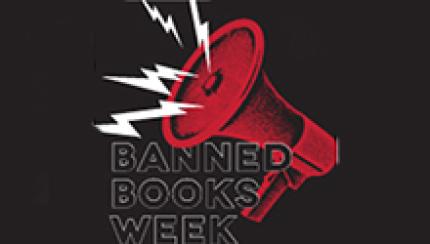 Alameda Free Library offers tips for coordinating a community banned books reading marathon.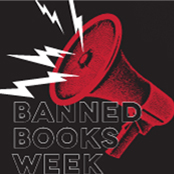 "One sister for sale! One sister for sale! One crying and spying young sister for sale!"
The words of Shel Silverstein's poem rang through the library last September during our Community Banned Books Reading Marathon at the Alameda Free Library's Main Branch. There were lots of smiles from people standing around and at least one loud "harrumph" from someone at the upstairs computers.
Each year, from the start of Banned Books Week (Sept. 21 to 27, 2014) through the 50 hours (seven days) that the library is open, there is someone at the Main Library reading out loud from a banned book. Readers are situated on the first-floor atrium-cum-stairwell, where the sound is good and they are visible to everyone who comes through the front doors. We have readers as young as 10, family groups, literacy groups, amateur actors and local celebrities (mayor, fire chief, council members, etc.). Everyone reads for at least 30 minutes and may sign up to read multiple times per day and multiple days during the week.
For the past two years, our reading marathon has averaged nearly 100 readers. While just a few people stopped to listen to an entire reading, almost everyone who walked through the door stopped for a couple moments — if only to try to figure out what was going on.
The program is successful and a lot of fun; however, it takes serious up-front preparation and daily monitoring. If you want to start a BBW Marathon at your library, there are definitely some things to put on your to-do list.
Prepare way in advance.
•   Use the Banned Books Resource Guide from ALA and check the library catalog to see what banned books you already have on hand. Order copies of titles you don't own to make sure you have as many of the banned books as possible for readers to choose from.
•   Decide where in your library you will hold the event, what facilities you will need, and who else will need to be involved. Once these things have been decided, block the time on the library event calendar. Also, put it on your library board's agenda so they will know about it.
•   As with so much that we do, marketing is key, and solid marketing needs lots of lead time. Community leaders often book events six months to a year in advance. A combination invitation/explanation of the event/save-the-date letter should go out to your list of "starred attraction readers" as soon as you have firmed the date and times. Then on with putting out the public notices. These go out about three months in advance, and sign-ups are allowed immediately after.
•   Put a several "ringers" on your reader list. Everybody reads out loud differently. Some are very shy or concerned about being noisy in the library. Some read very quickly or slowly or have less than perfect diction. It's nice to have a few readers sprinkled throughout the week who aren't afraid to speak out and speak clearly. The reader of the Silverstein poem mentioned above actually garnered our most vociferous complaint last year. But that's the whole idea behind reading out loud; everyone gets to participate, even the opposition.
Be prepared for complaints.
•   Depending on your location, you may have to set up some extra "quiet areas" for those who just can't handle the extra noise. In our situation, the computers are right at the top of the stairwell, so there's no getting around the noise there, but we can open the computer lab or remind customers that they can frequent one of the branches during the marathon week. Put signs up well in advance, so customers can choose their best option.
•   Give staff training and talking points to use when addressing complaints. There are still a number of people who don't feel it is appropriate to read books that have been banned or challenged, especially in the library. "Let them explore that literature in their own home," is something we have heard each year. Staff members are your best ambassadors; let them take the lead in calming fears and providing information, but make sure they have the tools they need to do it.
Share the fun.
•   The week of the marathon can be very busy. Reminder calls are made the night before to the next day's readers. Readers are checked in as they show up. A good strategy would be to try to split the days or shifts between staff members.
•   Be ready for staff to fill in blank spots. Community members sign up with the intention of being there, but sometimes life intervenes and they can't make it. Have a number of staff on call to jump in and read at a moment's notice.
•   We always give certificates of appreciation to our readers and let them know that they are appreciated when they check in to read. If work allows, we often try to sit and listen to readers; it's always nice for them to have an audience.
•   Make it a competition between the city departments to see who can field the most readers.
Treats for the staff who read are always welcomed and, of, course, they get certificates, buttons and stickers too.
Date / Time
Tuesday, July 15, 2014 - 15:30
Job Functions
Resources and Program Starters
Audience
Adult
Children / Family
Older Adults / Seniors
Young Adult