Whoopi, Penguins Join Banned Books Read-Out
Banned Books Week celebrates its 30th anniversary with a virtual read-out of banned and challenged books.
Actress and comedian Whoopi Goldberg and the authors of the most challenged book in the United States—the story of male penguins raising a baby penguin—have joined the virtual read-out of banned and challenged books that is taking place on YouTube as part of the 30th annual Banned Books Week. People from all over the country are raising awareness of book censorship by posting videos of themselves reading from their favorite banned books.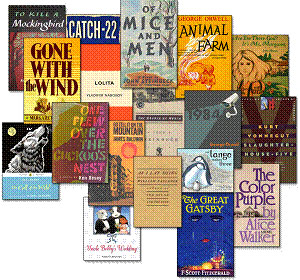 Whoopi reads a poem from the Shel Silverstein collection A Light in the Attic. Although beloved by parents and children everywhere, the book has been challenged many times: for its "dreary" message, "containing anti-parent material" and even for "encouraging children to break the dishes so they don't have to dry them."
Authors Justin Richardson and Peter Parnell read from And Tango Makes Three, their award-winning children's picture book, based on an actual incident, that tells the story of two male penguins who hatch an abandoned egg and parent the chick. Attacked for what critics purport to be a "homosexual story line," And Tango Makes Three was the most challenged book in the United States in 2006, 2007, 2008, and 2010.
The Whoopi and Tango videos are posted on the Banned Books Week website as well as on YouTube. Many authors whose books have been challenged are participating in the read-out, including Judy Blume, Lauren Myracle, Jay Asher, Chris Crutcher, Sarah Dessen, Ellen Hopkins, David Levithan, and Amy Sonnie. Other award-winning and highly acclaimed authors, such as Paolo Bacigalupi, William Joyce, A.S. King, Kirby Larson, Andrea Davis Pinkney, Karin Slaughter, Laini Taylor, Paul Volponi, and Sara Zarr, also have videos.
Anyone can join the virtual read-out by following the directions on the Banned Books Week website.
Held during the last week of September, Banned Books Week is the only national celebration of the freedom to read. It is sponsored by the American Library Association, the American Booksellers Foundation for Free Expression, the Association of American Publishers, the American Society of Journalists and Authors, the Comic Book Legal Defense Fund, the National Coalition Against Censorship, the National Association of College Stores, the National Council of Teachers of English, and PEN American Center. It is endorsed by the Center for the Book in the Library of Congress and Projected Censored.
Date / Time
Tuesday, September 27, 2011 - 04:15
Library Type
Academic / College
Public
School (K-12)
Special
Audience
Adult
Children / Family
Older Adults / Seniors
Young Adult