Arts & Culture on a Budget
Arts & Culture Coordinator Veronica Funk shares how she offers programming on a tight budget.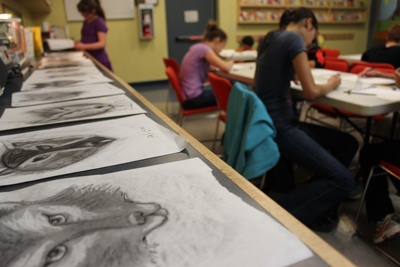 Located in Alberta, Canada, Airdrie is a community of 60,000 people, including many young families who are new to the area and in single-income households. While our community has demonstrated interest in arts and culture, several factors — such as a lack of exhibit space, budget cuts to school arts programming, and the high cost of many local cultural programs — often prevents residents from enjoying the arts.
As the cultural hub of our community, we at Airdrie Public Library realized we needed to make arts and cultural programs a focus. Our challenge? Doing it on a limited budget. Here are some ways my library has succeeded at incorporating arts programming on a shoestring.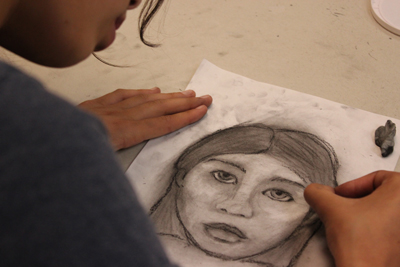 One of our successes has been creating a display wall where we could feature art throughout the year. This exhibit, which was launched several years ago, has allowed us to include visual arts as part of our standard programming. Our wall — a series of slatted panels — allows artwork to be hung at different heights without causing any damage to our walls, and it makes adjusting the hooks for new exhibit installations easy. Each slatwall panel is 4-by-8 feet, which costs approximately $215, with hooks ($3.75 each) that can hold up to 100 pounds. (Fortunately, a local sponsor provided funding for a slatwall, along with movable hooks and installation.) Working with the local arts community, we now hang six exhibits a year, which we are scheduling for three years in advance.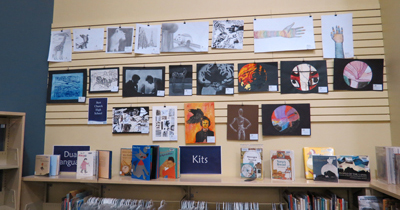 In the beginning, a local arts group volunteered their time to arrange and install these exhibits. However, they have since disbanded, so library staff has taken over the responsibility of arranging and installing the exhibits with the assistance of a volunteer. We spend approximately 6 to 10 staff hours per month on this, which includes writing articles about it for our website and local newspaper. This offering has been a huge hit within the community, evidenced by our wait list, which already stretches into 2018.
Why so much enthusiasm? It is partially due to the fact that we promote the artists and offer them free membership. (Public libraries in Alberta sometimes have a nominal library card fee.) We also send them a handwritten "thank you" and a library gift of their choosing (e.g., travel mug, pen set, book bag, etc.). And notably, the artwork is for sale. We keep a price list at our circulation desk, as well as business cards for the artists. If a piece of art is purchased, we don't take a commission.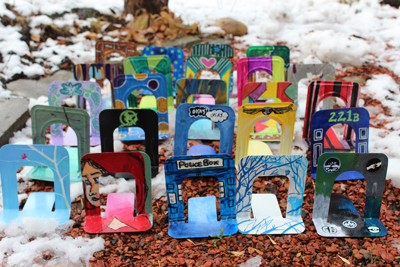 The wall was just the beginning. Noting its success, we soon installed a glass cabinet used to exhibit three-dimensional artwork. We also offer a wonderful variety of workshops for kids and teens, including henna, silk screen t-shirts, clay sculpting, glass-painting and printmaking.
Additionally, we have started involving patrons of all ages in beautifying our surroundings by painting bookends (shown at right); creating wall and window murals; and offering community art projects. Most recently, we have started to incorporate visual and/or performing arts components into many of our existing programs, such as author visits. Like the exhibit space, these programs are supported by local businesses. This allows us to offer a greater variety of programming, as well as a $100 honorarium to artists who teach the workshops. 
There are a number of ways that we have been able to grow arts and culture in our facility on a very small budget. Below are some tips and advice: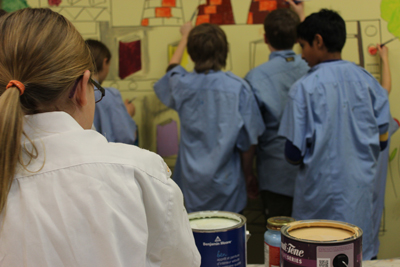 Gain support from local businesses. Through the support of local businesses (via donations, discounts and sponsorships), our programs have grown exponentially to allow us to offer a greater variety of workshops and events.
Utilize Pinterest. Pinterest has been an invaluable tool to gather creative ideas for programs ranging from incorporating arts and crafts into our current children's programs to offering more interesting adult author visits.
Partner with local artists, arts groups and high schools. Through these collaborations our library has access to more talented, skilled and experienced volunteers.
Contact your local media outlets. Local media, newspapers and radio are happy to support our programs and events whether through their attendance and involvement or through promotion.
Promote events through social media. Social media and our website have been an inexpensive and effective way to promote both the library's programs and events and the artists, businesses and local media who support them.
Over the last five years, with the support of our partners and staff, our arts and cultural programming has grown to become a vibrant and necessary part of the community. By taking the time to cultivate relationships in the community, our library continues to offer programs and events on a limited budget, while providing numerous opportunities for arts appreciation and participation.
Date / Time
Tuesday, September 8, 2015 - 08:30
Audience
Adult
Children / Family
Older Adults / Seniors
Young Adult