Contributors to the Public Programs Forum offer suggestions of popular writers who are engaging speakers and appeal to a broad audience.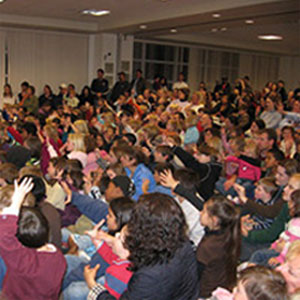 The past week saw another great thread in the Public Programs Office's Public Programs Forum electronic discussion list, this time started by Marie Slaby, Urbana Regional Library, Frederick, Maryland. She wrote, "I'm looking for recommendations of famous living authors you've seen or hosted in your communities and would appeal to a broad audience. If money were no object, whom would you choose? Who not only gets them in the door, but also wows them once inside?"
Valerie Wonder, Seattle Public Library, responded, "I checked in with Chris Higashi, Program Manager for Washington Center for the Book here at Seattle Public (who, along with Nancy Pearl, founded Seattle Reads, the very first 'One Book' program)." Chris listed Isabel Allende, Greg Mortenson, Marjane Satrapi, Sherman Alexie, and Ann Patchett as her favorites.
Elizabeth White, Dunedin (Fla.) Public Library, suggested Debbie Macomber: "Granted, she has a greater appeal to women, but she was a terrific speaker—exuberant, hilarious and extremely gracious. Her fans absolutely love her. We had a huge crowd—some came 200 miles to see her." She also noted that "Bob Morris and Jim Swain are also EXCELLENT speakers. Jim Swain also incorporates some amazing card magic into his talk. He has a great appeal to men and women."
Bob Kelley, Ouachita Parish Public Library, Monroe, Louisiana, offered, "Ouachita Parish Public Library has a one-community, one-book program that is five years old. I think that the author that drew the largest audiences and wowed them with his talks and readings was Rick Bragg, author of All Over But the Shoutin', Ava's Man, and The Prince of Frogtown."
Hedy Hustedde, Bettendorf (Iowa) Public Library has Neil Gaiman on her wish list: "He writes across such a broad spectrum both age-wise and genre-wise and has won top awards in them all. Movie tie-ins as well! Graphic novels! You name it!" Deborah Schneider, King County (Wash.) Library System, seconded the opinion: "I heard him speak at Microsoft. Very intelligent, warm, and fun. Highly recommended." As a side note, I'd add he also has an interesting and entertaining blog.
Karen Bradley, Schenectady County (N.Y.) Public Library, wrote:
The "Rock Star" of all authors, in my personal opinion is Jodi Picoult. We had her for our community read of My Sisters Keeper. She was outstanding in every way, funny, and had a great depth of knowledge about the research that goes in to her books which our community found fascinating. We had to host her at one of our local high school auditoriums, which had a seating capacity of 1,020 and it was overfilled. Her agent at that time (not sure if she still has the same one), was a joy to work with. Our patrons still talk about it to this day (it was two years ago as Nineteen Minutes was coming out). It drew teens to the elderly. The men really enjoyed hearing about what went in to her books too.
Mary Jo Ryan, Nebraska Library Commission, thinks that "Harley Jane Kozak is an absolutely fantastic speaker (she spoke about her experiences with libraries at our state library association conference and she really had us going). Since she's an actor, her readings are great and her books are very accessible and generate good discussion … see http://www.harleyjanekozak.com."
Finally, Zoe Norwood, Rockford (Ill.) Public Library, was enthusiastic about Anthony Bourdain:
He came here for our One Book One Rockford, drew an audience of close to 1,000 and was one of the best speakers I've heard—smart, funny, gracious, and responding thoughtfully to questions at the end. In addition to being the author of the best-selling (and infamous) Kitchen Confidential, chef, TV host, and traveler, he's written many other books, including nonfiction and fiction, and he edited The Best American Travel Writing 2008. The only caveat might be that Kitchen Confidential gets into some bawdy topics and questionable behavior, but as a speaker he certainly didn't boast about that.
Do you have authors to add to the list? Feel free to write about them in the comments, or email us your ideas.
Date / Time
Friday, June 19, 2009 - 16:15
Library Type
Academic / College
Public
Job Functions
Resources and Program Starters
Audience
Adult
Older Adults / Seniors
Young Adult