Two of a Kind: Author Pairings
Looking for tips on how to tempt one of your favorite authors for a reading at your library? The solution is easier than you think!
This is one of those too-good-to-be-true things. If you think it would be impossible to book one of your favorite authors for a reading at your library, what would you think if it became possible to get not only one, but two?
Here's the secret: authors often have good, better or best friends who are also writers, and because they all have busy schedules, they rarely see each other. The chance to spend time together AND do a reading at your library might be just the thing that gets them both to say yes.
And sleuthing around to see who might like to read with whom can be intriguing. Look to see which authors "blurb" a new hardcover by your writer of choice. And who gets mentioned in the acknowledgments. Some of them, like Jo-Ann Mapson, even have a "friends" section on their Web sites. Of course, you could always just ask if there's someone they'd like to share a stage with.
Here are a few we've discovered along the way: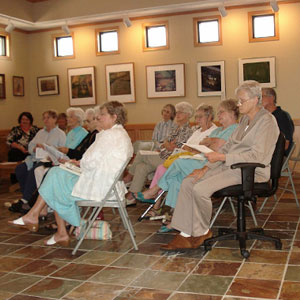 Colson Whitehead and Kevin Young
They met in college, and have been good friends ever since. When I invited Young to do a reading in Nashville some years ago and said I was looking for another author, he suggested Whitehead. I couldn't believe my good luck. They are terrific presenters and hugely accomplished. Colson is based on Brooklyn and Kevin teaches at Emory University in Atlanta.
•   Colson Whitehead is a MacArthur fellow and his novel, John Henry Days, was nominated for a Pulitzer Prize.
•   Kevin Young has had five award-winning poetry collections published, edited four others and been a finalist for the National Book Award.
Gail Tsukiyama and Dorothy Allison
I've never actually had these two read together, but they are good friends and could possibly be tempted by something on the west coast that would be close to home for both of them. Gail is also a good friend of Jane Hamilton, another author who doesn't appear very often, but a chance to read with a favorite colleague might be an enticement. Elinor Lipman might be another option for a Tsukiyama pairing. Geographically, Gail and Dorothy are based in northern California, Hamilton in the Midwest, and Lipman in New England.
•   Gail Tsukyama's six novels include The Samurai's Garden, Women of the Silk, and The Street of a Thousand Blossoms.
•   Dorothy Allison's Bastard Out of Carolina was a National Book Award finalist and she was awarded the 2007 Robert Penn Warren Award for Fiction.
•   Jane Hamilton's Book of Ruth was an Oprah Book Club selection and she's perhaps best known for A Map of the World.
•   Elinor Lipman, recognized and beloved by New England librarians, is the author of several novels, including Isabel's Bed and My Latest Grievance.
Jo-Ann Mapson and Earlene Fowler
Earlene was a student of JoAnn's in a writing workshop, and not only did she become a best-selling author, but the two of them became great pals. Jo-Ann suggested Earlene as a co-reader for an event we were planning in southern California, and I've since seen them together at other library readings. Earlene still live in California, but Jo-Ann has moved up the coast and writes and teaches in Alaska.
•   Earlene Fowler is best-known for her mystery series featuring Benni Harper, which has won her an Agatha award for Mariner's Compass.
•   Jo-Anne Mapson's award-winning mainstream and literary fiction includes one of my all-time favorites, Hank & Chloe.
Elizabeth McCracken and Ann Patchett
This is another "almost" pairing, as I've never managed to get their schedules and stars to align in the same place at the same time. But when I first asked Elizabeth to join the roster for the LIVE! @ the library project, she suggested contacting Ann Patchett, whose response was something like, "If Elizabeth is doing it, count me in!" This kind of endorsement is worth more than money can buy. Elizabeth lives on the east coast and Ann is a longtime Nashville resident. Read an interview with both writers.
•   Elizabeth McCracken is the author of a short story collection, Here's Your Hat, What's Your Hurry, and her novels include The Giant's House and Niagara Falls All Over Again.
•   Ann Patchett's Bel Canto was a finalist for the National Book Critics Circle Award and won the PEN/Faulkner Award; her most recent novel is Run.
Denise Chavéz and Dagoberto Gilb
We paired these two writers together at a Midwestern literary festival only to discover they were great friends and played off each other like two stand-up comedians, giving a terrific performance. They are both charismatic and almost as colorful as the characters in their fiction. Denise lives and works in New Mexico and Dagoberto writes and teaches in Texas.
Denise Chavéz' most recent novel is Loving Pedro Infante, and she is also the author of The Last of the Menu Girls and A Taco Testimony: Mediations on Family, Food and Culture.
Dagoberto Gilb is the author of the story collection The Magic of Blood and his novels include The Flowers, published in 2008.
Date / Time
Monday, November 3, 2008 - 13:00
Library Type
Academic / College
Public
Audience
Adult
Children / Family
Older Adults / Seniors
Young Adult