Navigating Publishers for Author Programs
Author Programs: How do you start? Who do you contact? What can you expect? What do they expect?
Finding authors, booking them for your library program, and getting them for a price that your library can afford can sometimes be a challenge. How do you start? Who do you contact? What can you expect? What do they expect?
If you already have contacts with a publisher, then pick up the phone and call. If they aren't the person handling author requests, then ask them to give you the appropriate person to contact. Start with an introductory e-mail asking for a time to call them to talk about securing an author.
When you contact the representative at the publishing house, be open and honest. Here are some of the things to say and expect in that conversation:
•   Have a list of authors in mind. "I would like to inquire about having Sue Smith, Bob Jones, or Roger English come to Houston, Texas, for a library program."
•   Let them know what your budget is and what you can pay for. For example, "We can pay travel expenses, but do not have funds for a speaker's fee." Or, "We are able to pay for travel expenses, but we are limited to $1,000 for the speaker's fee."
•   Describe the event and the estimated audience type and size. For example, "This is for our National Library Week program. This will be the featured program and we expect an audience of two hundred adults and high school students."
•   Go over where the program will be held and if you will be selling the books. "This will be held in a library auditorium, and our local independent book store will be handling the book sales."
•   Tell them your expectations of the program. "We would like the author to speak for forty-five minutes, and then do a fifteen-minute question-and-answer session before doing the book signing."
•   Inform them of any local partners you might have for the program.
•   Briefly go over what you do to promote your programs. "For our author programs we create fliers and books marks and have them available at all locations. We have a mailing list of more than 2,000 families, and we publicize the program in our newsletter, on our website, and on our local public radio station."
•   Give them enough information to sell your program to the author and to get them excited about coming to your library.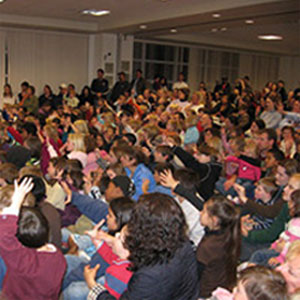 Be as flexible as possible on timing. If you limit yourself to a single day and time, then you might not get the author you are requesting. Give them a date and time range. Please give them enough lead time to help you. They will need to contact the author, their publicist, and so on, to get your program worked into the author's schedule. Start at least three months in advance so you have plenty of time to hear back from the publisher contact person and then time to properly advertise and promote the event. The more time you can give publisher's representative, the better. Be prepared to follow up with an e-mail following your conversation outlining the details of the program and what you spoke about.
Of course, it is always nice to have an author as they are on tour promoting their latest book. The benefits are that you will most like be able to reduce or share the travel expenses, sometimes not pay a fee, and be guaranteed a large audience because they will be talking about their latest work. So do your homework and see who is touring before you contact the representative. But don't limit yourself to just authors currently touring. The publishing representative can also help with authors that are not currently on tour and are often the source of many great suggestions about authors you might not have thought about. And, ones that fit within your budget.
Besides helping you secure the author, these representatives can provide promotional materials for you to publicize your event. They can send you press releases, author biographies, high-resolution images of book jackets, and the author's photo. Again, always be honest about your needs and budget. They will work with you and guide you on your journey.
Finally, once you've secured your author and held your successful program, remember to always follow up with these folks after your program. Build a relationship. This is a partnership. Let them know how many people attended and how many books were sold. You might want to send them copies of your publicity and a few photos from the event. Stop by the publisher's booths at conferences and thank them for sending their author to your library. This will help them to get to know you better as well as what future authors can expect when coming to your library.
So, with all the publishers out there, how do you go about contacting an author, finding out whether they charge a fee or whether they are free? Lucky for us, there are many library-friendly contacts at the publishing houses to help you. They truly are your ally in identifying the right author for your program and making it a success. So who to contact? Although not a complete list of all publishers and contacts, here's a list of some publishing houses contacts to help you get started. (This list was originally compiled by EarlyWord.Com)
•   Hachette Book Group, USA (includes Little, Brown and Grand Central Publishing): Mindy Im, mindy.Im@hbgusa.com
•   HarperCollins Publishers: Virginia Stanley, Virginia.stanley@harpercollins.com
•   Houghton Mifflin Harcourt: Carla Gray, Carla_gray@hmco.com
•   McGraw-Hill: Karolyn Anderson, Karolyn_anderson@mcgraw-hill.com
•   Macmillan (formerly Holtzbrinck Publishers): Talia Sherer, Talia.sherer@macmillan.com
•   W.W. Norton: Golda Rademacher, grademacher@wwnorton.com
•   Penguin Group (USA) (adult imprints: Ace, Alpha Books, AmyEinhorn/Putnam, Avery, Berkley Books, Dutton, Firebird, Frederick Warne, Gothan Books, Putnam,Grosste & Dunlap, HP Books, Hudson Street Press, NAL, Penguin, Penguin Press, Perigee, Plume, Portfolio, Prentice Hall Press, Sentinel, Tarcher, Viking): Alan Walker, alan.walker@us.penguingroup.com
•   Random House (includes Random House Publishing Group: Ballantine Books, Del Rey, Modern Library, One World, Presidio Press, Villard, Bantam; Knopf/Doubleday Publishing Group: Anchor Books, Everyman's Library, Nan A. Talese, Pantheon Books, Schocken Books, Vintage, Spectra, Delacorte Press, Dell Mass Market Paperback, Delta and the Dial Press; Crown Publishing: Broadway Books, Clarkson Potter, Harmony, Three Rivers press, Shaye Areheart Books): Erica Melnichok, emelnichok@randomhouse.com
•   Simon and Schuster (imprints: Atria Books, Free Press, Howard Books, Pocket Books. Scribner, Simon & Schuster, Strebor, Karen Hunter Publishing, Touchstone and Fireside): Michelle Fadlalla, michelle.fadlalla@simonandschuster.com
•   John Wiley and Sons: P. J. Campbell, pcampbel@wiley.com
Workman Publishing (iImprints: Algonquin Books, Artisan Books, Black Dog and Leventhal, Storey Publishing, Timber Press): Michael Rockliff, mrocklliff@workman.com
Date / Time
Wednesday, January 11, 2012 - 15:45
Library Type
Academic / College
Public
School (K-12)
Special
Audience
Adult
Children / Family
Older Adults / Seniors
Young Adult