Celebrate National Poetry Month!
The Academy of American Poets shares some simple ways to celebrate National Poetry Month.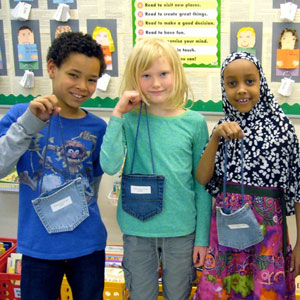 "Ink runs from the corners of my mouth. There is no happiness like mine. I have been eating poetry."—Mark Strand
Reading poems not only builds literacy skills, it lights the imagination. In April 1996, the Academy of American Poets, the largest membership-based nonprofit poetry organization, launched National Poetry Month to introduce more readers to the art form. Today National Poetry Month is the largest literary celebration in the world, reaching millions of Americans and inspiring generations of future readers and writers. April is right around the corner, but it's not too late to get involved. Here are some simple ways to celebrate National Poetry Month 2013:
Encourage teens to write letters to poets.
This spring on Poets.org, the Academy will be celebrating the role that correspondence has played in poets' development and writing lives. Our special project for April, the Dear Poet Project, encourages students to engage with poetry by hand-writing letters to the established poets who serve on the Academy's Board of Chancellors. Select letters submitted to the Dear Poet Project will receive a direct reply from the poet and will be featured on Poets.org in May. Tell a teacher! To help teachers involve their classes, we've also created a version of the Dear Poet Project for grades seven through ten that has been prepared by a curriculum specialist and aligns with Common Core standards. Visit the Dear Poet webpage for more information about how students and teachers can get involved.
Celebrate (and Tweet about) Poem in Your Pocket Day (April 18, 2013).
On a special day in April, the Academy promotes Poem in Your Pocket Day, encouraging people to carry poems and share them with others. On this day each year, many libraries throughout the United States host events, distribute poems for pockets, or hide poems throughout the library on the shelves. As a resource for Poem in Your Pocket Day participants, the Academy has created a page of poem PDFs ready for distribution. If your library is active on social media, you might tweet about Poem in Your Pocket Day using the hashtag #pocketpoem and ask your community to share the poems they are carrying. For more information, visit Poem in Your Pocket.
https://www.youtube.com/watch?feature=player_embedded&v=qt8tzj0ieb4
Video courtesy of Wendy Saz, Jefferson-Madison Regional Library, and www.jonokino.com/.
Display the National Poetry Month poster.
Every year, in the months leading up to National Poetry Month, the Academy distributes more than 160,000 complimentary poetry posters to librarians, teachers, and booksellers throughout the United States to help with their poetry celebrations. Email npm@poets.org to request your copy of the poster for 2013. You can also download a PDF version that you can use as a flyer.
List your poetry events on Poets.org.
In addition to poetry lesson plans; audio and video footage from poetry readings; thousands of poems and essays; and accessible, detailed biographies of poets, Poets.org is also home to the National Poetry Calendar. Librarians can submit public poetry event listings for free throughout the year by visiting the Events Calendar.
For thirty ways to celebrate in April, and further details about the Academy's April programming, visit us at National Poetry Month. Also, please feel free to share your feedback and send photos and video from your celebrations to npm@poets.org. We often use these to inspire other participants. Happy National Poetry Month!
Date / Time
Tuesday, March 26, 2013 - 16:45
Library Type
Academic / College
Public
School (K-12)
Special
Job Functions
Resources and Program Starters
Audience
Adult
Children / Family
Older Adults / Seniors
Young Adult