Creative Aging Programs Engage and Inspire
After a lifetime of working or raising a family, older adults are looking to have fun. The library is one place they can have some.
Part of what makes public libraries so valuable and trusted is the comprehensive range of programs and services they offer. Community outreach provides critical services to the neediest. Early literacy and other learning programs support the youngest minds and encourage them to explore their worlds.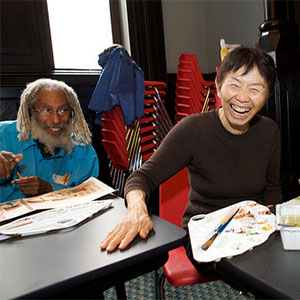 What about the older minds?
After a lifetime of working, raising a family, or caring for a loved one, older adults are looking to have some fun, and the library is one place they can have some. Most adults fifty-five and older don't fit into the "frail elderly" category. These people are often active, spirited, thoughtful, and engaged. They long for inspiring experiences that encourage their personal curiosity, instill self-confidence in their creative abilities, and provide valuable opportunities to make new friends. Who wouldn't? Attending readings and performances can be entertaining and culturally enriching; however, these events don't facilitate personal growth like Creative Aging programs do.
Libraries Can Redefine Aging through Arts Education
Lifetime Arts, Inc., a nonprofit arts service organization, partners with public library systems and other organizations to redefine aging through arts education. Nearly 140 public libraries in the United States have already offered Lifetime Arts Creative Aging programs to thousands of patrons who are fifty-five and older.
Led by professional teaching artists—artists who practice their own art and are trained, expert teachers—Creative Aging programs are eight- to twelve-week workshops focusing on a specific discipline within the visual, literary, or performing arts. The curricula for these workshops focuses on three key elements: skill-building, creative expression, and social engagement. The most successful workshops are led by teaching artists who know how to work with older adults and who are passionate about doing so. Jane Addison-Amoyaw, Library Manager at the Mosholu Branch of the New York Public Library, recently teamed with teaching artist Stuart Nager to offer a storytelling workshop called "True Stories: Testimonies of Our Lives." Addison-Amoyaw described the experience:
Every participant had a story to tell but needed help to get their stories out. Through small and large group work and critiques, the participants were able to write, edit, and learn how to build their storytelling skills while sharing their work with the entire group.
This program encouraged participants to actively communicate, interact and get involved. They experienced moments of recognition, creativity and celebration.
Overall, the program was a great success. The impact of the storytelling workshop on the participants was outstanding, allowing them to form strong relationships and the opportunity to share their stories in a professional and safe environment.
Beginning in 2014, twenty-two library systems will form the inaugural cohort of the Lifetime Arts Affiliate Library Network, as part of Creative Aging in America's Libraries, a project funded with a $500,000 National Leadership Grant from the Institute for Museum and Library Services (IMLS). This national expansion builds on a 2011 grant to Lifetime Arts and our partners, Westchester Library System and ALA's Public Programs Office. The library systems that make up this cohort are diverse in size, resources, geographic location, and previous experience implementing Creative Aging programs.
Get Started: Use the Creative Aging Toolkit for Public Libraries
One outcome of our first National Leadership Grant was the publication of the Creative Aging Toolkit for Public Libraries, a free, online resource that offers access to information about aging and libraries, creative aging research, and best practices in the field. The toolkit contains insights, tips, tools, and templates to be used when planning, implementing, and sustaining successful programs.
Most importantly, the Creative Aging Toolkit for Public Libraries was designed using the proven Lifetime Arts model, so that libraries may implement these programs independent of Lifetime Arts. Included in it are video interviews with librarians, teaching artists, and participants. It covers topics such as planning and "making it happen," depicting what happens at culminating events, what it is like to teach older adults, and how meaningful Creative Aging workshops are to those who participate in them.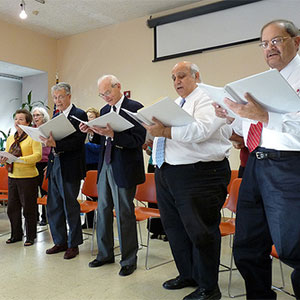 We have included advice from arts and library experts about ways to fund and sustain Creative Aging programs locally; the toolkit also includes a series of case studies highlighting how libraries of different types (rural, urban, and suburban) have developed and offered successful programs.
One particularly helpful resource available via the Toolkit is "Soup to Nuts: The Life of a Visual Arts Creative Aging Program," a comprehensive document that puts much of the practical information and guidelines included in the kit into a printable PDF. It is complete with sample program budgets, curricula, details about matters pertaining to facilities, scheduling, and purchasing of any necessary supplies. The toolkit also provides recommended interview questions that libraries may use when hiring teaching artists,and sample contracts to use as reference when they have selected them.
An additional Lifetime Arts resource that may be helpful in planning Creative Aging programs (whether affiliated with our organization or not) is the Creative Aging Roster, a vetted list of more than one hundred teaching artists located across nine states who are qualified to teach older adults in community settings. Over the next year, the roster will be expanded to include artists from the states represented by the Affiliate Network.
Lifetime Arts Library Affiliate Network Inaugural Cohort
Arizona
Chandler Public Library
Phoenix Public Library
Tempe Public Library
California
Sacramento Public Library
San Diego Public Library
Colorado
Boulder Public Library System
Pikes Peak Library District
Maine
Portland Public Library
Massachusetts
Boston Public Library
Somerville Public Library
New York
Brooklyn Public Library
New York Public Library
Queens Library 
Westchester Library System*
Oregon
Beaverton Public Library
Cedar Mill Community Library
North Plains Public Library
Pennsylvania
Allegheny County Library Association
Free Library of Philadelphia
Washington
Seattle Public Library
*Programming partner.
Visit the Creative Aging Toolkit today to get started. Editor's Note: To find out more about the Creative Aging program, check out "Lifetime Arts: Delivering Arts Education Programs for Today's Older Adults" from the May/June issues of Public Libraries.
Date / Time
Tuesday, November 5, 2013 - 15:30