Cultivating Community Outside of Class
In what ways are school and academic libraries fostering community outside of the traditional classroom setting?
Community engagement is a key component to the work of all library types. In fact, knowledge of the community is one of the 9 Core Library Programming Competencies as identified by NILPPA (the National Impact of Library Public Programs Assessment).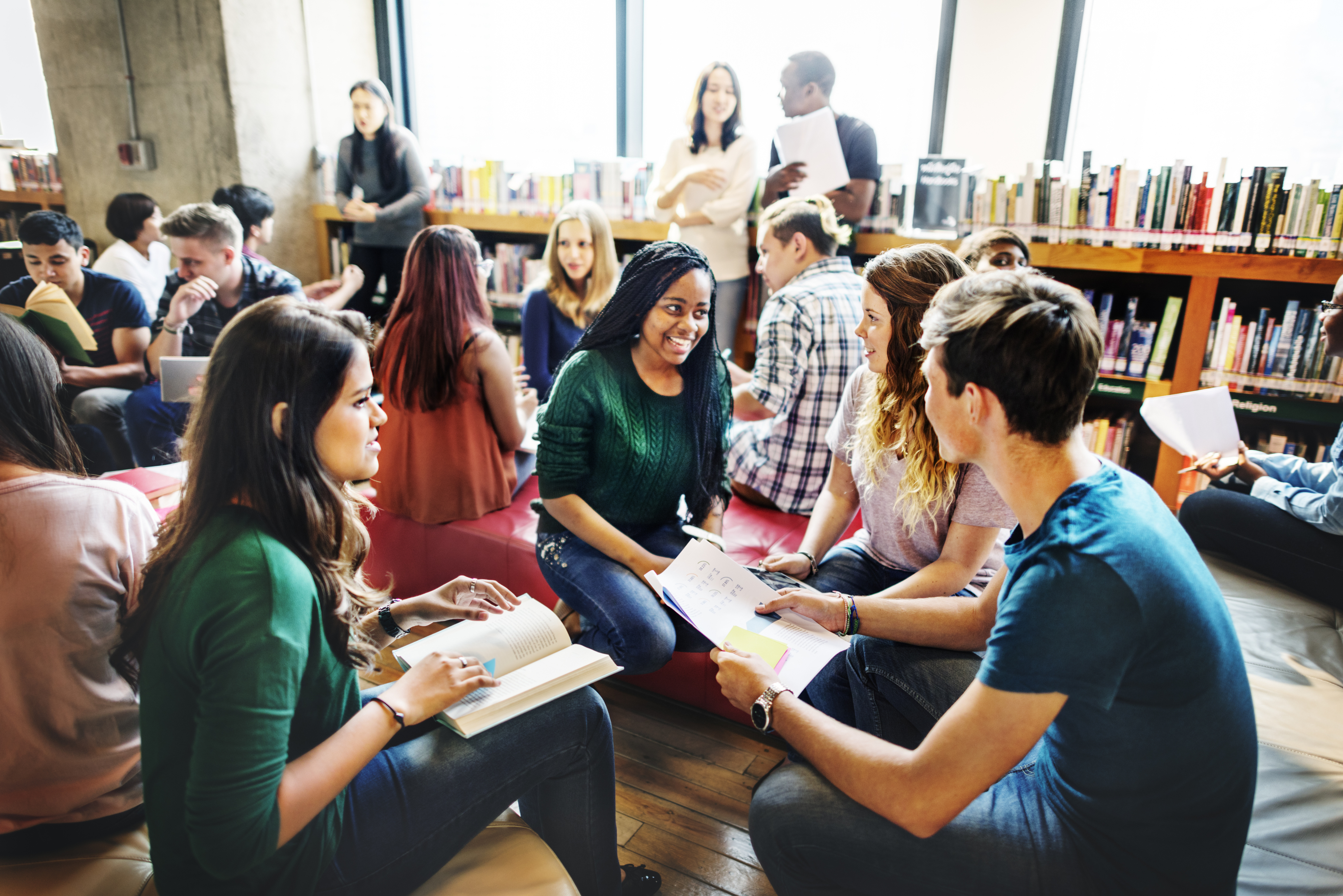 This work towards understanding and engaging with the community might commonly be seen as the work of public libraries, but school and academic libraries are also actively engaging with members of the community.
Of the 31 school and academic libraries that received funding from ALA's Libraries Transforming Communities: Focus on Small and Rural Libraries initiative, seven developed conversations around indigenous history and race, while five discussed health and mental wellbeing. Four of the libraries discussed socio-emotional learning (SEL) and three discussed reading and literacy. Two additional libraries also focused on the topics of business and jobs — which are specific to their audience of college students hoping to graduate and enter the workforce. Other libraries' conversations ranged from local topics focused on community needs to global topics like the environment and climate change.
A step in the right direction: talking about Indigenous history and language on Indigenous land
The seven libraries that discussed Indigenous history and/or topics related to race received overwhelmingly positive responses from their communities. Garrett College Library in Maryland focused on sharing and preserving the stories of Indigenous people who have lived in the region. The library described its event as "the first of its kind' in the area and noted that it piqued the interest of the college students and community members who were invited to join the conversation.
The community was "very interested in local history" and, as such, the events in the conversation series were all well-attended. The event's success is reflected in the results of a survey the library sent out following the conversation. Of the attendees, 73% gave the community conversation events a 5-star rating, and 82% of attendees stated that they felt more informed about local Indigenous populations after the event.
Diné College Libraries, located in the heart of tribal land in Arizona, also described its event focused on language revitalization as being the first of its kind, which specifically elicited community feedback on Navajo language resources and materials. The feedback the library received was described as "invaluable" and necessary for collection development planning and digitization of Navajo language materials. Through the course of its conversation series, the library staff came to realize a "poignant" truth that they — along with most other libraries in the country — still have much to do to perpetuate the unique languages and practices of Indigenous cultures. However, the library staff described the series as a "step in the right direction" toward regaining the trust of the community and reinforcing the Navajo language and cultural practices, so that they will never be forgotten or erased.
Love and Logic: School libraries encourage emotional intelligence and empathy
Socio-emotional learning (SEL) was another topic that several libraries pursued in their conversation series. Sharon Elementary School's library in Virginia explained that its events and yearlong programming structured around the theme of resilience helped students develop the SEL skills vital for successfully participating in community life.
Another high school library specifically focused on the issue of acceptance, which many school-aged children need to understand, and the ways in which SEL and the cultivation of empathy can be used to create acceptance and understanding in their school and community. The students who attended the event had much to share with the library staff; they concluded that while bullying is wrong, it is important for young adults and children always to be themselves and stand up in the face of unwarranted aggression. One student insisted that "Being who you are takes more courage than letting your environment shape you," and the group agreed.
Eminence Independent Schools Library in Kentucky focused on empathy — what it is and how to cultivate it. Since SEL is not always taught during school hours, the library took it upon itself to teach SEL skills to the kids and community, both of whom responded positively to the topic. Part of this may be due to the fact that the library "went out of our way to make the environment of our conversations welcoming and friendly." After the discussions, several kids mentioned that they would like to see SEL events carried out throughout the school year.
Common obstacles
School and academic libraries encountered a variety of unique challenges when planning and executing their LTC events. The challenge most commonly faced was transportation. In cases where events were hosted outside the school campus, libraries had to find ways to bus students to a new location, which was sometimes difficult due to the price of transportation and the logistics involved in moving a group of school-aged students from one location to another.
Second, several libraries struggled with the decision to host an in-person, hybrid, or virtual event. Because their events often had more people in attendance than events outside of school settings, overcrowding was a constant concern, and library staff worked hard to find a space that would be large enough to accommodate dozens of students while complying with the schools' COVID-19 policies, including those related to social distancing. Libraries also had to put extra time and effort into recruiting speakers for their LTC events. Not all speakers are appropriate for a school-aged audience, so library staff had to search extensively for a speaker that would be appropriate for the age of the students in attendance.
The importance of growing and maintaining community support
Yet despite the challenges school and academic libraries faced implementing their LTC programming, nearly all said that their events were successful in garnering community support. Many described the ways the events led to new partnerships, additional grant funding, or new opportunities for future programming. Charles City (Va.) High School's library, for example, provided dozens of books to its students, in an effort to increase literacy and keep students engaged in reading over the summer months.
South Arkansas Community College's library describes a program on food insecurity laying a solid foundation for future conversations; the first conversation, moreover, was successful in increasing community interest and support in a community garden, which library staff were able to finish building over the course of the LTC initiative. Thanks to the LTC funding, this library will be able to grow fruits and vegetables year-round, and plans on leveraging the partnerships it gained through LTC in order to build a greenhouse, which will greatly expand the garden's growing capabilities.
Finally, though the school or academic libraries that received LTC funding encountered a number of unique challenges to implementing their conversation series and new programming, nearly all described being successful in their efforts to increase literacy in their community, gain support for restoring indigenous culture in their area, and educate students about the importance of empathy as well as mental and physical health. As one librarian explained, people (especially students) are coming to rely more and more on their school's library as a place to go — not just for books and information, but also as a space where community is cultivated and maintained.
Knology is a nonprofit research organization that produces practical social science for a better world. The organization pursues this goal to help professionals in a variety of sectors build inclusive, informed, and cooperative societies that can thrive together with the natural systems on which we all depend. As a transdisciplinary collective of over 30 social scientists, writers and educators, the organization's work process is built on equity, transparency and deliberation.
Date / Time
Tuesday, September 6, 2022 - 09:00
Library Type
Academic / College
Rural
School (K-12)
Popular Topics
Community Engagement
Grants and Fundraising
Job Functions
Grants and Awards
Resources and Program Starters
Audience
Children / Family
College Students
Tweens and Teens
Young Adult