Dear Banned Author: You Make a Difference
Send a note of encouragement to the author of a banned book through ALA's Dear Banned Author campaign.
Imagine receiving a letter from someone who admires your work — a brief but powerful acknowledgement that your actions made an impact.
This Banned Books Week (September 23-29, 2018), the American Library Association's Office for Intellectual Freedom is hosting an advocacy letter-writing campaign that supports and defends works that has been targeted with censorship.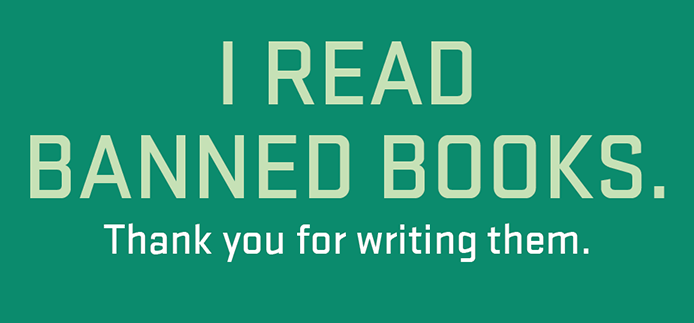 Dear Banned Author encourages readers to write or tweet to banned or challenged authors, sharing how their stories made a difference. The program not only raises awareness of books that are threatened with censorship, but also generates discussions about the essential access to a variety of library materials. Readers can join the online discussion with the hashtags #DearBannedAuthor and #BannedBooksWeek.
Libraries are invited to host letter-writing programs during Banned Books Week. The Dear Banned Author webpage includes promotional tools:
Printable postcards
A list of banned and challenged author addresses and Twitter handles
Social media images  
The campaign also provides support to challenged authors. "Crank" author Ellen Hopkins has cited examples where she responded to challenges to her book by providing letters readers have sent her over the years. The letters include stories about how her books have helped people avoid dangerous situations.
In addition to writing letters, the annual Stand for the Banned Read-Out invites the literary community to voice their concerns about censorship and read from banned and challenged books on camera. Submitted videos will be featured on the Banned Books Week YouTube channel.
Additional Banned Books Week resources — such as social media images, lists of banned and challenged books, and coloring sheets — can be found on ala.org/bbooks. Program and display ideas can be found on the Banned Books Week Pinterest page and on Programming Librarian.
Are you planning a program for Banned Books Week? Tell us about it! 
Date / Time
Friday, September 21, 2018 - 08:45
Popular Topics
Books and Authors
Community Engagement
Job Functions
Resources and Program Starters
Program Evaluation
Audience
Adult
Children / Family
College Students
Older Adults / Seniors
Rural
Tweens and Teens
Young Adult