Enriching Programs by Increasing Accessibility
The National Library Service for the Blind and Physically Handicapped offers a primer on connecting readers to materials.
Editor's Note: Project directors for Let's Talk About It: Making Sense of the Civil War were approached by visually impaired patrons interested in joining the discussion program, and they contacted the American Library Association's Public Programs Office seeking access to a recorded version of the anthology, America's War. In coordinating development of an accessible version produced by the National Library Service for the Blind and Physically Handicapped (NLS), ALA staff invited Ed O'Reilly to write for Programming Librarian about NLS's work connecting readers to materials. For assistance serving blind and physically handicapped program attendees, visit the NLS website or contact your regional NLS library.
NLS is our shorthand for the National Library Service for the Blind and Physically Handicapped: it's a mouthful, I agree, but rich in history and tradition, once you get past the clunky syllables and, some say, obsolescent vocabulary. Headquartered in Washington, D.C., NLS is an operational production element of the Library of Congress. We are not really "programming librarians" here—we have no walk-in service, and direct contact with patrons is limited—but we are the central support unit for those libraries around the country that provide direct service to our 800,000 eligible readers, people who are blind, visually impaired, or physically unable to hold or handle a conventional print book—a substantial but underserved population. NLS does not work directly with academic libraries; a sibling organization, Learning Ally (formerly Reading for the Blind and Dyslexic/RFB&D), is the primary national provider of textbooks and educational materials.
People who are print-disabled are, of course, as varied in their reading tastes, habits, and practices as you might suppose, united by one important distinction: their reliance on text in tactile or audio formats—braille and, mostly these days, digital talking books. And they cannot, for the most part, stroll into a library or a bookshop (to speak nostalgically), browse shelves, select a few books, and start reading. Accessible books produced in alternate formats represent only a small fraction of books available in print: at NLS we produce 2,000 audiobooks a year from a range of more than 200,000 published in print.
Our readers' access to information about books is often severely limited, too—the kinds of information that allow sighted people to choose the books they want to read and to make sense of the universe of print: what reviews and reviewers to follow, what dust-jacket blurbs say, what books to take from the shelf for examination, even what section of the library to visit for items of interest. (Radio and TV commentary barely scratches the surface of the book trade: for publishers, TV is either a competitor or a marketing tool.) Sensitivity trainers sometimes conduct demonstrations with blindfolds to give sighted folks a sense of blindness, but you can do the same with thought experiments. Imagine yourself in a roomful of books with their titles to the wall; imagine yourself the Burgess Meredith character in the old Twilight Zone episode about a bookworm who, following a nuclear catastrophe, is left alone with the unlimited access to vast huge public library—the consummation of his heart's desire—but stumbles as he scrambles up the steps and shatters his indispensible reading glasses; take note of the reading you rely on to navigate your workday, your travel, your recreation—and recognize what would be useless to you without printed text.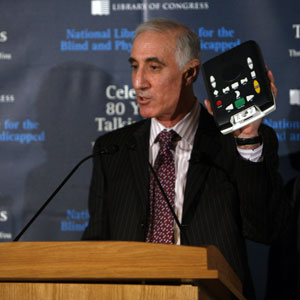 NLS celebrated its 80th anniversary last spring—claiming as its birthday the date the Pratt-Smoot legislation, which made the provision of books for the blind (in braille only, at first) a federal responsibility, was enacted. The arrangement has evolved over decades to become a complex but viable mixed federal and regional collaboration, with books in special formats (hard-copy and electronic braille, digital audio on download or flash-memory cartridge) produced and distributed at federal expense, but controlled and circulated at the state level. It is at the regional level that most outreach and programming, efforts to engage, recruit, and involve blind readers take place, and these efforts acquire the stamp and coloration of the region in question. Many libraries, funds and resources permitting, host reading groups, programs and projects for children (summer reading programs, excursions, performances, tactile art exhibitions, reading-related visits from local celebs and sports figures), and occasional commemorative events with carrot cake and toll-house cookies.
Forty-two of the fifty-six regional libraries in the NLS network carry out book production of their own, often of material of special local interest —Texas leads in sound recordings, with some 4,000 titles on audiocassette, with Utah, Florida, and Colorado following closely with high numbers. Massachusetts, Washington, and Idaho are forging ahead with newer digital audiobook production techniques.
NLS does supply some outreach material in the form of posters, brochures, and a few educational novelties, such as a braille ruler, or a bookmark with raised braille cells corresponding to a print alphabet—a simple but effective tool for introducing children to the idea of braille—provoking, we hope, impetus for thinking about difference and perhaps planting the notion that disabilities are not necessarily … disabling. NLS also has, for a few years, offered a kit to librarians who might want to conduct a Ten-Squared Club event—a celebration of a regional library's registered centenarian patrons. A current estimate has roughly 5,000 registered NLS readers clocking in at more than one-hundred years old. We calculate that a substantial majority of NLS patrons are on the north side of sixty-five, and most of these have come into their blindness late in life through macular degeneration and other disorders associated with the passage of time.
A younger segment of the eligible NLS population has regrettably seen a recent growth spurt: returning wounded combat veterans. In November 2011—in conjunction with Veterans Day—NLS began a campaign to build personal relationships with the professional staff at military hospitals—assistive technology specialists, physical therapists, and occupational therapists—who work directly with eligible veterans and active-duty service members. These facilities are provided with new proprietary NLS digital playback equipment to distribute to their patients, who can use the players to read books on cartridges supplied by their local talking-book libraries. The hospitals' institutional memberships can be changed over to individual accounts if the vets are sent home with a continuing condition. 
The relationships between public libraries and regional libraries for the blind and physically handicapped varies from one locale to the next, often according to state government compartmentalization and resource allocation. It may not always be feasible for Library for the Blind and Physically Handicapped (LBPH) patrons to be included in public library activities, but the prospect of collaborative functions should always be considered. Even in the case of extreme resource restrictions, public librarians can arm themselves with up-to-date basic information about alternative formats, useful contacts, and accessibility issues so accurate referrals may be made to callers. The NLS website regional libraries and contacts, provides basic information on braille and digital audio technology, and links directly to the NLS catalog. The NLS Reference Section offers a reference and referral service to network libraries and the general public in the fields of blindness, physical handicaps, and library services to special groups (nlsref@loc.gov). Many eligible LBPH readers like to avail themselves whenever possible of audiobooks on CD or by download through their local public library as well as through an NLS facility, though for many with mobility issues, this is not an option.
NLS does not expressly provide materials for the professional development of librarians, but we try to be responsive and helpful as we are called upon. Most librarians and library staff enter the system through state and local systems, and develop their skills according to the particulars of those systems. The American Library Association's Association of Specialized and Cooperative Library Agencies (ASCLA) publishes a periodically revised Standards and Guidelines of Service for the Library of Congress Network of Libraries for the Blind and Physically Handicapped. Three-day, on-site orientations are presented quarterly at NLS in Washington, but these are directed primarily toward LBPH staff members who have some experience with the network. Again, the NLS Reference Section (nlsref@loc.gov) should be able to answer queries and provide referrals that are shaped to the questioners' needs. The NLS 80th anniversary in the elegant Members of Congress Room of the Jefferson Building at the Library of Congress was a memorable celebration, attended by patrons and librarians from the District of Columbia, Maryland, and Virginia. Star speakers included Librarian of Congress James Billington; president of the National Federation of the Blind Marc Maurer; Blinded Veterans Association director Tom Miller; and author Michael Hingson, a survivor of the 9-11 World Trade Center disaster who recounted the story he has elaborated in his book Thunder Dog: The True Story of a Blind Man, His Guide Dog, and the Triumph of Trust at Ground Zero.
Information about the National Library Service for the Blind and Physically Handicapped is abundant on the NLS website. A webcast of the 80th anniversary event and the illustrated brochure, Talking Rooms, are among the resources here, along with the NLS catalog of braille and audiobooks, a children's catalog, and a state-by-state locator for libraries for the blind and disabled.
Readers, let us know, via email or in the comments below, how you have enhanced your programming by positioning LBPH resources for your patrons—we will share your stories in a future blog post.
Date / Time
Tuesday, June 5, 2012 - 14:45
Library Type
Academic / College
Public
School (K-12)
Special
Job Functions
Space / Facilities
Collaborations
Program Evaluation
Professional Development/Training
Audience
Adult
Children / Family
Older Adults / Seniors
Young Adult