Declaration for the Right to Libraries
American Library Association President, Barbara Stripling, unveiled the "Declaration for the Right to Libraries" at Nashville Public Library.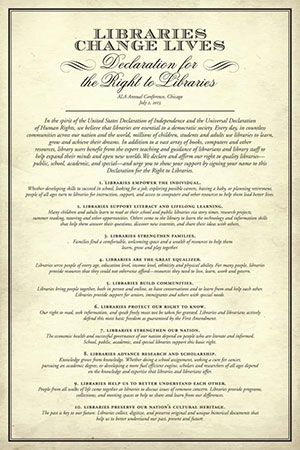 American Library Association President Barbara Stripling unveiled the "Declaration for the Right to Libraries" during a signing ceremony at Nashville Public Library. The Declaration is the cornerstone document of Stripling's presidential initiative, Libraries Change Lives, which is designed to build the public will and sustained support for America's right to libraries of all types—academic, special, school and public. Stripling's initiative will focus on transformative library practices in literacy, innovation, and community engagement.
Stripling was joined by Kent Oliver, director of the Nashville Public Library, and Nashville library leaders and community members. All were among the first to sign the Declaration, which will serve as a strong public statement about the value of libraries as institutions that empower individuals, strengthen families, build communities, and protect our right to know. Signings are being organized at libraries and other locations throughout the nation. The petitions will be presented to Congress by library supporters during National Library Legislative Day activities from May 5–6, 2014. Online signing of the Declaration will be made available later this summer.
"Libraries provide services that inspire and empower their users to change their lives through education," said Stripling. "The Declaration will serve as an advocacy tool to help communities take action and illustrate the value of their libraries and library staff. Our hope is that library supporters will take advantage of this tool and present collected signatures to local leaders and legislators throughout the year."
As many families continue to struggle to make ends meet, public libraries are positioned to play a critical role. According to the ALA's "Public Library Funding and Technology Access Study," job seekers use public libraries to access the Internet to seek and apply for employment. Each day an estimated 300,000 people receive job-seeking help at public libraries. The report also shows that more than 65 percent of libraries report that they are the only source of free public access to computers and the Internet in their communities.
Our school libraries play a key role in changing lives of our nation's youth. Numerous studies show there is a clear link between the quality of school library programs and academic achievement. More than sixty studies in nineteen states have conclusively demonstrated that students in schools with school library programs staffed by qualified school librarians learn more, have higher academic achievement levels, and score higher on standardized tests than their peers in schools without such library programs.
University libraries are at the helm of technology advancements in library service and fulfill an important role in nurturing academic scholarship. Academic librarians are instructional and research partners who prepare students with essential academic and employment skills.
In the next year, libraries of all types will hold signing ceremonies, during which community members can visibly declare their right to have vibrant school, public, academic, and special libraries in their community. Visit the Declaration for the Right to Libraries website for more information, including how to participate.
Date / Time
Thursday, August 1, 2013 - 14:00
Library Type
Academic / College
Public
School (K-12)
Special
Job Functions
Marketing
Program Evaluation
Audience
Adult
Children / Family
Older Adults / Seniors
Young Adult