Deaf Community Engagement
What does the future of Deaf community engagement in the library look like? Three advocates weigh in.
In 1976, Alice Hagemeyer was a newly appointed staff person at the DC Public Library. As a deaf librarian, she quickly experienced culture shock and a rude awakening as she met and spoke with librarians.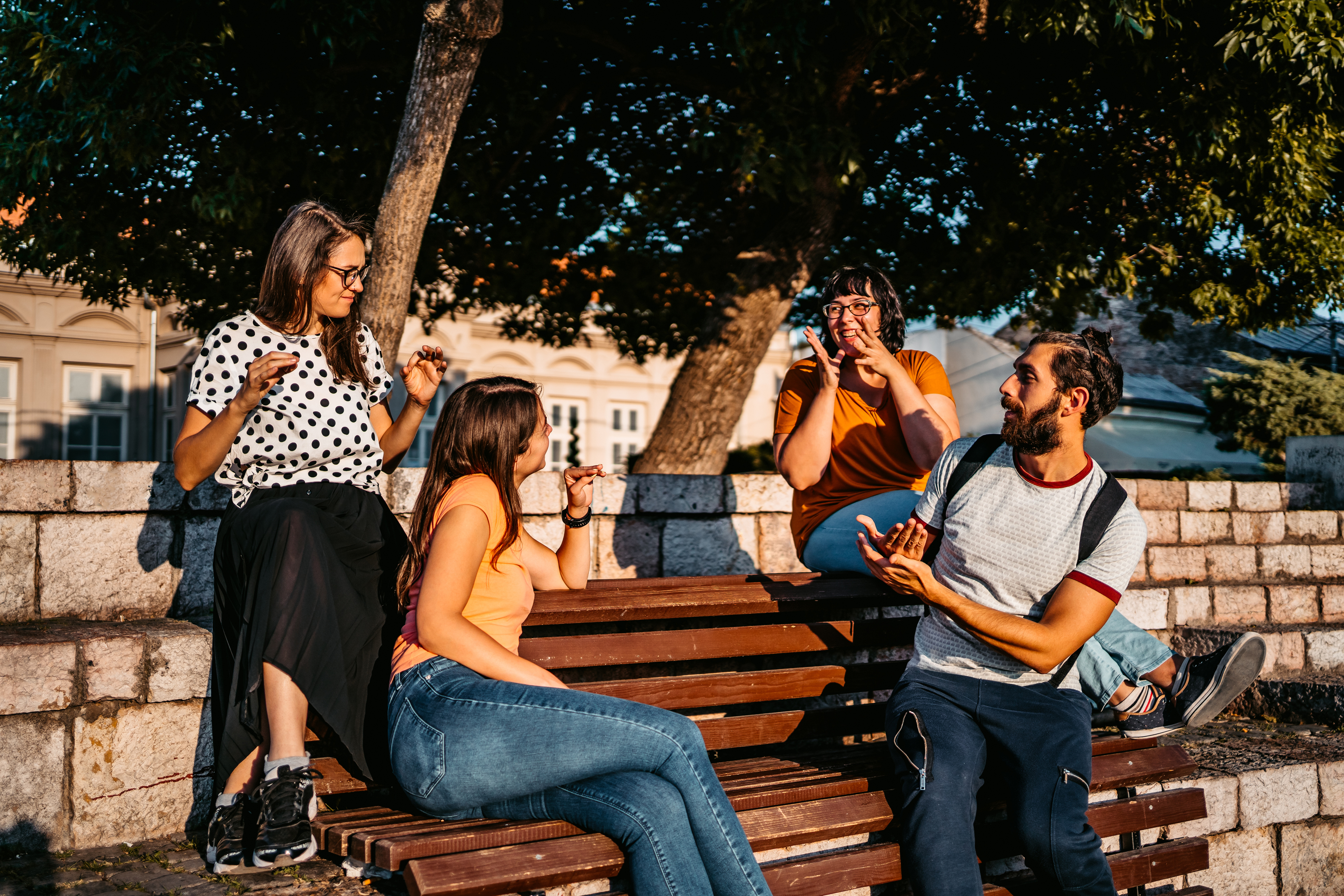 "My experience with meeting hearing librarians was that they had a misconstrued perception about deaf people," says Hagemeyer. "People were saying that because we read lips and speak like everyone else, or that because we can see and read, we had no problems using the library."
For almost 50 years, Hagemeyer has worked as an advocate for the Deaf community and is an expert in producing Deaf cultural programming within libraries. She is now retired from the DC Public Library and is the founder and president of Friends of Libraries for Deaf Action (FOLDA).
I spoke with Hagemeyer and two of her colleagues in advocacy: Alicia Deal, public services librarian at the Dallas Public Library, and Alec C. McFarlane, a master builder with 40-plus years of experience who has worked with Hagemeyer as an organization development specialist on seven legislative bills, including the development of the Maryland Deaf Culture Digital Library.
Alice, can you briefly describe the history of your deaf advocacy work within the library field?
Hagemeyer: The library field in 1976 was one of little to no accessibility to deaf people.
That started changing in 1979 when the ALA Executive Board voted to establish the Library Service to the Deaf section as part of the Association of Specialized and Cooperative Library Agencies (ASCLA). As the first chair of the Library Service for the Deaf section, my committee and I compiled the Red Notebook, a 12-page guide to make deaf patrons aware of existing products, programs and services that libraries provide. This evolved into the Deaf Culture Digital Library.
In 2005, we passed an ALA resolution to support the National Association of the Deaf's observation of March 13 to April 15 as National Deaf History Month. We chose these dates to honor three historical events that paved the path for deaf rights in the United States: when the first deaf person was named president of the 124-year-old Gallaudet University in 1988; when Abraham Lincoln authorized the board of directors of the Columbia Institution (now Gallaudet University) to grant college degrees to deaf students; and the establishment of the first permanent school for deaf students in the western hemisphere, now known as the American School for the Deaf, located in Hartford, Connecticut.
Now, thanks to the work of FOLDA, we have seen the development of better Deaf cultural programs in local communities, leading to an influx of new deaf librarians and library friends from local communities. These people have become part of the national network and benefit from shared resources and activities promoting Deaf cultural programming. Today, I am mentoring Alicia (Deal) to be the next leader of ALA's Bridging Deaf Cultures at Your Library group as I continue my work on FOLDA.
Tell me more about FOLDA and the Deaf Culture: Libraries Connect Communities Tool Kit you are developing.
Hagemeyer: I started FOLDA in 1986 alongside three volunteers at the DC Public Library, the late Raymond Baker, Dr. Dorothy Casterline and Bernard Sussman. FOLDA's mission is to promote library access and Deaf cultural resources of quality for the Deaf community, and all, on a national and global level.
The tool kit will be published in early 2023. It will help librarians learn about quality Deaf cultural resources. My hope is that everyone will learn more about national organizations that serve the deaf and the importance of unity among deaf people.
Deal: Since there is so much misinformation out there that keeps being perpetuated by others, including the media and medical community, the tool kit will help library staff to have a better understanding of the Deaf community and deafness. It will serve as a resource for libraries across the country as they assist the Deaf community, especially in isolated communities. Being from a small, rural town where I was the only deaf person I knew, my family and I didn't know the first place to begin to look for resources to help me when I began to lose my hearing. This was before the widespread use of the internet. It would have been nice if we had the library direct us to those resources.
What is your advice for libraries looking to advocate for their deaf and hard-of-hearing patrons?
Deal: Include the Deaf community in everything you do, whether it is services, programs or collection development. And don't just include one or two people — the Deaf community is so diverse! Meet with deaf people, deaf organizations, and deaf-owned businesses within your community to ask their opinions on what they want the library to be and the kinds of services they want you to provide.
Focus on educating yourself about the Deaf community and deaf history and become aware of your own audism — the belief that the ability to hear makes one superior to those who are deaf. Being mindful of this ableism, no matter how uncomfortable it makes you, will go a long way in challenging long-held stereotypes and discrimination against deaf people.
McFarlane: The question highlights an essential problem: What does it mean to be deaf? My work with Alice (Hagemeyer) is largely about demystifying deafness. Libraries should understand that inclusion is not about adding people to a list; it's realizing they are already there. It's just that they've been excluded.
A library should reach out to state associations of the deaf, clubs of the deaf, and other nonprofits in your area. Many nonprofits are unaware of the powers of the library and would love the opportunity to showcase their members' work.
Hagemeyer: Libraries and their advocates must keep in mind that people who are deaf and hard-of-hearing belong to the same group. Within this group, people often have the same needs, although there is great diversity. Within the larger Deaf community, people may identify as deaf, hard-of-hearing, deafblind, deafdisabled, deaf gain, and others.
Libraries can contact FOLDA for more references on advocacy training.
What is an easy program idea that libraries can offer to best reach this often-underserved community?
Deal: There are no easy programs; they all have their challenges. However, I do recommend online programs since they allow those in the Deaf community from all over the country to attend. Of course, this also depends on the library's ability to provide caption services and ASL interpretation. The most important thing to remember while creating programs for deaf patrons is to ensure that they have the accommodations they need to enjoy the programs.
McFarlane: The easy thing to do is to hire me. [Laughs.] But seriously, I'd help you build a 12-month calendar and set you on your way. An easy program might be a one-off thing, such as a Baby ASL Storytime or a Captioned Film Night. There's no limit to what an easy program might be, but your goal should be a repeating sequence because that is how you develop recognition and foot traffic.
Any closing thoughts?
McFarlane: The final note I wish to make is that deafness does not discriminate; what it means to be deaf is as variable as who might be or become deaf. There is no point in time, place on earth, or history where deafness did not exist.
Congenital deafness is from birth, and early onset deafness is about as common an occurrence. Those late deafened include those of old age, war veterans, construction workers and even rock stars. In fact, the World Health Organization says that there are about 1.5 billion people affected by deafness. Ultimately, these are the people we want to reach. We want to have services provided for those with certain needs, and we also want to leverage the understanding that comes by way of social interaction in an open and public setting.
Deafness is not understood largely because it is not seen or dealt with very often. This is again where the library has a platform to offer to empower people and effect change. The library as a platform is more important than the library as a mere place with books on a shelf. This isn't just about reaching a certain demographic; it is about reaching the entire demographic.
Hagemeyer: For the last 30 years after an early retirement from the DC Public Library in 1992, I want now to focus on the FOLDA collection. May people everywhere realize that the hardest part of trying something new is starting. It is possible with faith and perseverance. I have great hope for the future. May the story of my accomplishments, despite the hardships, serve to inspire others.
Date / Time
Thursday, September 22, 2022 - 10:15
Job Functions
Resources and Program Starters