Library Loot: A Patron Rewards Program
Foster good will and engage patrons with a library reward program.
We all have those pesky reward cards floating around in our wallets — for the grocery store, the coffee shop, the gas station. Bossier Parish Libraries, an eight-branch public library system in northwest Louisiana, figured out a way to use the incentive concept for good: a library rewards program that offers "library loot" to patrons 13 and older.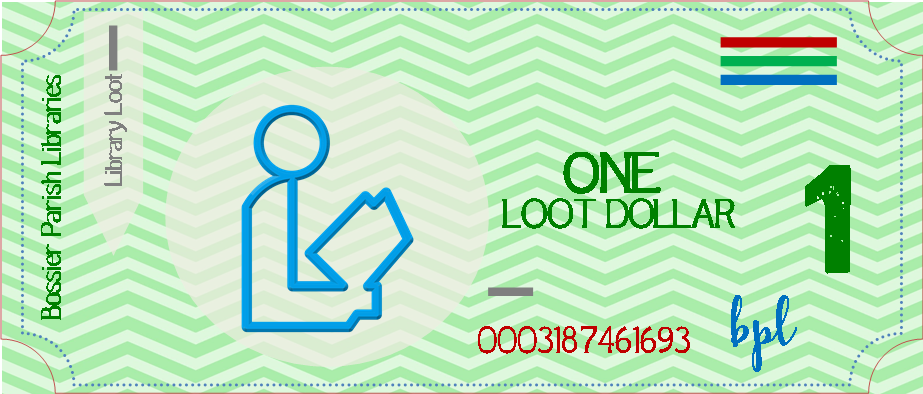 Mandi Johnson, community engagement librarian at Bossier Parish (La.) Libraries, tells us more about the patrons rewards program.
Programming Librarian: Tell us how your Patron Rewards Program works.
Mandi Johnson: The Patron Rewards Program is an initiative where teens and adults can earn library loot dollars, a kind of fake currency, by taking part in library programs and utilizing services. Once a patron accumulates enough "dollars," they can redeem them for rewards.
PL: How do patrons earn loot dollars?
MJ: They can earn loot dollars in one of four ways. They can attend a library event, submit a suggestion to our suggestion box, or recommend a book using a comment card. The final way to earn loot is via staff discretion. Staff can award library loot to patrons who are very involved and great advocates for the library. Alternatively, staff can give loot to patrons who have perhaps had an unsatisfactory experience to hopefully ease their minds. Loot dollars can also be distributed by staff anytime we want to do a little extra library advocacy within the community as a little extra good will.
PL: What kinds of rewards can patrons get when they redeem loot dollars?
MJ: Patrons can redeem for things like fine forgiveness (up to $3, with one loot dollar equaling $1); skipping to first in line on the waiting list for a popular book or DVD; a free replacement library card; or entering to win a prize in our quarterly drawing. The prize drawing is, by far, our most popular option. This idea came about because a patron said, "I want a prize. Our kids get prizes all the time — I want one."
PL: What kind of prizes do you give away in the drawing?
MJ: The prizes are generally gift cards or movie passes, popular book/DVD box sets, literary items or a basket of goodies — adult coloring books and good-quality color pencils, for example. Our patrons particularly love the gift cards and baskets of goodies centered around a theme. We also accept donations from local companies for our prizes. However, don't be afraid to spend the money on quality prizes!
PL: How did you decide which rewards to offer?
MJ: Mostly through trial and error. We found that what we thought were good rewards weren't what patrons wanted. So we listened to their suggestions and tweaked the program accordingly.
Originally, we allowed loot dollars to be used for an extra renewal on items, but patrons can already renew items twice, and we found that incentive wasn't really being used. We also used to let them pay for copies and, while that was used some, we decided to leave that up to staff discretion — they can accept loot dollars for any of our library services up to $3. This can be used on faxes, copies, replacement library cards, overdue fines, things like that. It cannot be used to pay for lost or damaged items.
PL: Do you do one prize drawing for all eight branches?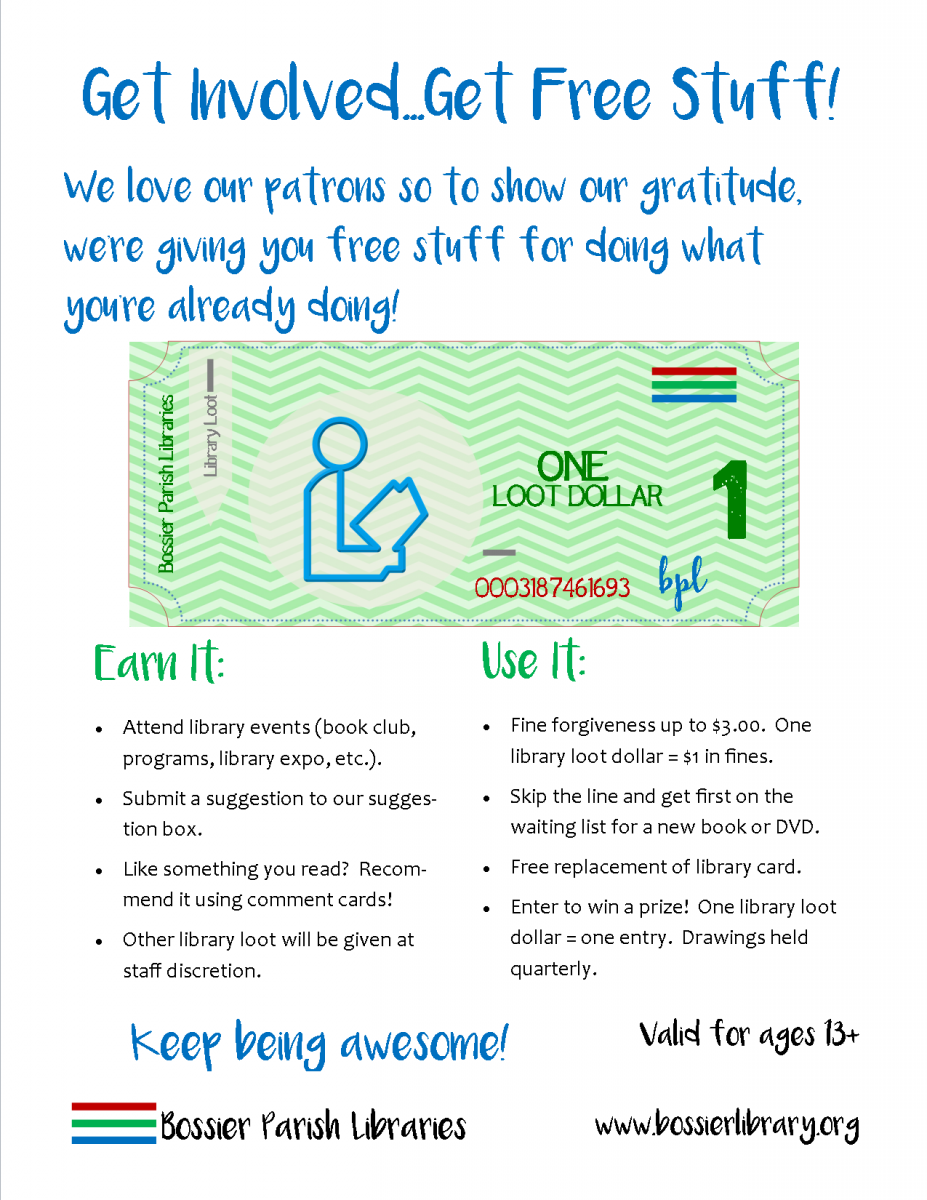 MJ: We actually do four drawings each quarter. Since we serve a large population, we wanted patrons in our more rural areas to have the same fair chance at winning a prize as those at our larger branches. So we divided our eight branches into four two-branch sections and hold drawings for each section. This resulted in the purchasing of 16 prizes for the entire year.
PL: Why did you decide to implement this program?
MJ: Tammie Crochet, our circulation supervisor, and I developed the program to foster positivity between the library and our communities. We wanted to provide incentives for our patrons to participate in library events, and also to show our appreciation for their interaction with us. Who doesn't love to be appreciated, right?
PL: What made you decide to offer the program to patrons 13 and above?
MJ: We selected this age range because we felt children aged 12 and under were already very active with the library, and they already have plenty of opportunities for prizes through other programs, like summer reading. We wanted to offer something new for our teens and adults that would encourage them to get more engaged.
PL: This sounds like it could be quite an undertaking. How did you get started?
MJ: Actually, it only required about a week of planning. We started with a brainstorming session, where we decided which age groups we wanted to focus on. We also had to figure out how patrons would earn library loot dollars and how they could redeem them. After deciding that, it took a couple days to design the flier and loot dollar, get them printed and disseminate them to the branches.
PL: What kind of promotion do you do for the program?
MJ: When we first started the program, part of our marketing strategy was to issue loot dollars outside of standard library activities, at our discretion. This was done at local farmer's markets and community events when we would interact with patrons — especially those who were hesitant about the library, or alternatively, those who were active supporters. We also promoted the event with printed fliers posted in our branches and by offering the loot dollars to patrons who participated in library events. In the beginning, they often weren't aware of the Patron Rewards Program in advance of attending events, but word of mouth quickly started spreading as the initiative went on. If you decide to do a quarterly prize drawing as one of the rewards, I would also suggest promoting it as soon as you know what your prize will be (and you should know this at the beginning of the quarter).
PL: Can you give us an idea of what the budget for this program looks like?
MJ: We spend about $500 a year for this program, which covers all eight of our branches. That money mostly goes toward prizes, which are purchased by the Community Engagement Department and are generally about $30 to $40 apiece. The rest of the funds are spent on printing loot dollars and promotional materials.
PL: You've been running this program for three years now. How has it worked out for your library?
MJ: While we haven't seen an increase in attendance of our library programs or other services as a result of this initiative. We have found that the positive publicity and interactions with patrons from this program have been invaluable. Our regulars love to earn library loot and newbies are pleasantly surprised by the patron rewards program. This has been worth it to us because, at the end of the day, we want our patrons to leave having had a positive experience at our libraries.
PL: Any final advice for libraries who may be considering putting together a rewards program like this? 
MJ: Be flexible! We found that some patrons wanted to use their loot dollars to pay for copies or to send faxes — we used the general rule of thumb that one library loot dollar equals $1, and let we them use it as such if that is what they wanted.
Date / Time
Wednesday, April 26, 2017 - 09:30
Popular Topics
Books and Authors
Passive Programming
Job Functions
Resources and Program Starters
Audience
Adult
Children / Family
Community Members
Older Adults / Seniors
Young Adult