New for August at EDSITEment
EDSITEment highlights the Statue of Liberty and Thomas Hart Benton's "The Sources of Country Music".
This month EDSITEment highlights the Statue of Liberty and Thomas Hart Benton's The Sources of Country Music as well as resources for United States history, world history, literature and language arts, and arts and culture.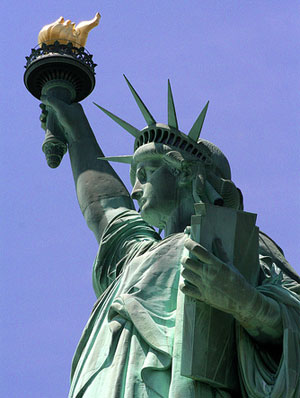 Monthly Feature: Lady Liberty
In August of 1884, on the shore of New York Harbor, the cornerstone was laid for what is today one of the most recognized monuments in the United States: the Statue of Liberty. The statue's location, overlooking Ellis Island, meant that in the years to come the "Mother of Exiles" would be one of the first things millions of immigrants would see when entering the United States. In August of 1894, ten years after the monument's cornerstone was set in place, Congress created the Bureau of Immigration to oversee the thousands of newcomers who were greeted by the statue every year
Investigate the origins of the statue, then ferry students on a virtual tour, tweet and share photos of Lady Liberty. Have your students use this information to create a "Heritage Journal," investigate their ancestry, or learn about immigration policy.
Picturing America Lesson: Thomas Hart Benton—The Sources of Country Music
The old music cannot last much longer. I count it a great privilege to have heard it in the sad twang of mountain voices before it died.—Thomas Hart Benton
By analyzing The Sources of Country Music, students will see the story of Benton's America and discover how the processes of modernity changed American life in the early decades of the twentieth century. By listening to folk music, they will understand how advances in audio recording both captured and changed this music. Moreover, they will discover how recording technology and the movies shaped the images of country style music.
Teacher's Top Choices for the New School Year
Too many tasks? Too little time? No sweat! EDSITEment has collected its most frequently accessed content for August and September. Check out the links below and discover lessons, student activities, and interactives as well as quality Web sites vetted by an NEH Blue Ribbon panel.
History & Social Studies
•   U.S. History: From Magna Carta to The Great Awakening
•   World History and Culture: Cave Art to Marco Polo
Literature & Language Arts
•   American, British, and World: From Beowulf to Things Fall Apart
Art & Culture
•   Art and Art History: From Caves to Pompeii
•   Folktales, Fairytales, and Mythology: From Aesop to Cinderella
About EDSITEment
Now in its eleventh year, EDSITEment is a partnership among the National Endowment for the Humanities and the National Trust for the Humanities. This free-access, user-friendly website showcases more than 300 top humanities sites that have been identified and reviewed for content, design, and educational impact in fields such as social studies, history, literature, foreign languages, art, and culture. EDSITEment also creates grade-specific lesson plans that incorporate online resources, original source materials, and interactive learning activities, games, and quizzes for use by K–12 teachers and students. Find out why the American Association of School Librarians selected EDSITEment as one the 25 Top Website for Teaching and Learning for 2010.
Date / Time
Thursday, August 12, 2010 - 17:45
Job Functions
Resources and Program Starters