New for July at EDSITEment
EDSITEment celebrates American leisure and remembers the Battle of Bull Run on its 150th anniversary.
It's July, summer is in full swing, and EDSITEment celebrates American leisure as well as remembers the Battle of Bull Run on its 150th anniversary and looks at worlds of Shakespeare and Beatrix Potter.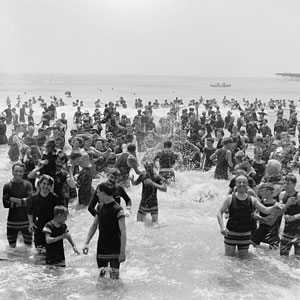 American Leisure
Summertime is vacation time, time for a break. This month EDSITEment features lesson plans and websites that focus on American leisure, past and present, in Eakins' Vision of American Recreation—"In the Good Old Summer Time." As middle-class Americans gained leisure time in the late 1800s, sports like baseball, bicycling, and sculling became popular in the U.S. One of the most well-known images of such an activity, Thomas Eakins' John Biglin in a Single Scull (11-A), is part of the Picturing America Web gallery. The accompanying Teachers Resource Book has background information and art observation activities. As part of this July feature, we are including a lesson based on Eakins' painting as well as primary sources about late nineteenth-century leisure activities.
The lesson plan Having Fun: Leisure and Entertainment at the Turn of the Twentieth Century invites students to explore how innovations in culture and technology influenced the development of America's leisure industry circa 1900. Students may learn about composition from another one of Eakins' paintings of sculling in EDSITEment's lesson plan, Repeat After Me: Repetition in the Visual Arts. This lesson is part of a three-lesson unit on pictorial composition. Using the Launchpad, students may access Thomas Eakins' The Champion Single Sculls and a line drawing of it.
"In the Good Old Summer Time" also includes related activities, research project suggestions, teacher and student resources, additional lessons, and featured websites on American leisure.
The Civil War
EDISITEment marks this month's 150th anniversary of the Battle of Bull Run in Manassas, Virginia, with a number of Civil War–related resources. Literature of the Civil War compiles information and lessons on Civil War–era writers such as Walt Whitman, Emily Dickinson, Stephen Crane, Ambrose Bierce, Henry Wadsworth Longfellow, and William Faulkner. It also includes lessons and interactives devoted to slave narratives as well as primary source material from women who witnessed the Civil War.
Supported by NEH, The Journey through Hallowed Ground features Vodcasts created, produced, and directed by students from Stonewall Middle School that offer their interpretations of the battle of First Manassas (Bull Run), Second Manassas, and the 1911 Peace Jubilee. The project is part of the Of the Student, By the Student, For the Student service-learning program, which works with the Civil War National Parks within the Journey through Hallowed Ground National Heritage Area to help commemorate the sesquicentennial of America Civil War.
A Midsummer Night's Dream
What better way to begin summer than with A Midsummer Night's Dream: Conflict Resolution and Happy Endings? EDSITEment, along with Shakespeare, bids you "Joy, gentle friends, joy and fresh days of love / Accompany your hearts!" For all its playfulness, however, A Midsummer Night's Dream concerns itself with serious conflicts inherent in relationships between friends and lovers, parents and children, governors and the governed. As Peter Quince and his friends engage in their series of pratfalls and slapstick, so do those in the fairy world as well as the characters who come from Athens' court. All suffer more serious discord as well. In each realm, the characters infuriate and abuse one another, compete, and eventually kiss and make up. The activities in this lesson invite students to focus on the characters from Athens in particular (though they can be applied to all the characters in the play), to describe and analyze their conflicts, and then to watch how those conflicts get resolved.
Beatrix Potter
This July, tangle with another British best-selling Potter. Beatrix Potter's charming animal stories are as popular today as when they were published in the early 1900s, owing largely to Potter's beautiful artwork and the simplicity of her characters and themes. By studying Beatrix Potter's childhood and her artwork through Beatrix Potter's Naughty Animal Tales, students gain insight into the unusual, solitary world of Victorian childhood and can compare/contrast it with their own world to understand why Potter wrote such simple stories and why she wrote about animals rather than people. Students can also learn the difference between an author and an illustrator and practice some of the same artistic techniques used by Potter to create masterpieces of their own.
About EDSITEment
Now in its thirteenth year, EDSITEment is a partnership among the National Endowment for the Humanities, Verizon Foundation's Thinkfinity, and the National Trust for the Humanities. This free-access, user-friendly website showcases more than 300 top humanities sites that have been identified and reviewed for content, design, and educational impact in fields such as social studies, history, literature, foreign languages, art, and culture. EDSITEment also creates grade-specific lesson plans that incorporate online resources, original source materials, and interactive learning activities, games, and quizzes for use by K–12 teachers and students. Find out why the American Association of School Librarians selected EDSITEment as one the 25 Top Website for Teaching and Learning for 2010.
Date / Time
Tuesday, July 12, 2011 - 03:45
Library Type
Academic / College
Public
School (K-12)
Special
Job Functions
Resources and Program Starters