New for November at EDSITEment
EDSITEment looks at the Civil War, with lessons on Winslow Homer and Abraham Lincoln.
This month, EDSITEment looks at the Civil War, with lessons on Winslow Homer's painting The Veteran in a New Field and Abraham Lincoln at Gettysburg. In addition, EDSITEment celebrates Native American Heritage Month and Madeleine L'Engle's birthday. Also check out professional development opportunities for school librarians.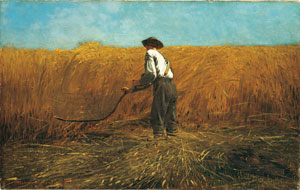 Civil War Veterans
How did Civil War soldiers and their torn country return to peace after four years of fighting? In this lesson, students consider Civil War veterans' possible memories and emotions as they returned to civilian jobs. Students study symbolism in Winslow Homer's painting, The Veteran in a New Field, and compare it to a photograph of the aftermath of a Civil War battlefield. After reading James Wren's diary entry, they write about and role-play a returning veteran.
The Gettysburg Address
"It is the desire that, after the Oration, you, as Chief Executive of the Nation, formally set apart these grounds to their Sacred use by a few appropriate remarks." So read the invitation to Abraham Lincoln to speak at the dedication of a national cemetery on the site of a pivotal Union victory at Gettysburg, Pennsylvania. But contrary to popular belief, Lincoln did not give the keynote address. That oration was delivered by Edward Everett, a Massachusetts statesman, vice-presidential candidate of the Constitutional Union Party in 1860, and the most famous orator of his day. Everett spoke to the crowd of 15,000 without notes for over two hours. The president used only 272 words in his dedication of the cemetery grounds, with most American newspapers taking little notice of the now famous speech. But the day after the ceremony, Everett wrote Lincoln to say, "I should be glad, if I could flatter myself that I came as near the central idea of the occasion in two hours, as you did in two minutes." This lesson will examine the most famous speech in American history to understand how Lincoln turned a perfunctory eulogy at a cemetery dedication into a concise and profound meditation on the meaning of the Civil War and American union.
Native American Heritage Month
November is Native American Heritage Month, and what better way to celebrate it than to learn something about the history and cultures of some of the first Americans? This month EDSITEment also celebrates the recent, five-part PBS series We Shall Remain, which was partially funded by the National Endowment for the Humanities. This series spans four centuries and shows Native Americans' history as part of the national experience from the Mayflower to the Wounded Knee occupation of 1973. Not only is each episode viewable online but each is accompanied by a full transcript and teacher's guide. In what follows, we suggest pairing the first three episodes with one or more EDSITEment lessons or reviewed Web sites in order to help teachers' incorporate these stories into the U.S. history course.
The NEH-funded Indians of the Midwest website highlights recent research of scholars who have provided new insights about the cultures and histories of Indian peoples in the Midwest (Michigan, Wisconsin, Minnesota, Illinois, Indiana, and Ohio). Academic research can show how modern-day issues have roots in regional history and culture and provide necessary background for understanding contemporary issues.
The Native Words, Native Warriors website is a companion to the Smithsonian Institution's traveling exhibition of the same name. During World War I and World War II, hundreds of American Indians joined the United States armed forces and used words from their traditional tribal languages as weapons. The United States military asked them to develop secret battle communications based on their languages—and America's enemies never deciphered the coded messages they sent. "Code Talkers," as they came to be known after World War II, are twentieth-century American Indian warriors and heroes who significantly aided the victories of the United States and its allies.
Finally, the National Park Service offers an interactive travel journal for the Lewis and Clark expedition. It highlights forty-one historic places listed in the National Register of Historic Places and associated with Lewis and Clark. Many of these places are also part of the National Park Service's Lewis and Clark National Historic Trail.
A Wrinkle in Time Board Game
Madeleine L'Engle's birthday is November 29, 1918. Her classic novel A Wrinkle in Time presents a not unusual girl—bright, angry, clever, lonely, and a little awkward—with an unusual passage to young adulthood. With the help of some friends, family, and strangers, Meg Murry travels through different dimensions to other planets to save her father; en route, Meg learns about her own humanity and the humanity of others. This lesson invites students to reconfigure Meg's journey into a board game where, as in the novel itself, Meg's progress is either thwarted or advanced by aspects of her emotional responses to situations, her changing sense of self, and her physical and intellectual experiences.
Professional Development
Each year, NEH Landmarks of American History and Culture Workshops provide the opportunity for K–12 educators to engage in intensive study and discussion of important topics in American history and culture. These one-week programs give participants direct experiences in the interpretation of significant historical and cultural sites and the use of archival and other primary evidence. Landmarks Workshops present the best scholarship on a specific landmark or related cluster of landmarks, enabling participants to gain a sense of the importance of historical places, to make connections between what they learn in the Workshop and what they teach, and to develop enhanced teaching or research materials.
An NEH Summer Seminar for School Teachers enables sixteen participants to explore a topic or set of readings with an expert scholar. The core material of the seminar need not relate directly to the school curriculum; the principal goal of the seminar i to engage teachers in the scholarly enterprise and to expand and deepen their understanding of the humanities through reading, discussion, writing, and reflection. This year's topics include the abolitionist movement; the cultural diversity of Berlin; the Canterbury Tales; Native American novels; the ethics of fairy tales; Britain's Industrial Revolution; the political theory of Hannah Arendt; and punishment, politics, and culture.
NEH Summer Institute for School Teachers (scroll down to center of page), typically led by a team of core faculty and visiting scholars, is designed to present the best available scholarship on important humanities issues and works taught in the nation's schools. The 25–30 participating teachers compare and synthesize the various perspectives offered by the faculty, make connections between the institute's content and classroom applications, and often develop improved teaching materials for their classroom. Topics include African American political history; American frontiers in global perspective; central Asia in world history; Chinese film and society; cotton culture in the South; diversity and unity in the Pueblo world; the early Republic and Indian Country; Archaeology in the upper Mississippi River Valley; teaching Shakespeare; Johann Sebastian Bach; New York, immigration, and American identity through culinary culture; religious worlds of New York; South Africa; and the Great Migration.
Date / Time
Thursday, November 24, 2011 - 14:45
Library Type
Academic / College
Public
School (K-12)
Special
Job Functions
Resources and Program Starters