New for July at EDSITEment
EDSITEment looks at poet Carl Sandburg; the National History Day program; and the unsung heroines in the fight for women' equality.
This month, EDSITEment looks at Carl Sandburg's poem "Chicago"; the National History Day program; the unsung heroines in the fight for women' equality; the 2012 National Humanities Medal winners; and a valuable resource on the Grand Canyon.
Carl Sandburg
As Shelley NiTuama notes, "Carl Sandburg (1878–1960) was a well-loved poet in the mid-twentieth century—not only among the literary crowd, but among many other Americans as well. He appeared on popular TV shows reciting his poetry including the Ed Sullivan Show, the Texaco Hour, the early Today Show, and See It Now. He wrote the very popular six-volume Life of Abraham Lincoln, for which he won one of his three Pulitzer Prizes." In addition to providing information on the writer and the poem, the blog post also links to related lesson plans and primary resources.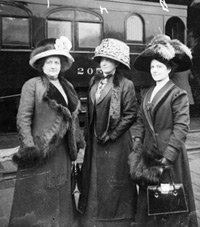 Women's Equality
While Elizabeth Cady Stanton and Susan B. Anthony are arguably the best-known suffragists, most young people know little about them or the women who fought alongside them. The Who Were the Foremothers of Women's Equality? lesson plan explores the activists whose names deserve to be remembered alongside other important names in history. Additional women's equality lessons include Women's Equality: Changing Attitudes and Beliefs, Voting Rights for Women: Pro- and Anti-Suffrage, and Women's Suffrage: Why the West First?
NEH Connections
National History Day
National History Day (NHD) is a highly regarded academic program for elementary and secondary school students. Each year, more than half a million students, encouraged by thousands of teachers nationwide participate in the NHD contest. Students choose historical topics related to a theme and conduct extensive primary and secondary research through libraries, archives, museums, oral history interviews and historic sites. After analyzing and interpreting their sources and drawing conclusions about their topics' significance in history, students present their work in original papers, websites, exhibits, performances and documentaries. These products are entered into competitions in the spring at local, state and national levels where they are evaluated by professional historians and educators. The program culminates in the Kenneth E. Behring National Contest each June held at the University of Maryland at College Park.
National Humanities Medals
This month, President Barack Obama presented the 2012 National Humanities Medals to twelve Americans for their outstanding achievements in history, literature, higher education, social documentary and cultural criticism. Medals were given to historians Edward L. Ayers and Natalie Zemon Davis; academic leaders William G. Bowen and Jill Ker Conway; authors Joan Didion and Marilynne Robinson; sports writer Frank Deford; political scientist Robert D. Putnam; poet Kay Ryan; editor Robert B. Silvers; actress and playwright Anna Deavere Smith; and photographer Camilo José Vergara.
The Grand Canyon
Nature, Culture, and History at Grand Canyon explores four hundred years of Grand Canyon history through the eyes of Native peoples, European-American explorers, miners, entrepreneurs, scientists, artists, tourists, tour guides, and park managers. The website examines how the Canyon has influenced American history and culture and how people in turn have shaped the physical, political, economic, and cultural landscape of this remarkable place. It includes numerous historic and contemporary photos, maps, a digital audiotour, and links to many other resources as well as tools and resources on this website especially designed for students and educators.
Date / Time
Wednesday, July 17, 2013 - 12:30
Library Type
Academic / College
Public
School (K-12)
Special
Job Functions
Resources and Program Starters
Audience
Adult
Children / Family
Older Adults / Seniors
Young Adult