New for July at EDSITEment
Don't let the summer fly by without picking up a book from NEH's Summertime Favorites.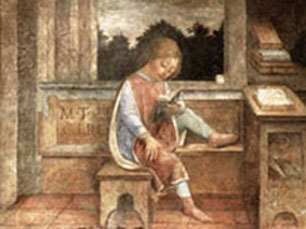 This month's highlights: Don't let the summer fly by without picking up a book from NEH's Summertime Favorites—literary classics listed in appropriate grade categories; recharge yourself with To Kill a Mockingbird, published fifty years ago this summer; join others around the country in hosting a party to celebrate our "national novel"; and introduce timely lessons on senate confirmation hearings.
50th Anniversary of To Kill a Mockingbird
To honor the anniversary of the publication of Harper Lee's masterpiece, EDSITEment has updated two lessons: Harper Lee's To Kill a Mockingbird: Profiles in Courage and To Kill A Mockingbird and the Scottsboro Boys Trial: Profiles in Courage. We have also reviewed resources that will enhance your students' understanding of what author Mary McDonagh Murphy, in her book, Scout, Atticus & Boo: A Celebration of 50 Years of To Kill a Mockingbird, considers "our national novel." Banned from the shelves of certain libraries while being voted as the best novel of the twentieth century by American librarians, and often cited by readers of all ages as the book that had the most profound influence on them, Mockingbird continues to stir emotions, create controversy, and transform the lives of everyone it touches.
The Big Read
A national program created by the National Endowment for the Arts in partnership with the Institute of Museum and Library Services, The Big Read recommends To Kill a Mockingbird as "the rare American novel that can be discovered with excitement in adolescence and reread into adulthood without fear of disappointment." The largest reading program in American history, The Big Read project is designed to unite communities through great literature and encourage each American to discover the transformative joys of reading. Turn to their Reader's Guide and Teacher's Guide for ideas for additional lesson plans, capstone projects and essay topics. Tune in to their Radio Show to be transported back to Maycomb, Alabama, for insights shared by a roundtable of prominent people associated with the story: among them Robert Duvall, the actor who brought "Boo" to life, and Supreme Court Justice Sandra Day O'Connor.
Supremely Contentious: The Transformation of "Advice and Consent"
Senate confirmations hearings weren't always so contentious. Learn how things changed in the 1960s with the confirmation hearings of Abe Fortas. Lessons on this topic include John Marshall, Marbury v Madison and Judical Review—How the Court Became Supreme and The Supreme Court: The Judicial Power of the United States.
About EDSITEment
Now in its eleventh year, EDSITEment is a partnership among the National Endowment for the Humanities and the National Trust for the Humanities. This free-access, user-friendly website showcases more than 300 top humanities sites that have been identified and reviewed for content, design, and educational impact in fields such as social studies, history, literature, foreign languages, art, and culture. EDSITEment also creates grade-specific lesson plans that incorporate online resources, original source materials, and interactive learning activities, games, and quizzes for use by K–12 teachers and students. Find out why the American Association of School Librarians selected EDSITEment as one the 25 Top Website for Teaching and Learning for 2010.
Date / Time
Thursday, July 15, 2010 - 16:15
Library Type
Academic / College
Public
School (K-12)
Special
Job Functions
Resources and Program Starters