New for March at EDSITEment
March capers in like a lamb this year, along with a number of resources from the EDSITEment program at National Endowment for the Humanities.
March capers in like a lamb this year, along with a number of resources from the EDSITEment program at National Endowment for the Humanities. Visit EDSITEment for insights into a number of important historical moments and figures that will be featured this month. Join in our national celebration of women's contributions to American and world history, honor Poet laureate Robert Frost on his March birthday, and turn to Lincoln's First Inaugural Address for guidance through our own turbulent times.
Women's History
EDSITEment's American Heritage Month feature focuses on women's history. Women's History Month provides an ideal opportunity for everyone to learn about and connect to the lives, struggles, and achievements of women both ordinary and extraordinary; this year's theme is "Our History Is Our Strength." EDSITEment features a host of lessons and resources to celebrate the strength of women who founded our country, fought for equal rights for all citizens regardless of gender, contributed to the American story and influenced world events. Topics include: First Ladies, Women Write Own Script, Struggle for Equality, Women in World War, and Women Novelists.
Valuable insights into the influence of American First Ladies are found in EDSITEment lesson Remember the Ladies. The title is taken from correspondence dated March 31, 1776, penned by future First Lady Abigail Adams to her husband, John Adams, who was soon to be appointed a member of the committee drafting the Declaration of Independence: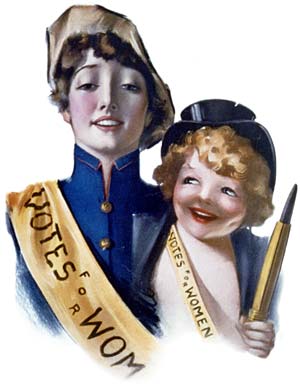 In the new Code of Laws which I suppose it will be necessary for you to make I would desire you would Remember the Ladies. … Do not put such unlimited power into the hands of the Husbands. … If particular care and attention is not paid to the Ladies, we are determined to foment a Rebellion, and will not hold ourselves bound by any Laws in which we have no voice, or Representation.
Also included in this month's EDSITEment feature is a PBS film episode from the American Experience series, Dolley Madison, funded by NEH, which offers insights into the social and intellectual world she inhabited as one of America's first and most charismatic First Ladies. Dolley imbued that yet-to-be defined role with a unique American style all her own. Presiding over Madison's tenure in office and Washington society with characteristic grace and diplomacy, she earned the nickname "Queen Dolley." In addition to biographical information, the film's companion website contains historical background, a timeline, and clips from the film along with an interactive photo gallery of First Ladies throughout our 200-year history.
Celebrate the legacy of a later first lady who shaped American's course in a pivotal period of our nation's history, Eleanor Roosevelt. EDSITEment features the lesson Eleanor Roosevelt and the Rise of Social Reformin the 1930s to examine the various roles this powerful First Lady took on, including political activist for civil rights, newspaper columnist, author, and representative to the United Nations. This lesson also features biographies of the other strong women in FDR's administration, including Molly Dewson, Mary McLeod Bethune, Lorena Hickok, and Frances Perkins.
Two of the many Women's History Projects funded by NEH over the years include:
Women Writers Project—Brown University
The Brown University Women Writers Project is a long-term research and publication project focusing on early women's writing in English. This project has developed an electronic collection of rare and less familiar texts, and researched complex issues involved in representing early printed texts in digital form. It now supports the work of innumerable faculty, students, and readers at hundreds of institutions from around the world by providing access to rare materials by women that otherwise would go unread and untaught.
Women's History Workshop—Assumption College
The Women's History Workshop is a collaborative effort of Massachusetts teachers—middle school through college—which seeks to make available primary sources in imaginative formats for teachers who wish to use such materials in their own classrooms. All of the materials on this site deal with ways in which Americans in the middle of the nineteenth century tried to make sense of gender. This is most directly seen in the woman's rights movement and the responses it evoked, but it influenced, shaded, and helped shape the entire culture through folklore such as jokes, songs, primers, sermons, political harangues, fiction, and poetry.
Robert Frost
Speaking of poetry, this March celebrate the life and literary genius of Robert Frost, who was born on the March 26, with two EDSITEment lessons: Poems that Tell a Story: Narrative and Persona in the Poetry of Robert Frost and Robert Frost's "Mending Wall": A Marriage of Poetic Form and Content.
Abraham Lincoln
Finally, usher in the 150th anniversary of the American Civil War with Abraham Lincoln's First Inaugural Address: We Must Not Be Enemies, delivered on March 4, 1861. Discover the historical context and significance of Lincoln's inaugural address through such archival documents as campaign posters, sheet music, vintage photographs, and documents.
About EDSITEment
Now in its eleventh year, EDSITEment is a partnership among the National Endowment for the Humanities and the National Trust for the Humanities. This free-access, user-friendly website showcases more than 300 top humanities sites that have been identified and reviewed for content, design, and educational impact in fields such as social studies, history, literature, foreign languages, art, and culture. EDSITEment also creates grade-specific lesson plans that incorporate online resources, original source materials, and interactive learning activities, games, and quizzes for use by K–12 teachers and students. Find out why the American Association of School Librarians selected EDSITEment as one the 25 Top Website for Teaching and Learning for 2010.
Date / Time
Thursday, March 3, 2011 - 16:15
Library Type
Academic / College
Public
School (K-12)
Special
Job Functions
Resources and Program Starters