New for September at EDSITEment
EDSITEment remembers 9/11 and celebrates Constitution Day and National Hispanic Heritage Month.
This month, EDSITEment remembers 9/11, celebrates Constitute Day and National Hispanic Heritage Month, offers basic Spanish lessons, and examines the struggle of immigrant farm workers.
September 11
Questions raised by the 9/11 attacks and their aftermath are relevant throughout the academic year and stretch across various humanities disciplines, including politics, geography, the arts, history, and religion. EDSITEment has created a Student LaunchPad, "What Makes a Hero?," to help students approach the events before, during, and after September 11, 2001, through the lens of the humanities in a positive and directed manner. This overview serves as a teacher's guide to the Student LaunchPad and the 9/11 Memorial website, which acts as the major primary source for student activities.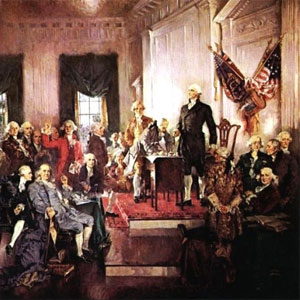 Constitution Day
September 17 is Constitution Day, commemorating the day in 1787 when, at the end of a long hot summer of discussion, debate, and deliberation, the Framers signed America's most important document. But its worth reminding ourselves that the document itself would not become important, would not become "The Supreme Law of the Land" until it was first sent to Congress for approval and then to the individual states to be throughily debated, argued about, and ratified by the representatives of the people in specially elected state constitutional conventions.
National Hispanic Heritage Month
Since 1988, the U.S. Government has set aside the period from September 15 to October 15 to honor the many contributions Hispanic Americans have made and continue to make to our nation by observing National Hispanic Heritage Month. The term Hispanic, as defined by the U.S. Census Bureau, refers to Spanish-speaking people in the United States of any race. On the 2010 Census form, people of Spanish/Hispanic/Latino origin could identify themselves as Mexican, Puerto Rican, Cuban, or "other Spanish/Hispanic/Latino." More than 50.5 million people identified themselves as Hispanic or Latino on the 2010 Census, making Hispanics a significant cultural presence in the United States.
La Familia
Even very young students know, and may occasionally use, words that are Spanish in origin—rodeo, tortilla, lasso, and macho, to name a few. And many are able to count from one to ten in Spanish, due in large part to early exposure to the language provided by children's television programming. This sense of familiarity with Spanish, combined with the excellent language acquisition skills possessed by students in this age group, will help make this unit on Spanish culture an exciting but comfortable experience for your class. Students will learn about families in various Spanish cultures and gain a preliminary knowledge of the Spanish language, learning the Spanish names for various family members.
Esperanza Rising
When she is a young girl learning with difficulty to crochet, her grandmother unravels all of Esperanza's rows and tells her, "Do not be afraid to start over." Although she does not realize it at the time, this advice will become Esperanza's guiding principle as she learns to confront some of life's harsher realities. Pam Muñoz Ryan was inspired to write Esperanza Rising by the stories she heard as a child from her grandmother, Esperanza Ortega Muñoz. Set in the early 1930s, twenty years after the Mexican Revolution and during the Great Depression, Esperanza Rising tells the story of a young Mexican girl's courage and resourcefulness when at the tender age of thirteen she finds herself living in a strange new world.
Date / Time
Thursday, September 8, 2011 - 13:15
Library Type
Academic / College
Public
School (K-12)
Job Functions
Resources and Program Starters
Audience
Adult
Children / Family
Older Adults / Seniors
Young Adult