Join the "Books for All" Campaign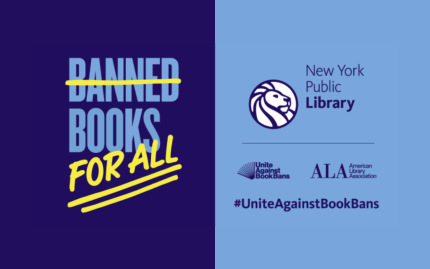 The "Books for All" campaign enables people all over the country to participate, including library systems.
The New York Public Library (NYPL) and the American Library Association (ALA) announced they are increasing access to NYPL's "Books for All" anti-censorship campaign with new downloadable tool kits that enable people all over the country to participate, including library systems.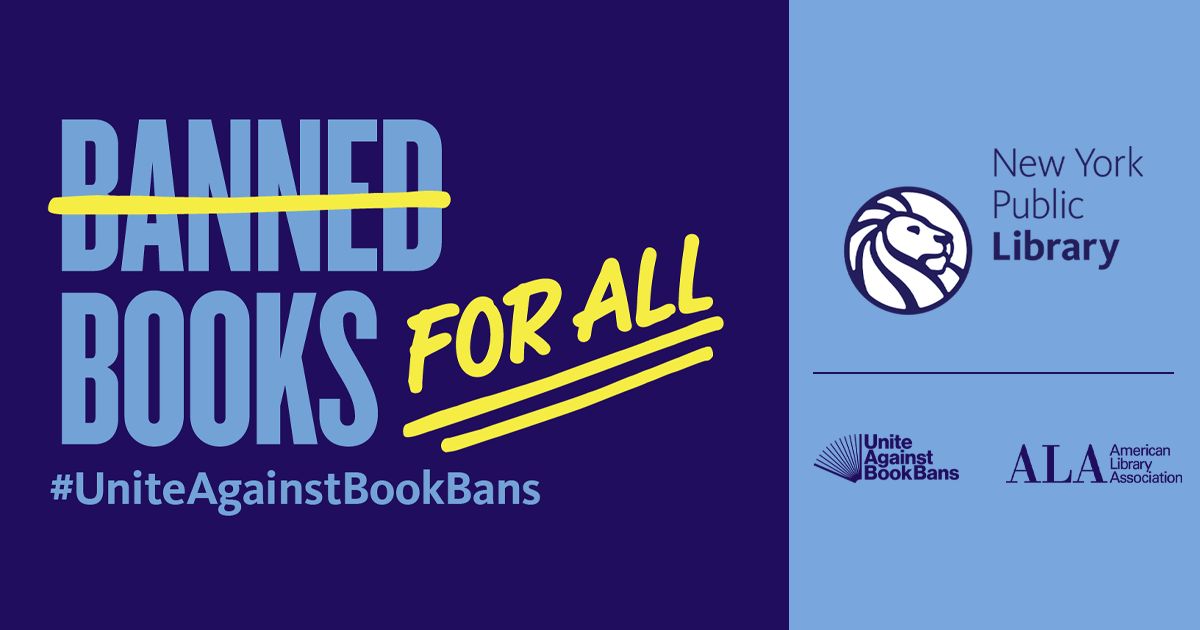 The New York Public Library, in partnership with ALA, launched "Books for All" during Banned Books Week to underscore the importance of reading and access to knowledge for all, and the vital role that public libraries play in our democracy. In recognition of the fact that many of the books being banned and challenged are targeting books for young people, the campaign focuses heavily on teen readers. The campaign will continue through the school year, ending in June, which makes it the largest anti-censorship initiative in NYPL history.
"Books for All" includes a new teen banned book club with unlimited access to young adult titles that have been the subject of bans and/or challenges to anyone via the Library's SimplyE app, as well as a national teen writing contest that will ask teens around the country: "What does the freedom to read mean to them?"
These new toolkits will help bring "Books for All" to more libraries and teens across the country, and will include editable templates that will allow libraries, book clubs, and other community groups to add their own logo. They include a book discussion guide on the Library's first teen book club pick – the highly acclaimed "Each of Us a Desert" by Mark Oshiro – as well as a flier promoting Oshiro's book club talk with teens on Nov. 28 at 4:30 PM ET. That virtual event, hosted by NYPL, is open to teens and school groups nationwide. Unlimited access to "Each of Us a Desert" was made possible thanks to a partnership with Macmillan Publishers. The partnership guarantees there will be no wait times for the book when downloaded via NYPL's e-reading app, SimplyE. It is available to anyone age 13 and over, regardless of whether or not they have an NYPL library card. Every two months, a new book club pick will be announced.
Additionally, the tool kits also feature a "How to Get Involved" guide about ways to fight book bans, a flier that details how teens can join NYPL's teen writing contest – which is open to anyone between the ages of 13 and 19 and includes a $500 grand prize, as well as button maker templates and photo props with slogans like "I read banned books," "Read freely," and "Protect the Freedom."
ALA recently released new preliminary data documenting 695 book challenges during the first eight months of 2023, an increase of 20 percent from the same period last year, which was the highest on record. The preliminary data also suggests that censorship efforts are increasingly being directed at public libraries, which accounted for 49% of documented challenges, up from 16 percent during the same reporting period in 2022.
Date / Time
Thursday, October 12, 2023 - 10:45