Don't miss these sessions (and speaker Michelle Obama) at the 2018 ALA Annual Conference in New Orleans.
As the days get longer, the time you must wait until the ALA Annual Conference is getting shorter. While headliners like Michelle Obama and Viola Davis may be excitement enough, there will be plenty of can't-miss sessions related to programming, too.
Check out some of our favorites below. Have other suggestions? Share them in the comments.
* indicates the session is recommended for rural libraries
Saturday, June 23
♦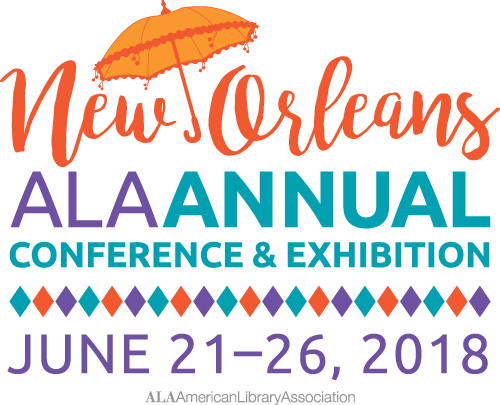 ​ALA's Truth, Racial Healing & Transformation Great Stories Club: How You Can Bring Reading and Racial Healing Work to Underserved Teens in Your Community
Morial Convention Center, Rm 288
9-10 a.m.
Join ALA's Public Programs Office and Office for Diversity, Literacy and Outreach Services to learn how your library can be part of the Truth, Racial Healing & Transformation Great Stories Club (TRHT GSC), a reading and discussion series that will engage underserved teens through literature-based library outreach programs and racial healing work. Attendees will learn about grant requirements and benefits; learn how to apply for the grant online; and explore how this opportunity can connect with your library's literacy, outreach, and equity, diversity and inclusion goals. ALA will begin accepting applications for TRHT GSC in September 2018. Applicant libraries must be located within, or working in partnership with, an organization that serves at-risk youth. Benefits include 11 copies of each of three book selections; programming materials, including discussion guides, reading lists, sample activities and promotional materials; training opportunities, including a two-day orientation workshop; and connection to a racial healing practitioner who will convene an interactive session with your teen readers and program staff.
♦     A Picture is Worth a Thousand Words: Reaching Kids and Families with Graphic Novel Programming*
Morial Convention Center, Rm 388-389
9-10 a.m.
Graphic novels offer opportunities for kid- and family-focused library programming. Whether you are a comic book novice or seasoned reader looking for fresh ideas, you'll leave with tips for organizing library graphic novel programs, talking about comics with kids, and teaching visual intelligence and literary devices using comics. Take home resources to feel confident with graphic novel programming, including book lists, extension activities, readers' advisory tips, resources for finding fun, quality, inclusive, age-appropriate stuff and more.
♦     The Great American Read
Morial Convention Center, New Orleans Theater C
9-10 a.m.
"The Great American Read" is an eight-part television and online series designed to spark a national conversation about reading and the books that have inspired, moved, and shaped us. This screening will feature one of the theme episodes (to be aired on PBS and PBS.org weekly, beginning September 11, 2018), with representatives from PBS introducing the series and episode to be screened, as well as facilitate a Q&A session after the episode screening. Learn more about the series.
♦     Compassionate Service: Promoting Dignity for Marginalized Patrons Through a Holistic Approach
Morial Convention Center, Rm 388-389
1-2 p.m.
In the last few years many public libraries have hired social workers to address the needs of customers experiencing life challenges. In this session, library administrators and social work teams from the Denver and San Francisco public libraries will discuss best practices, challenges and results their libraries have seen by integrating a holistic social service program into their library's service plan. The holistic approach builds a new team dynamic for library professionals and social workers, combining their skills and working together creating a totally new paradigm for service bridging the two professional worlds of librarianship and social work. Marginalized patrons benefit most when they can receive assistance to navigate the complex social service system in the library environment. When library programs and services are discovered in tandem with a social worker's connections to community resources, new breakthroughs are realized that neither profession could manage on their own.
♦     Let's Talk About Race with Kids: Library Programs and Activities that Support Parents, Caregivers, and Educators in Talking to Young People about Race
Morial Convention Center, Rm 290
1-2 p.m.
Young people are exposed to issues surrounding race, racism, bias, privilege and more in their daily lives, within their communities and from the media. Parents, caregivers and educators are often left explaining difficult topics to children and teens while still trying to understand these topics themselves. Adults need tools to help them reflect on their own backgrounds and experiences as well as how best to discuss these important, complex topics with young people in their lives. Learn concrete ideas for presenting programs and activities that provide tools and support for parents, caregivers and educators to talk with young people about race — from a diverse panel of library and community practitioners who have presented such programs.
♦     STEM Opportunities, Resources, and Partnerships between Public Libraries and Afterschool Providers
Morial Convention Center, Rm 288
1-2 p.m.
The Afterschool Alliance, the Space Science Institute's STAR Library Network (STAR Net) and the Global Family Research Project aim to support the growth of STEM partnerships between public libraries and afterschool and summer learning programs. In this session, we will synthesize projects and research conducted across the fields of out-of-school time, informal STEM education, family engagement and community partnerships, in order to provide participants with actionable ideas and promising practices. Tap into a wealth of resources from the afterschool field, including the annual "Lights on Afterschool" advocacy campaign and reports. Learn how to start and sustain partnerships with afterschool providers.
♦     Community Engagement Table Talks: Using an Engagement Tool to Talk about Community Engagement*
Morial Convention Center, Rm 352
2-3:30 p.m.
Community engagement is here to stay. Have you dabbled (or are you thinking about dabbling) in community engagement efforts for your library? Or maybe you're already a pro? Perhaps your library has been working diligently with one dialogue and deliberation model, but you're curious about what else the field has to offer? In a Table Talk format, you and other professionals from across the country will answer these questions together: What have you learned from your community engagement efforts? How does community engagement change the day-to-day reality at your information organization? In facilitated small groups, you will connect and chat with peers to discuss different community engagement models, including Everyday Democracy, Conversation Cafe and the Harwood Institute for Public Innovation; challenges we face in engaging our communities; what worked and what didn't; what resources are available; and sustaining ourselves.
♦     Tech-time Fun with Real-world Connections
Morial Convention Center, Rm 386-387
2:30-3:30 p.m.
Take advantage of the current trends in tech to draw in new audiences, from children to adults, while also connecting to real-world challenges and new scientific discoveries. Explore free apps designed to bring NASA science and exploration to life and try a script-writing activity that uses a Green Screen to transport young authors to the moon and beyond. Give your existing tech spaces and programs real-world context by connecting with local expertise and using library-tested design challenges on sustainable energy and building a cleaner world. Discuss how these hands-on activities can be used to engage diverse members of your community.
♦     Engage for Health: A Patient-Doctor Communication Program @ Your Library*
Morial Convention Center, Rm 283
2:30-3:30 p.m.
Are you interested in offering a health literacy program at your library? Are you unsure of what types of programs to run or what free resources are available to you? Come and learn about Engage for Health, a community health education "program in a box" that you can offer at your library! Engage for Health teaches attendees how to effectively communicate with health care providers. The program materials are freely available for libraries of all types to use, and include presentation slides (with speaker notes), a role play exercise, a pre-post evaluation tool, and marketing tools. Come and learn how easy it is to offer this health literacy program for your community.
Sunday, June 24
♦    Trending Topics from ALA Publishing: Get Moving in Your Library — Physical Literacy, Yoga and More!
Morial Convention Center, Rm 356
9-10 a.m.
By helping patrons view the library in a new way, movement-based programs bring new people into libraries, help promote community health, and stimulate literacy for children and adults alike. And getting started with initiatives like yoga storytimes or an "earth walk" doesn't require any previous experience or even necessarily a dedicated space. Join librarians and professional yoga teachers Katie Scherrer and Jenn Carson as they explore how to incorporate movement-based programming in your library's initiatives.
♦     Make Your Library Dementia-Friendly
Morial Convention Center, Rm 289
9-10 a.m.
As leaders within our communities whose mission is to transform lives, librarians can take a proactive role towards improving the quality of life for persons living with Alzheimer's or some other form of dementia. Now is the time for libraries to develop person-centered programing aimed at enriching the quality of life for this population. Studies increasingly demonstrate that the effects of dementia can be mitigated with regular, personal engagement. This program will highlight a number of concrete initiatives for programming and services that serve as successful models across diverse communities nationwide. Outreach and medical librarians will come away from this session with methods to serve their unique populations. State libraries and MLIS faculty will be stimulated to develop future plans for addressing the needs of this all too often forgotten population.
♦     Libraries Foster Community Engagement Membership Initiative Group
Morial Convention Center, Rm 348-349
8:30-10:30 a.m.
ALA's Libraries Foster Community Engagement Membership Initiative Group provides an opportunity to hear and talk about the work of library-led community engagement. It serves as a community of practice where participants share experiences facilitating public forums, fostering community and civic engagement, and leading change in communities. All experience levels are welcome; come share your experiences and learn from your peers.
♦     Program Speed Dating with the Programming Librarian Interest Group*
Morial Convention Center, Rm 397
10-11:30 a.m.
You've tried speed dating. But have you tried speed dating for program ideas? Join ALA's Programming Librarian Interest Group for this fun, fast-paced session and learn about a variety of diverse programs you can re-create at your library. You'll get five minutes to learn all you can about a program and decide whether or not it would work for your community. You'll leave inspired with several ready-to-implement ideas from your peers.
♦     Conversation as a Model of Engagement with Library Users Experiencing Homelessness
Morial Convention Center, Rm 386-387
10:30-11:30 a.m.
How does working with people experiencing homelessness to identify their needs, instead of offering the programming library staff believe is needed and/or wanted, change library programming? Will structured, but informal, conversations help staff engage with patrons, regardless of housing status? Through months of conversation sessions with patrons and staff, staff from the Multnomah County Library and The Public Library of Cincinnati and Hamilton County have learned that even informal dialogue opens the door to engagement with patrons and allows us to learn from our community. Using a variety of methods, we worked to intentionally invite patrons experiencing homelessness to engage with staff. This engagement has produced a feeling of community inside the Central library, helped library staff feel more comfortable talking to patrons and helped staff and patrons learn about each other. We have also been able to use what we learn from conversations with our patrons to provide programming relevant to those members of our community who are experiencing homelessness.
♦     Supporting College Students on the Autism Spectrum: Evidence-Based Strategies for Academic Librarians
Morial Convention Center, Rm 294
10:30-11:30 a.m.
At Florida State University, a team of researchers are working with academic librarians to provide intensive coaching to better support students on the spectrum in the campus libraries. In this session, both researchers and librarians will share key project takeaways and actively engage participants in discussion about best practices for working with this population. In this highly interactive panel, presenters will share key takeaways from an IMLS funded study, Project A+, that provides evidence based strategies for academic librarians in working with students on the autism spectrum. The session will incorporate two themes: research and practical application.
♦     American Dream Literacy Initiative: 10 Years Serving Adult English Language Learners
Morial Convention Center, Rm 343
1-2 p.m.
Since its inception in 2007, the American Dream Literacy Initiative has supported public libraries throughout the United States in initiating or expanding literacy services for adult English language learners. Administered by ALA and funded by the Dollar General Literacy Foundation, the program has provided a total of 214 grants to 187 libraries, across six cohorts. The grants allow libraries to augment their print and digital English as a Second Language collections; increase computer access and training; provide job training; hold English language learning, General Educational Development and citizenship classes; and raise the visibility of services for immigrant populations. This session will share findings and recommendations from a multi-year evaluation study, as well as highlight individual grantee libraries' successes and stories from the field.
♦     Pleasure Reading in School: Leveraging Enthusiasm for Pleasure Reading
Morial Convention Center, Rm 295
1-2 p.m.
Recreate your summer reading program by leveraging the enthusiasm of avid readers in your community to infect the less-avid with the magical combination of a compelling book and a personal connection. Imagined in our private San Jose, California high school nearly 10 years ago, ReCreate Reading has been tested, tweaked and refined. In 2017, ReCreate Reading won YALSA's MAE Award for best literature program for teens. The program replaces required but dreaded annotation, essay writing and testing with dynamic, small group discussions that leave participants coming back for more. Despite zero threat of retribution, surveys indicate high percentages of students read titles they've selected. Our experience has been with high school students, but the program framework can work with at any age level in public, school and academic settings. Hear about the hazards to avoid and the amazing positive outcomes never anticipated.
♦     Public Libraries: Leading Communities in Family Engagement
Morial Convention Center, Rm 392
1-2 p.m.
In 2017, the Public Library Association and the Global Family Research Project released the "Ideabook: Libraries for Families" publication, which was the result of nearly two years of research and investigation into how library programs can and do engage parents and caregivers in their children's education, across the age spectrum. The book proposes how public libraries can use the five "Rs" framework — reach out, raise up, reinforce, relate, and reimagine — to develop meaningful, lasting relationships with families in their communities. Public libraries are accessible, offering diverse, intergenerational programming and serving families from low-income homes at a high rate compared to other community providers. This session will review the state of family engagement based on research in the education field and among library directors, and explain the new public library framework and how it can be applied to library programs, professional development, community partnerships and strategic planning. Audience members will be challenged to take typical library programs and implement the framework on them, to make them stronger programs with better outcomes for families.
♦     The National Impact of Library Public Programs Assessment
Morial Convention Center, Rm 293
2:30-3:30 p.m.
ALA's IMLS-funded National Impact of Library Public Programs Assessment (NILPPA) was developed to understand the impact of library public programs nationwide. At the time of the ALA Annual Conference in June 2018, the research initiative will be well under way. The research team will use this opportunity to share results with the field and invite practitioners to join the research process. We will share findings to date from our two inter-related research questions: 1. How can we characterize and categorize public programs offered by libraries today? 2. What competencies and training are required for professionals working with library programming? Each question is being addressed with a a robust mixed methods data collection and analysis strategy by a collaborative team of experts in the library field. This presentation is part of our commitment to transparency throughout the research process and field-wide input to validate the research findings.
♦     Escape the Library: Escape Room Design Workshop*
Morial Convention Center, Rm 386-387
4-5 p.m.
New escape rooms continue to open across the world. TV shows, YouTube series and video games have been dedicated to them. Children's books such as "Escape From Mr. Lemoncello's Library" and "Click Here to Start" have featured them, too. Started in Japan, escape rooms are a fast-growing global phenomenon in which players solve puzzles, crack codes and decipher clues to unveil a secret plot. If you have been looking to create an exciting teen and youth program, you will be presented with a comprehensive blueprint of how to build an escape room from scratch for a variety of ages, spaces and budgets. Topics will include how to pick a theme, how to design the room, how to chart the flow of the room from when the player first walks in until it is solved, how to create custom puzzles and props on a budget, and how to avoid common mistakes.
Monday, June 25
♦     Diversifying Educational Programming through Partnerships with the Arts: STEAMing up STEM
Morial Convention Center, Rm 294
9-10 a.m.
Learn tips on developing instructional programming, finding funding opportunities and producing effective library marketing for sustainable outreach that fulfills educational goals. Three panelists, including a Georgia Tech librarian, English faculty member and an Atlanta-based visual artist will each present their perspectives on the creation and outcomes of an IMLS-funded educational program that employs the visual arts to improve students' communication skills and engagement with campus and community life. Attendees will acquire information to assist them in building similar programs, learn how to sustain and assess them, and discuss how to tailor non-traditional partnerships in library educational programming to their own communities.
♦     Program with a Purpose: Attract Your Patrons Like Students to Fidget Spinners
Morial Convention Center, Rm 294
1-2 p.m.
Discover how it is possible to create programs that inspire other educators to do better, motivate students to take on new learning opportunities, all while bringing together the community to support your school's mission. This session will highlight programming ideas for both librarians and/or technology integration specialists to inspire a passion for learning within their school community while making media and technology programs shine.
♦     Lessons Learned from the 2017 Eclipse: What Participation in Charismatic Events Can Do for YOUR Library
Morial Convention Center, Rm 395-396
2:30-3:30 p.m.
This session will help public libraries catalyze the momentum from the 2017 solar eclipse to make plans to participate in other charismatic STEM events in the coming year, partner with local and national STEM organizations (like NASA!), and find innovative ways to help their community see them in a new light. Presenters will discuss future STEM events, transformative stories from eclipse participant libraries, and guide participants in their own future planning. Representatives from the National Center for Interactive Learning at the Space Science Institute (the STAR_Net Program), NASA and public libraries will comprise the session panel.
Date / Time
Monday, April 30, 2018 - 14:00
Job Functions
Professional Development/Training