Q&A with 2010 Jaffarian Award Winner
The Sara Jaffarian Award recognizes and promotes excellent humanities programming in K-8 libraries.
Editor's note: Today's post is part of a month-long series featuring Q&A with past winners of the Sara Jaffarian School Library Program Award for Exemplary Humanities Programming.
The Sara Jaffarian Award was established in 2006 to recognize and promote excellence in humanities programming in elementary and middle school (K-8) libraries. It is presented annually by the Public Programs Office, in cooperation with the American Association of School Librarians (AASL), and named for Sara Jaffarian, whose donation to ALA's Cultural Communities Fund established the award. Jaffarian, a retired school librarian and long-time ALA member, spent her career passionately advocating for school libraries in every school. Find out more about the Sara Jaffarian award. Applications for the 2011 Jaffarian Award will be accepted September 1, 2010–December 15, 2010.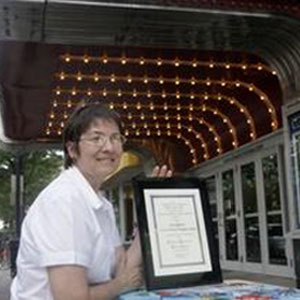 Nicolette Vaillancourt is the Learning Resource Center director at Jefferson Elementary School in Elmhurst, Illinois. Her program, The Elmhurst History Project, won the 2010 Jaffarian Award.
Programming Librarian: Please briefly describe your school library's humanities program. Why did you decide to put the program up for consideration for the Jaffarian Award?
Nicolette Vaillancourt: The second graders of Jefferson Elementary school participated in the Elmhurst History project, which engaged them in the study of their hometown and how it has changed over time. This project was done collaboratively with the second grade teachers who started the study of various landmarks in the classroom. Further in-depth research was carried out in the library where teams of students worked to identify and record five important facts about a landmark, and then were challenged to create a mural depicting that landmark. The murals were displayed in a mini-museum gallery for our Open House at which the students acted as "docents." Photos were taken of the murals and used to create a photo story which the students narrated. Finally, this podcast was posted on our library website and played for all of the second grades.
I decided to apply for the Jaffarian award first, because the program seemed to meet many of the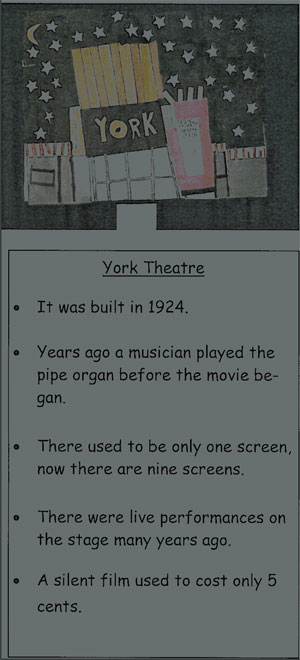 criteria of the grant, and second, because the program benefited the students in so many positive ways that I thought it was worthwhile sharing.
PL: What were some challenges that you encountered during your library's humanities program? How did you overcome them?
NV: One of the challenges I faced in teaching the research part of this program was determining how to teach second graders the use of the cross-referencing in our main resource, Treasures of Elmhurst History. Another challenge was keeping the students to a schedule in order to finish the murals in time for our Open House. A personal challenge was figuring out how to format the podcast so that it could be posted to our library website.
PL: What do you think set your program apart from all the other 2010 Jaffarian applicants?
NV: Since I haven't seen the other Jaffarian applications, I can only guess at what may have set our project apart from the others. Perhaps our project integrated more of the elements that met the grant's criteria. We had teamwork, fact finding, community explorations, technology integration, teacher collaboration, multi-disciplines (language arts, research, art, and speech), an in-depth study over an extended time period, and higher level thinking (analysis, synthesis, evaluation).
PL: How does your school library plan to use the $4,000 award?
NV: We will use some of the grant monies to purchase books—both fiction and nonfiction—but we will also purchase some additional shelving that we badly need, a book truck, flip cameras, and a rug for our story time area.
PL: Do you have any advice for prospective Jaffarian Award applicants?
NV: What advice can I offer future Jaffarian applicants? I am not a trained grant writer—far from it. When I started writing this grant, I felt somewhat inadequate, so I went to my principal and confided my misgivings. She gave me advice that I found especially helpful; she said that she had learned in writing a grant to address every criteria point and to organize the information so that each point was readily accessible for the grant readers. I followed her advice and owe her a "big thank you!"
Date / Time
Tuesday, August 10, 2010 - 14:30
Job Functions
Grants and Awards
Resources and Program Starters