Q&A with the 2009 Jaffarian Award Winner
School librarian Sally Rasch talks about the award-winning program, Learning about the World with a Global Perspective.
Editor's note: Today's post is part of a month-long series featuring Q&A with past winners of the Sara Jaffarian School Library Program Award for Exemplary Humanities Programming.
The Sara Jaffarian Award was established in 2006 to recognize and promote excellence in humanities programming in elementary and middle school (K-8) libraries. It is presented annually by the Public Programs Office, in cooperation with the American Association of School Librarians (AASL), and named for Sara Jaffarian, whose donation to ALA's Cultural Communities Fund established the award. Jaffarian, a retired school librarian and long-time ALA member, spent her career passionately advocating for school libraries in every school. Find out more about the Sara Jaffarian award. Applications for the 2011 Jaffarian Award will be accepted September 1, 2010–December 15, 2010.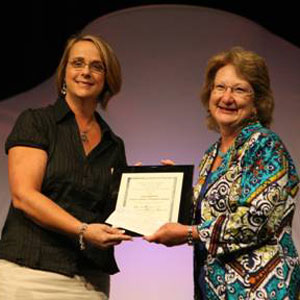 Sally Rasch is the librarian at the Carroll Academy for International Studies in Houston, Texas. Her program, Learning about the World with a Global Perspective, won the 2009 Jaffarian Award.
Programming Librarian: Please briefly describe your school library's humanities program. Why did you decide to put the program up for consideration for the Jaffarian Award?
Sally Rasch: Carroll's [annual] humanities program centers on the school curriculum and bringing the world to the students at Carroll. We have at least one programming event every fall such as an election that coincides with the public elections. However, we go more in depth and have voter registration, elections for school events, and even the Electoral College. Last year we did the Carroll Olympics. We have a book parade the Friday before Thanksgiving. This parade promotes literature and has classrooms use upper level thinking skills to come up with a global way to advertise their chosen book. In the spring we do an additional program. We have a post office and a science fair in May, and Storybook Opera comes every year. Johnny Appleseed and other special story time/lessons are annual occurrences. We have had Custom's Houses, World Council meetings, and author visits. In addition, we check out about 5,000 books per month, and are involved in literacy at our school.
Our programming centers on the idea that students learn more when you bring the world to them whether it is a lesson about the rain forest or the ocean. Tactile whole school lessons which are planned with the support of the teachers and administrators keeps everyone involved and helps support the curriculum and makes the library an important part of the school.
I do not usually apply for or even read awards. A friend of mine who is the Systems Administrator for our district, Cindy Buchanan, told me about the award and that I should apply. I hesitated but read the ALA blurb. In reading about Sara Jaffarian, I felt that I had found a kindred spirit. The following quote says everything I believe about libraries:
Throughout my career, I worked in many capacities to promote the idea that every school needs a library. In order to have an excellent school, there must be an excellent school library! To achieve this, more is needed than just books and other materials—curriculum-related programming has the power to take a school library to the next level, exciting students, bringing in parents, and getting the attention of administrators and community leaders. I'm delighted to establish an award that will not only recognize excellence in this arena, but also provide training for school librarians across the country.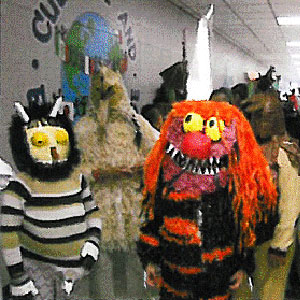 In these days of budget cuts and students with isolated experiences, it is imperative that the library remain a relevant and vital part of the school's curriculum.
PL: What were some challenges that you encountered during your library's humanities program? How did you overcome them?
SR: It is vital that you make sure everyone understands the curriculum connections and upper level thinking skills that you can provide. The planning must include administrative and teacher support. Every second is vital in this data driven world. The programming must be relevant. Preplanning is essential so that implementation runs smoothly. Starting small and working up to larger programs has worked well for me.
PL: What do you think set your program apart from all the other 2009 Jaffarian applicants?
SR: Our programming is relevant and involves the whole school. I work with students, teachers, administrators, and parents to insure the success of the program and the library. The programming changes with the year and curriculum changes. This is vital to keeping the library relevant.
PL: How does your school library plan to use the $4,000 award?
SR: We are buying items that can be used for further programming such as costumes, microphones, etc.
PL: Do you have any advice for prospective Jaffarian Award applicants?
SR: Apply [because] you never know what may come of the application. Just filling out the application gave me insights into my programming that I used the following year. Attending ALA and meeting librarians from around the USA was an incredible experience.
Date / Time
Tuesday, August 17, 2010 - 12:30