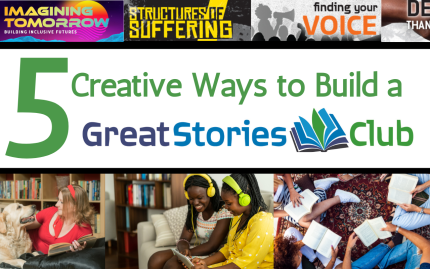 Need some ideas for a creative teen program? Here are five unique ways to use the Great Stories Club.
The opening chapter of author Renée Watson's young adult novel "Piecing Me Together" is two simple lines: I am learning to speak. / To give myself a way out. A way in.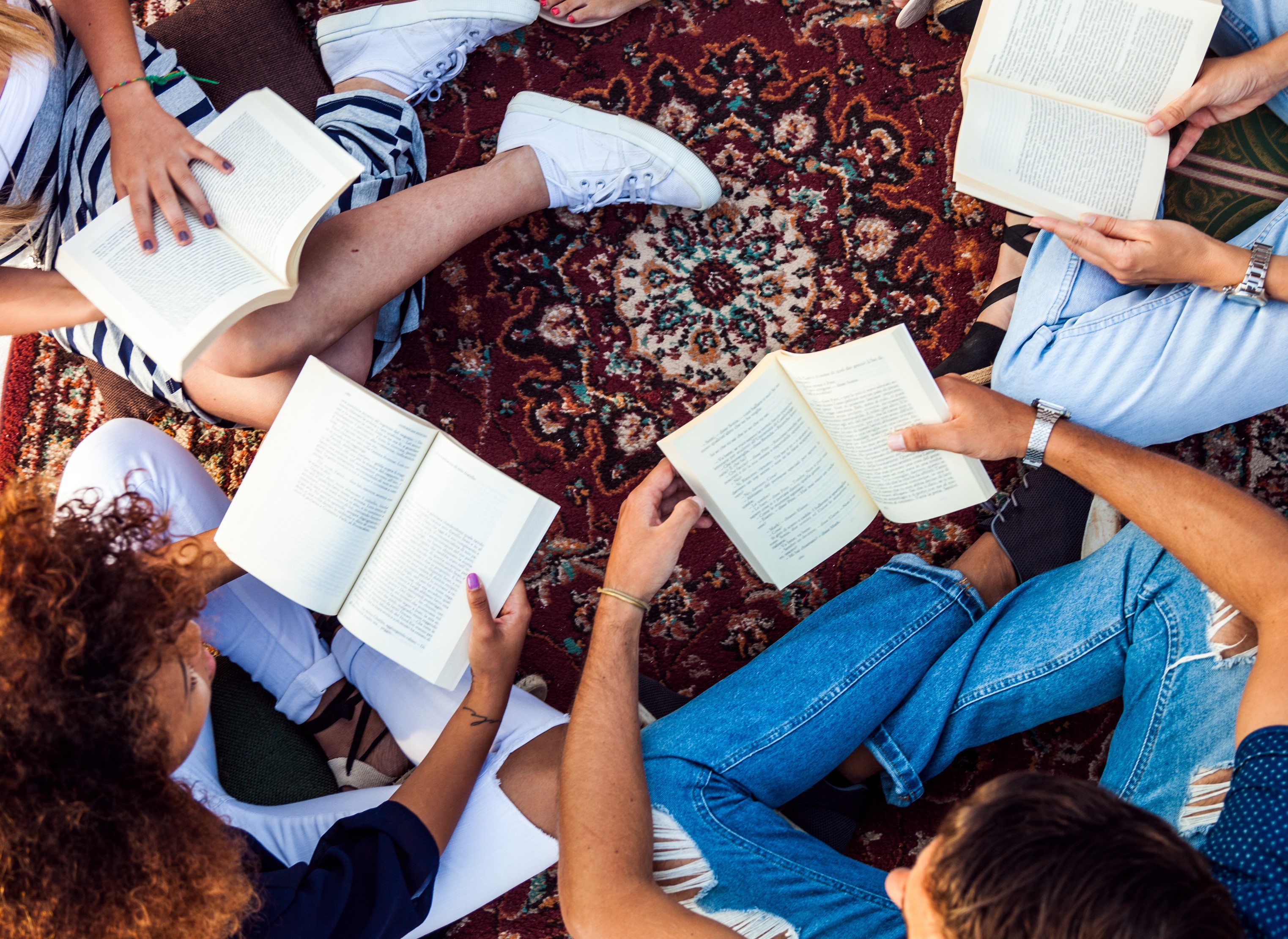 Those words could also be spoken by the teen readers in the American Library Association's Great Stories Club, a reading and discussion program that offers underserved young people a chance to develop their own voices. 
Book lists for the Great Stories Club program are based on 10 different themes. Watson's "Piecing Me Together," a novel about a Black teen who accepts a scholarship to a private school because she wants to escape poverty, is one of the books offered as part of the "Finding Your Voice: Speaking Truth to Power" theme. "I hope that my books provide space for young people to explore, and say, 'Yeah, I feel seen,'" Watson has said. "That's what I want young people to do — to talk to each other and to the adults in their lives."
Libraries can apply for a Great Stories Club grant that includes the books, training, discussion questions, support, and resource materials. Or any library, state humanities council or nonprofit can use the resources, available online, to start their own book clubs.
>>> Apply now for a grant to implement the Great Stories Club. Applications are accepted until March 29, 2023. <<<
Since Great Stories Club started in 2006, host libraries and organizations have implemented the program in various ways — in person and online, and with different groups of young people, including those in alternative schools, correctional facilities, juvenile detention centers, or those experiencing homelessness or other trauma. Guidelines are available, but the program is flexible.
Many librarians and community Great Stories Club leaders have shared how they tailored the book groups to their communities:
Ask an outside expert to lead
Molly McMillan, a program officer at the Mississippi Humanities Council (MHC), partnered with the Central Mississippi Correctional Facility to bring a Great Stories Club to its unit for youthful offenders.
Instead of leading the group herself, McMillan asked Chauncey Spears of the Alluvial Collective, an organization that works to end inequity, to guide the book discussions. They chose the "Empathy: The Cost of Switching Sides" theme for weekly sessions with 12 readers. Spears selected three of the six recommended books: "All American Boys" by Jason Reynolds and Brendan Kiely, "Flight" by Sherman Alexie and "Stuck in Neutral" by Terry Trueman. Spears used the provided discussion questions, but also came up with his own, and had the boys journal about the books and their time in the facility.
"These weekly sessions became like an escape to participants — a time where they could be themselves and remind themselves of who they are," McMillan says.
Invite an author to speak
In 2017, Paula Willey, a librarian at the Parkville Branch of the Baltimore County Public Library in Maryland, wrote about bringing a library outreach program to the Charles H. Hickey Jr. School, an all-male detention center run by the Maryland Department of Juvenile Services.
The library presented a talk and book signing by Jay Asher, author of the novel "Thirteen Reasons Why," around the time the Netflix show based on the book was popular. The book was part of the Great Stories Club theme "Structures of Suffering: Origins of Teen Violence and Suicide."
"Discussing books with these students and bringing authors out to see them … assures the teens that they are relevant and valued participants in cultural conversations," Willey says. "It's a rare opportunity to show them that they are not forgotten and that we expect to see them at the library soon."

Go to the dogs — therapy dogs
In 2016, Magi Henderson, as youth services director at the Glen Carbon Centennial Library District in Illinois, partnered with Got Your Six Support Dogs to bring therapy dogs to a Great Stories Club program for teens at the Madison County Juvenile Detention Center.
The dogs provided a caring, comforting presence during difficult discussions of Sherman Alexie's book "The Absolutely True Diary of a Part-Time Indian."
"We talked about Sherman Alexie's character and the courage and effort it took to start changing his life," Henderson says. "We then discussed the changes that can happen to a dog that is placed in a shelter and the positive change that occurs when it is adopted and finds a new life's purpose as an assistance or therapy dog." Afterward, the students shared examples of someone they knew who had made a positive change in their life.
"Spending time with a dog makes them feel less lost and scared," Henderson says. "It gives them a sense of comfort and being listened to."
Involve the whole town
Deborah Will, an instructional media center coordinator for the Zion-Benton Township High School in Illinois, created a Great Stories Club for teens in the township's summer work program.
As the teens read and discussed "The Hate U Give," Angie Thomas' novel about a teen girl who witnesses the shooting of a Black boy by a white police officer, the township's mayor, a City Council member and the chief of police joined them. The council member took teens to see a movie based on the book.
"They all realized the kids were mature enough for all of this," Will says. "Instead of walking away from what students' experience, they walked toward it, met them in the middle, and said, 'Let's figure out how to make it a better tomorrow.'"
Help teens talk about suicide
In 2016, Angela Hartman, a librarian for secondary schools in the Hutto Independent School District in Texas, sought a way to open conversation after several students in the district had taken their own lives.
She partnered with The Sandbox at Madeleine's Place, a nonprofit started by the mother of a teen who died by suicide, to apply for a Great Stories Club grant based on the "Structures of Suffering" theme.
The mother who started the organization met with the students, and they discussed the books as well as other issues in their lives. "Kids talked about whether they had considered suicide, or talked about a friend who had taken their own life," Hartman says.
Add music and a movie
Kristy Gale, as a young adult services librarian with the Seattle Public Library, led a Great Stories Club with Seattle Public Schools' Interagency Academy alternative high school program.
For a Great Stories Club reading of "I Am Alfonso Jones," a graphic novel by Tony Medina, Gale showed the students a Black history video about Spike Lee's film "Do the Right Thing," which features a character, Radio Raheem, referred to in Medina's novel. They also listened to and discussed the lyrics of "A Tree Never Grown," a song from the album "Hip-Hop for Respect" about police brutality.
Gale, who wrote a blog about her Great Stories Club experiences, says she's "seen some amazing growth within the students that I've worked with, as well as within myself."
The American Library Association's Great Stories Club is a literature-based library outreach program that gives underserved youth the opportunity to read, reflect and share ideas on topics that resonate with them. Since 2006, ALA has made 1,400 Great Stories Club grants to libraries, reaching more than 42,000 young adults in 49 states and 2 U.S. territories. Read more about the Great Stories Club.
Date / Time
Wednesday, March 1, 2023 - 10:30
Library Type
Academic / College
Public
Rural
School (K-12)
Special
Popular Topics
Books and Authors
Community Engagement
Grants and Fundraising
Great Stories Club
Job Functions
Grants and Awards
Resources and Program Starters