See Picturing America on Screen
Picturing America on Screen is the new video online and on-air companion to the Picturing America initiative.

Picturing America on Screen, the new video online and on-air companion to The National Endowment for the Humanities' (NEH) Picturing America initiative was launched today. The initial Picturing America initiative gave public and private schools, libraries, and communities the opportunity to learn about our nation's history through its artistic heritage. The initiative is composed of forty carefully selected works of art spanning several centuries created by American painters, sculptors, photographers, artisans, and architects. Picturing America on Screen is a production of THIRTEEN for WNET New York Public Media, one of America's most prolific and respected public media providers. For nearly fifty years, WNET has been producing and broadcasting national and local arts programming to the New York community.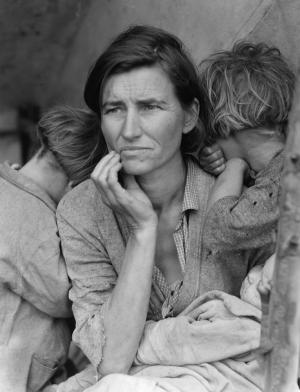 In creative perspectives from nine filmmakers, illuminated by commentary from a range of participants, experts, and scholars, Picturing America on Screen provides a unique and original opportunity for introducing Americans to their artistic heritage and to the possibilities inherent in using art to teach and understand America's past. The twenty-five films vary in length, some contain a single art work and some combine two or three of the art works. For example, one segment pairs the Emanuel Leutze painting of Washington crossing the Delaware with the James Karales photograph of the Selma to Montgomery March. Though the pieces were created more than a century apart, they share a surprising compositional symmetry and depict equally inspirational and monumental moments in our nation's history.  This film can be found on the Picturing America on Screen website, along with the twenty-four other video segments that comprise the initiative.
"We find ourselves in the midst of one of our most historic presidencies, an unsettling economic environment which challenges creative thinking and a time of great transition in the world," said series producer and filmmaker Gail Levin. "Picturing America and now Picturing America on Screen holds a certain resonance by allowing participants to expand the way they see history and current events through an enjoyable and interactive experience."
Funding for Picturing America on Screen is provided by NEH. Producers are Richard Hendrick, Arash Hoda, Rob Issen, Gail Levin, Brian O'Connell, Richard O'Connor, Sam Pollard, Carol Stein, and Pamela Mason Wagner.  Picturing America on Screen is a production of THIRTEEN for WNET New York Public Media. Executive Producer is Susan Lacy; Gail Levin is Series Producer; Prudence Glass is Consulting Producer.
Date / Time
Tuesday, September 20, 2011 - 13:30
Audience
Adult
Children / Family
Older Adults / Seniors
Young Adult