Using Visual Thinking Strategies
Utilizing visual thinking strategies can help encourage strong audience engagement in library programs. 
When I heard that the District of Columbia Public Library was receiving a set of high-quality posters of American art for each site—thanks to the NEH/ALA Picturing America grant—I couldn't have been more excited. Our staff of 50 children's and teen librarians had just received training in Visual Thinking Strategies (VTS). They had new-found knowledge that could bring these images to life in programs for any age group. Now they would have resources to use while their training and enthusiasm were fresh. So what is VTS, and why train librarians in something that sounds like it belongs in an art museum?
There are multiple answers to the second part of that question, but my motivation had to do with the magic that I observe when a group of people—whether it be toddlers, teens, or adults—look closely and respond to an interesting image in a nonjudgmental setting. Before the VTS workshops, which I experienced first at The Eric Carle Museum of Picture Book Art in Amherst, Massachusetts, my primary exposure to groups and the power of a provocative picture had been through leading interactive picture book sessions. Over and over, I have watched children grow more thoughtful, attentive, and responsive when asked open-ended questions in relation to the art on specific pages. In these moments, I can almost see synapses firing, light dawning, shyness or cynicism evaporating, and delight emerging from the experience.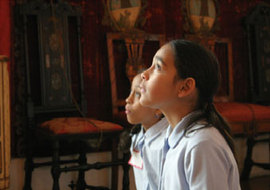 When I discovered that VTS offered a structured, widely respected, research-based method to support viewers of any age in making meaning out of what they see, I was anxious to see what it could offer to libraries. While VTS is the name of an entire curriculum that grew out of the research of cognitive psychologist Abigail Housen and the experience of museum educator Philip Yenawine, the heart of the method is a framework for looking at an isolated image; thus, the process works beautifully as a way to program with the NEH posters. More information can be found on the VTS Web site as well as on the Carle Museum's.
The necessary ingredients are a group, a facilitator, and an interesting image. The session starts with silence as everyone studies the picture. The facilitator then asks, "What's going on in this picture? What do you see that makes you say that? What more can we find?" Throughout this process, the facilitator is paraphrasing responses (thereby validating the participants' ideas), demonstrating language use, linking comments, and generally creating a respectful, nonthreatening environment. Participants are learning to look closely, justify their opinions with visual evidence, consider multiple points of view, and perhaps even rethink their positions.
The combination of looking at striking images and having someone care about your ideas is irresistible; the method has been particularly successful in drawing out non-native English speakers. It should be noted that VTS is quite different from a docent-led approach to art. The leader does not need in-depth knowledge of the picture. It is not his or her job to impart biographical, formal, or historical information. Using the posters with VTS in the library creates an opportunity to awaken curiosity about all of those aspects, however, and later programming elements—related books or media shared in the group setting or through displays—allow the participants to discover their own answers. It is quite liberating, even exhilarating, to discover that there are many right answers when exploring a work of art—or as the sculptor Alexander Calder put it: "That others grasp what I have in mind seems unessential, as least as long as they have something else in theirs."
In order to encourage the use of the posters and VTS, a group of D.C. librarians met to create programming templates associated with selected posters. We were then able to offer a range of ideas and resources to our colleagues; they could select components based on their own styles, interests, and audiences. Nearly all of our programs started by displaying a poster and asking VTS questions. If you've never tried it, you might think, well after three minutes, what else is there to say? It turns out quite a bit, when the picture is rich and the atmosphere is welcoming. We've seen six-year-olds and adults stay with a picture for 30 minutes or more. That element can be controlled as agenda and interest dictates.
The next item in most programs for children was the sharing of a picture book related to the time period, artist, or style of the poster; when appropriate, The Whole Book Approach, another method learned from The Carle, was applied to the book to enjoy it as a visual entity. (More on that in another blog.) For example, The Dove by Romare Bearden was followed by Christopher Myers' Black Cat (Scholastic, 1999) or Wings (Scholastic, 2000) for younger children and Harlem (Scholastic, 1997) for teens. Discussions about the qualities of collage and why it works so well to represent a city block were part of the discussion. The young people then created their own collages from magazines.
VTS is a tremendously inspiring method; when used in conjunction with the Picturing America posters, it leads to multiple benefits. When you start a program by showing the poster and asking the group, "What's going on in this picture?" you are beginning the process of digging beneath the surface to explore the patterns, customs, and values of our collective past. You are encouraging visual and verbal literacy, developing community, and creating the curiosity and critical thinking that can later be tapped as you share and promote related books. Isn't this what exposure to "the humanities" and a visit to the library are all about: encountering surprises, understanding other viewpoints, and finding meaning?
Date / Time
Friday, June 26, 2009 - 17:45
Library Type
Academic / College
Public
School (K-12)
Audience
Adult
Children / Family
Older Adults / Seniors
Young Adult