Innovative Programming at Community Colleges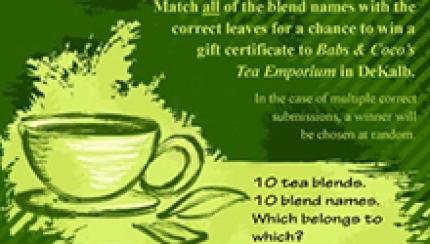 During the Sniff Off Contest, students and staff were challenged to identify the fragrances with their blend names. 
Editor's note: Cressida held this tea contest for Hot Tea Month in January, but it would also make a great event for the upcoming Culinary Arts Month.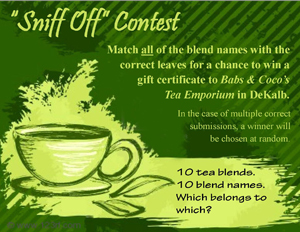 As a newly minted programming librarian at Kishwaukee College, one of the first things I wanted to identify at my new job were previously popular events. What headed the list was free hot tea. My predecessor had celebrated January—National Hot Tea Month and the start of a new school semester—by providing free hot tea in the library for a week for the college students and staff. This was a wonderful activity that I absolutely wanted to continue. However, I wanted to add my own touch to it with an extra bit of pizzazz.
I had only moved to my town a few months prior, so I was still in exploration mode. During one of my weekend explorations I discovered a local tea shop that sold dozens of unique loose leaf blends with names like "Door County Cherry" and "Ghenghis Khan." All of these teas had samples for customers to sniff. Between smelling the tea blends and reading about a recent event where the store hosted a "sniff-off" contest for several blind customers, I realized that this would be a perfect accompanying activity. About a month and a half before the spring semester I emailed the tea store asking them whether they would donate several small samples. They agreed, and even went beyond what I had asked for; the owner came up with the list of unique blends, provided parcels of each, and donated a store gift certificate for the winner.
During the week-long Sniff Off Contest at Kishwaukee, students and staff were challenged to correctly identify the fragrances with their blend names. Ten glass containers (spice jars from Bed, Bath and Beyond, $.99/each) were each filled with a tea sample and randomly numbered. On a provided sheet, participants entered their guesses for each numbered blend name and submitted their answers. At the end of the week the person with the most correct answers would win a $10 gift certificate to the tea shop.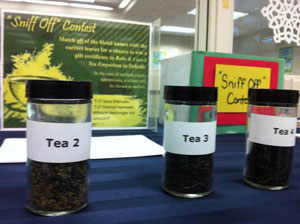 I had already discovered a few quirks to working at a rural community college from the handful of events I had organized. Most students worked full-time, and were on campus only when they had a class. Most also were commuter students, living anywhere from twenty to forty minutes away. Even if a student found an event intriguing enough to want to attend, logistical constraints often prevented them from doing so. The "Sniff Off" contest kept all of this in mind. The contest ran the entire week and thus was non time-specific, welcomed those already on campus into the library, and, as everybody knows is a real crowd-pleaser, involved free food. It was a fun activity everyone could partake in, even for only five minutes.
The event was a success—there were about ninety guesses—and I was quite happy with both the process and the result. Yes, there were a few hiccups, the biggest one being the late arrival of a sign that described the flavors of each blend, which would have made identifying the blends a tad easier. To keep the contest fair I decided not to put out the sign once it arrived, which made the contest more difficult than originally intended and resulted in no perfectly correct submissions. Otherwise this was an entirely successful event that I hope to repeat next year.
Date / Time
Tuesday, June 19, 2012 - 15:30
Library Type
Academic / College
Public