Programming with Grants for the Academic Library
The Dr. Martin Luther King, Jr. Library is a unique facility shared by the San Jose Public Library and San Jose State University.
The Dr. Martin Luther King, Jr. Library in San Jose, California, is a unique facility shared by the San Jose Public Library and San Jose State University (SJSU). In late 2008, San Jose Public Library was awarded a National Endowment for the Humanities grant to present a series of public programs on the Federal Writers' Project, one of President Franklin Roosevelt's New Deal agencies. The grants were awarded to thirty libraries in the United States, and the programs were intended to complement the Soul of a People television documentary produced by Spark Media.
I am a reference and instruction librarian at San Jose State University. My colleague Harry Meserve was originally slated to act as the project coordinator but declined due to his pending retirement. I was approached about the project and gladly accepted. Dr. Glen Gendzel of the SJSU History Department agreed to serve as project scholar. In February 2009, Dr. Gendzel and I traveled to Washington, D.C., for a training program about the grant.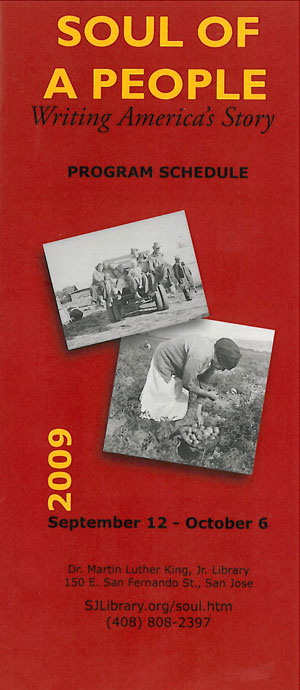 Budgeting and Planning
At $2,500 per library, the NEH grant was small, so we had to carefully consider what to spend it on. We planned a series of five programs, the first kickoff event to be held on a Saturday afternoon, and then the next four programs on Tuesday evenings. Since we did not have adequate funding for food and drink, and we wanted to be able to offer something to our esteemed presenters, we agreed upon an honorarium of $100 per presenter. We followed a basic structure of two presentations per program (except for the longer kickoff event), each approximately 45 minutes, with another 15 minutes for audience questions.
Using the book Soul of a People as well as other works on the Federal Writers' Project, we identified possible program topics and contacted SJSU faculty members and others who we thought might be able to contribute a quality program. We were happy to see that most of our candidates were willing to present once we identified a suitable date and time. Dr. Gendzel's knowledge of SJSU faculty research specialties was invaluable during this process.
Programs
Our first program was a "Community-Wide Celebration" held from noon–4 p.m. on Saturday, September 12, 2009. Unlike the later programs, this opening event had three sections. First we screened the Soul of a People excerpts provided to us by Spark Media, followed by Dr. Gendzel's presentation on California in the 1930s. We concluded the program with a live jazz band made up of SJSU students playing tunes that were popular in the 1930s. Thanks to an additional donation from San Jose Public Library's support group, Friends of the Library, we were able to provide light refreshments at this kickoff event, though not at most of the later programs.
The next program, on September 15, featured Harvey Smith of the Living New Deal Project in Berkeley, California, speaking on the Federal Writers' Project, and SJSU English professor Susan Shillinglaw speaking on Steinbeck's Grapes Of Wrath. The September 22d program was of particular interest to me as a music fan, focusing on avant-garde composer Harry Partch, who was very active in the creation of the California state guide. September 29's program featured Gray Brechin, director of the Living New Deal Project speaking on the New Deal legacy in the San Francisco Bay Area, and Dr. Steven Millner of the SJSU African-American Studies Department speaking on the slave narratives recorded in the 1930s by the Federal Writers' Project. Our final program on October 6 featured SJSU English professor Dr. Alan Soldofsky speaking on the career and writings of Writers' Project contributor Kenneth Rexroth, one of the leading figures in San Francisco's "Poetry Renaissance," and a condensed, dramatic adaptation of the Grapes of Wrath directed by SJSU theatre professor Dr. Matthew Spangler and performed by his students.
Results
Program attendance usually was around 25 to 40 people—fewer than we had hoped, but enough for a good-sized audience. The meeting room arrangement we used in the Dr. Martin Luther King, Jr. Library seated about 70 people, with standing room for about 100 more. Only one program—the last one—filled the seats to capacity.
All of the speakers gave outstanding presentations, and the program overall was very successful. However, attendance was less than we would have liked—given that, as an academic, not public, librarian, this was my first experience with a public program, I am unsure as to whether our attendance was less than normal or if drawing large crowds to events such as this is always difficult. Attendance at the Harry Partch program also suffered because the program fell on a California State University furlough day, which we had no way of knowing when we selected the dates. In retrospect, I should have promoted the Harry Partch program by taking some of our brochures and just walking down the hall in the San Jose State Music building. Personal contact usually makes much more of a lasting impression than an email.
Lessons Learned
What would we have done differently? For future programs, I would have spent more time trying to secure donations of food and drink for attendees. We were able to offer refreshments only at the kickoff event and the Harry Partch program, and the only reason we had refreshments at the Partch event was because the presenters donated some funds from the Harry Partch Foundation. This at least gave me the opportunity to make a few Depression jokes about not having food except for bread and water.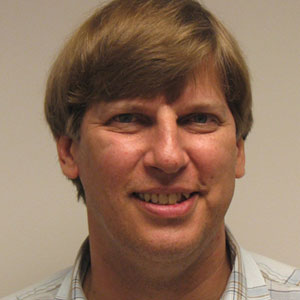 We also did not offer many chances for participation by local schools or events involving the audience. Partly this may be a function of our location in the San Francisco Bay Area and our programs' association with San Jose State University. Knowledgeable scholars on various aspects of the Federal Writers' Project are not difficult to find in this area, so one could argue that with the high quality of our presentations, there simply wasn't time or room on the schedule for other activities. Nonetheless, it would be good to try and involve local students more for future programs, which would also contribute to a younger crowd overall.
Another challenge was the fact that the Smithsonian Channel is not carried by Comcast, the dominant local cable system, so most local residents were not able to view the program in its entirety. Our remedy for this was to add a public screening of the entire documentary (after receiving permission from Spark Media) after the main five-part series of programs had concluded.
Overall, however, our programs were a big success, and we received many positive comments from attendees. Though our combination academic/public library in one building is a unique facility, close collaboration between an academic and public library could achieve the same results. To over-simplify, one could say that the public library secured the grant and provided most of the audience through their publicity efforts, while the university library supplied most, if not all, of the presenters.
All in all, it was a wonderful experience for the community and the university and we look forward to presenting similar programs in the future.
Date / Time
Tuesday, March 1, 2011 - 16:00
Job Functions
Budgeting
Grants and Awards
Collaborations
Professional Development/Training