Collection Development and Programming
The Bridging Cultures Bookshelf on Muslim Journeys will bring free books and films to 1,000 libraries.
Editor's note: Want to find out more about the Bridging Cultures Bookshelf on Muslim Journeys? Watch interviews with Kambiz Ghanea Bassiri, associate professor of religion and humanities at Reed College and Muslim Journeys scholar, and Daniel Tutt, outreach director at Unity Productions Foundation.
"FREE BOOKS! FREE BOOKS!"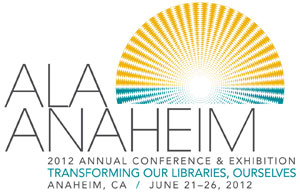 Based on the audible shrieks from up and down the corridor outside the Exhibit Hall as the doors were unlocked for at the opening of the Exhibits at ALA this past Friday, "free books" is a phrase that more than excites librarians. As a first-time ALA attendee, I was more than a little taken aback by the fervor with which conference attendees darted around the booths, swooping up advanced reader copies, featured titles from every publisher under the sun, tote bags, magnets and other swag. This is an event that clearly calls for strategy and pre-planning.
But then I had a thought: The passion with which these professionals were collecting the conference freebies most likely pales in comparison to the dedication, time, and loving elbow grease they use to bolster their libraries' collections back home. How wonderful is it, then, when free books and collection development go hand in hand? And isn't it even better when that free collection development leads to more diverse programming opportunities? Talk about a good reason to get a little greedy.
Right now, ALA's Public Programs Office and the National Endowment for the Humanities (NEH) are partnered to offer a grant opportunity that focuses on a topic so very relevant to so many people across the United States: Muslim history and culture. The grant, Bridging Cultures Bookshelf on Muslim Journeys is open to public, academic and community college libraries, and will see 1,000 libraries receiving for free (yeah, there's that magic word!) twenty-five books (divided into five themes: American Stories, Connected Histories, Literary Reflections, Pathways of Faith, and Points of View); three films (with public performance rights!); a one-year subscription to the Oxford Islamic Studies Online; thematic essays; access (coming in December) to a website with additional resources; and various programming materials.
Okay, so free materials for your library is always a plus. Especially when the topic is something that many Americans are eager to know more about—but maybe don't know who to ask or where to look for reputable information beyond news sound bites. Taking it one step further, libraries that receive the Bookshelf grant will be responsible for providing programming that not only promotes the materials, but also fosters discussion and discourse. By locating a partner organization (another requirement of the grant) and tapping into your library's patron base or other local-area organizations for subject experts who could serve as discussion moderators, it's easy to imagine an entire series being built around the concepts of freedom of speech, continued education, and open-minded community engagement.
One of the most appealing parts of this grant is the wide variety of "hooks" that can be used to draw in patrons. Personally, I fell in love with Islamic art after spending a couple of months in southern Spain. I would be thrilled if one of my local libraries offered a program on Islamic art that then in turn prompted me to attend another discussion, perhaps this one on Muslim experiences in rural America. While these are just hypothetical programs, Terrilyn Chun from Multnomah County Library in Portland, Oregon, and Tim Grimes from Ann Arbor (Mich.) District Library both participated in the Bridging Cultures Bookshelf on Muslim Journeys's pilot program, and they discussed in today's ALA session some of the programming opportunities their libraries were able to offer through this grant. Both libraries experienced great success and interest from their programs, in some cases literally having to kick discussion groups out of meeting rooms because the patrons didn't want the conversations to end. They both also strongly reiterated the importance of letting your community members' voices be heard during these discussions (one reason why it's important to find good, knowledgeable moderators who can deal with lots of opinions, voices, and emotions) so that deeper connections to both the collection and to one another can be made.
Having very little programming experience myself, I imagine it's a constant battle to find programming that's engaging, patron-desired, and budget-friendly. This NEH Grant opportunity nails all three, and could be exactly what your library needs to freshen up your programming schedule, stay relevant issue-wise, and bring in new patrons. I sincerely hope it comes to a library near me (are you listening, central Illinois?), and hope that you'll consider what this culture-rich collection can add to your library, too.
Date / Time
Sunday, June 24, 2012 - 16:45
Library Type
Academic / College
Public
School (K-12)
Special
Job Functions
Grants and Awards
Collaborations