Muslim Journeys at Portland State University
The Portland State Library shares details about the library's Muslim Journeys programming.
Editor's Note: This week we'll be highlighting Bridging Cultures Bookshelf: Muslim Journeys programs at two academic libraries. Awarded to more than 950 humanities councils and public, academic, and community college libraries, the Muslim Journeys Bookshelf is a collection of books, films, and other resources chosen with a view to familiarizing the American public with Islam and the cultural heritage of Islamic civilizations around the world. In return for receiving a Bookshelf, selected libraries are required to organize programs that introduce the books and the Muslim Journeys themes to the library's patrons and the broader community.
Today we're sharing the program at Portland (Ore.) State University. Its forty-nine-acre downtown campus is located in the heart of one of America's most vibrant centers of culture, business, and technology. We asked Kristen Kern, Fine and Performing Arts Librarian, to share details on her library's Muslim Journeys programming.
Programming Librarian: How is your library utilizing the Bookshelf to create programs?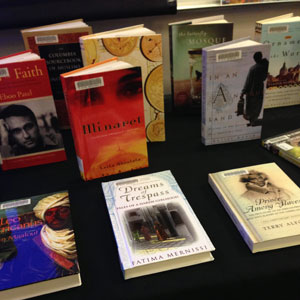 Kristen Kern: The Portland State Library is partnering with the University's Middle East Studies Center (MESC), a National Resource Center for Middle East Studies under the U.S. Department of Education's Title VI program, to introduce the collection to Library users, the University and the Portland community through programming that will introduce perspectives on the people, places, histories, beliefs, practices, and cultures of Muslims in the United States and around the world.
PL: What are some challenges you've faced and overcome? How did you overcome them?
Kern: Fortunately, there haven't been insurmountable challenges with this project. If there has been a challenge, it is in scheduling events within the expected timeframe, while also accommodating presenters' schedules, and unforeseen changes in plans of outside partners that affect proposed programming.
PL: Have you received any local support, developed any partnerships, gained any additional financial aid?
As noted above, the Library is partnering with the University's Middle East Studies Center to develop, schedule, promote, and present programming around the Muslim Journeys Bookshelf. The Library and the Middle East Studies Center applied and received a United States Institute of Peace Public Education for Peacebuilding Support grant that is being applied toward transportation costs, accommodation and honoraria for speakers, facilities and AV costs for programming venues, and event promotion. A Muslim Journeys book discussion program is also being supported by the Multnomah County Public Library and the Oregon Council for the Social Studies.
PL: What are the specific dates of your upcoming programming events?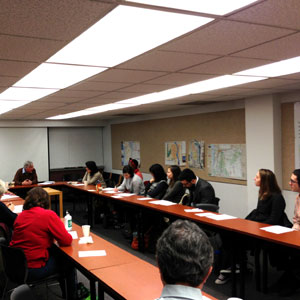 Kern: The introductory lecture for Muslim Journeys, "Celebrating Muslim Journeys at Portland State University: A Collection of Resources about the Muslim World," was presented by the American Stories theme Developer Dr. Kambiz GhaneaBassiri of Reed College on January 31, 2013. Next, on February 14, 2013, was "Women Writers of Iran: Past & Present" a presentation by Visiting Professor Dick Davis of Ohio State University; and "Hasht Bihisht: The Garden of the Eight Paradises—The Place of the Garden in Early Mughul Culture" on February 28 with Dr. Stephen Dale, emeritus Professor, Ohio State University. Also planned is a talk by Aria Minu-Sepehr speaking about We Heard the Heavens Then, his memoir of growing up in revolutionary Iran on Thursday, April 11; Bishupal Limbu, Assistant Professor of English at Portland State University, will lead a discussion on In an Antique Land on May 24t, co-sponsored by the Multnomah County Public Library and the Oregon Council for the Social Studies; and we will have a film screening of Prince Among Slaves that includes a discussion led by Jennifer Tappan, Assistant Professor of African History.
PL: Anything else you'd like to tell us about?
Kern: The Muslim Journeys bookshelf program provides exciting opportunities to introduce new audiences to the Muslim world and promote understanding of the people, cultures, languages and religions of the Middle East.
Date / Time
Thursday, March 21, 2013 - 13:15