Sounding Off On Streaming
Yes, you can play (and in some cases stream) music during library programs. Here are some of your options. 
Whatever music you jam, sway, rock, bop, dance, learn or relax to, you are likely listening via a streaming service.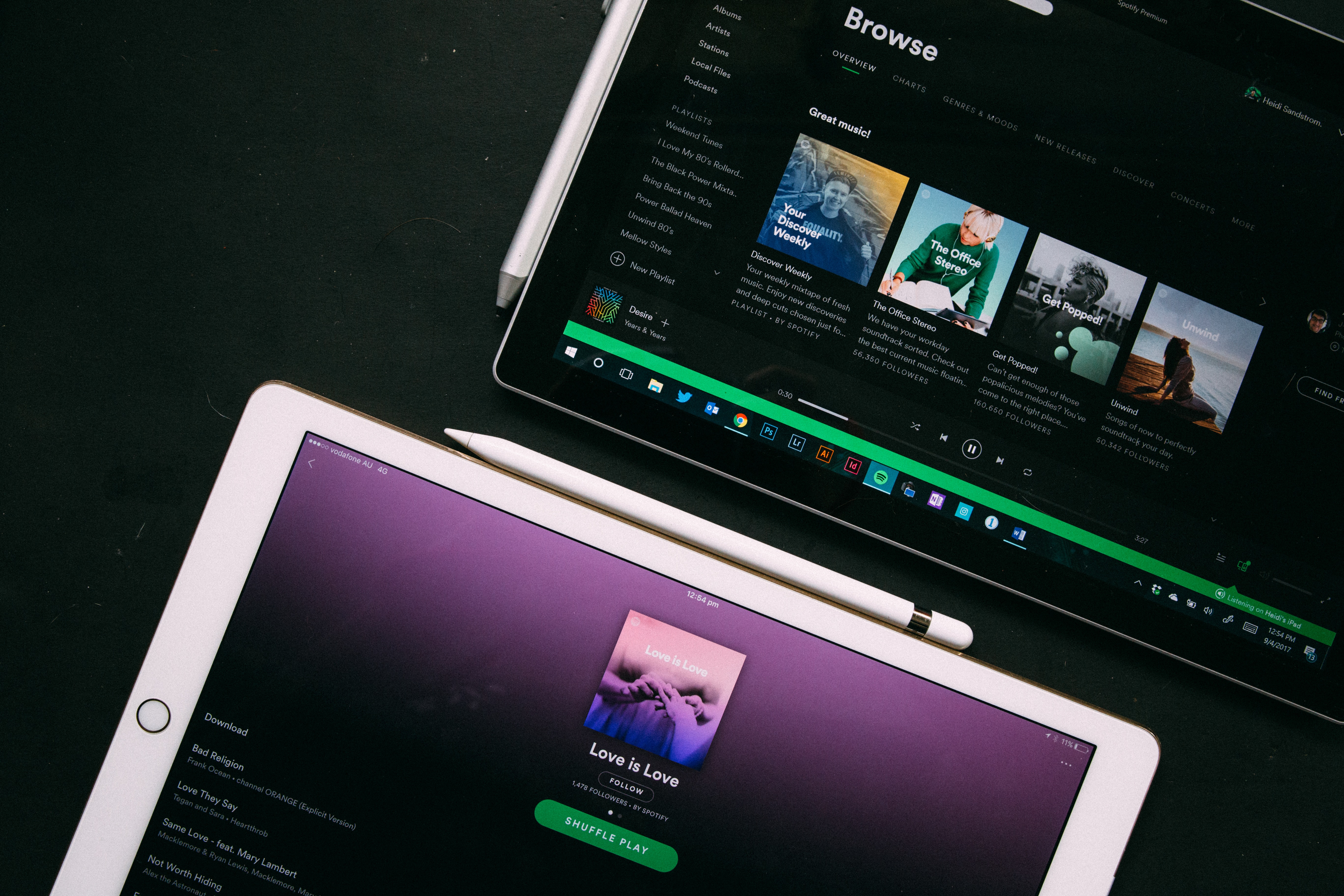 According to IFPI's "Engaging With Music" report for 2022, 74% of people worldwide said they listen to music via a licensed audio streaming service (subscription or ad-supported) such as Spotify, Apple Music, Amazon Music, Pandora, YouTube or SoundCloud.
If you follow each service's guidelines, you are listening to that music alone, or privately among a few friends or family members.
But what are the rules about sharing music from streaming services at public events? And in particular, what are the rules for playing streamed music during events at public libraries, such as storytimes, workshops, celebrations or other group activities?
You might think the answers to these legal questions pertain to copyright or fair use, but when listening to streamed music, another legal concept takes precedent over copyright: the contractual "terms and conditions of use" for the service you subscribe or listen to. You agreed to those terms when you signed up, but perhaps didn't read them because you'd have to scroll through many pages of dry legal language.
The key concept to understand is that streaming music platforms such as Spotify and Apple Music are licensed for individuals, not businesses or institutions, and allow music streaming for personal use only.
Most contain language similar to this text from Spotify's terms of use: "[W]e grant to you limited, nonexclusive, revocable permission to make personal, noncommercial use of the Spotify Service…"
In slightly less legalistic language, Spotify explains elsewhere on its site: "As laid out in our Terms and Conditions, Spotify is only for personal, noncommercial use. This means you can't broadcast or play Spotify publicly from a business, such as bars, restaurants, schools, stores, salons, dance studios, radio stations, etc." That "etc." includes libraries, a spokesperson for Spotify confirmed in an email: "You cannot use personal accounts to stream for business-related purposes … Going against this violates our [terms and conditions] and could result in legal involvement."
The language is similar for Apple Music, Pandora, SoundCloud and YouTube.
Tim Vollmer, scholarly communication and copyright librarian at the University of California at Berkeley, explained that "the terms of service limit what you can do, regardless of what copyright law says. And these services are set up for individual users. With libraries, you could argue your use of the music is probably going to be noncommercial, but it's not personal — it's for a public performance."
You cannot create a separate business or institutional account for streaming on any of these services. So if a librarian or other staff member uses their personal account to play music from a streaming service at a public library event, they are violating the terms of the streamer's agreement, said Jonathan Band, a copyright attorney, adjunct professor of law at Georgetown Law School and ALA's outside counsel on copyright issues.
The terms apply to all possible scenarios where music might be played at a library, including a live, in-person program, such as a storytime or speaker session, with music from a streaming site playing in the room; a live, in-person group meeting, such as a knitting club whose members knit with streamed music in the background; a recorded program with streamed music, such as a storytime, lecture or speaker session, streamed online or posted on a site like YouTube; or a fundraiser with streaming music as the background soundtrack. Those would all be considered public, not personal, performances.
Band, emphasizing that he can't provide legal advice, said if librarians choose to use their individual streaming accounts anyway, "the worst to happen is they'd probably terminate the subscription." But "even though the risk is small, if libraries have their own lawyer, or are part of a municipality, they might want to consult with their own lawyers." He added that "it would be horrible PR" for the streaming services and their lawyers to go after a library. And there are arguments that the terms of use may not be enforceable. Going against the terms of use is still a risk, however.
Libraries do have alternatives. You can still play — and in some cases even stream — music during library programming.
Here are some of your options:
Use public domain or openly licensed music
Services like Spotify and Pandora generally play copyrighted music. But several online music sites are available that offer music in the public domain, which means anyone can download and play the music — or in some cases, sounds — for free, generally without any restrictions. Be careful when using these sites, however, because some are based on Creative Commons licenses that might require attribution, have ads, or impose limitations on the number of songs that can be downloaded. Sites that offer free music include:
Play physical CDs and records, if allowed under fair use
Remember those? Most libraries have CDs, records and even cassette tapes in their collections or archives. Most of these materials do not have terms of use, but the owner of the copyright in the musical composition has the exclusive right of public performance. However, "fair use" does apply here.
Fair use is a legal doctrine that permits the unlicensed use of copyright-protected works in certain circumstances, such as for criticism, comment, news reporting, teaching, scholarship, and research. Section 107 of the U.S. Copyright Act considers four factors in evaluating a question of fair use:
"Purpose and character of the use, including whether the use is of a commercial nature or is for nonprofit educational purposes": Nonprofit, educational and noncommercial uses are generally considered more fair, which would apply to most library activities.
"Nature of the copyrighted work": More creative or imaginative works (such as songs) are less likely to be considered fair use than factual works such as news articles.
 "Amount and substantiality of the portion used in relation to the copyrighted work as a whole": Fair use is less likely to be found if a large or full portion of the copyrighted work is used.
"Effect of the use upon the potential market for or value of the copyrighted work": To what extent will use of the work harm the copyright owner's ability to market their original work?
Reading a book during a storytime, for example, generally seems to qualify as fair use. But using music from a CD or record to accompany a storytime? The answer is less clear-cut, Vollmer said. You could argue the music is for an educational use — to complement the story being read. You're also more likely to be able to claim fair use if you play only one song on a CD, or a snippet of one, rather than the entire album or tune.
"If it were a lecture on music, or the history of music, playing clips of CD music in that class or lecture would almost certainly be a fair use," Band said.
But if you wanted to play an album or song from a CD or record at a library fundraiser, or during a teen gathering or book club just for entertainment purposes, you'd be less able to argue for educational use.
Pay for a music license via a performing rights organization (PRO)
Businesses or organizations that want to play copyrighted music for their customers, such as restaurants, nightclubs, hotels and retail stores, must pay for those public performance rights through a performing rights organization (PRO).
In the United States, a PRO is an association, corporation or other entity that licenses the public performance of musical works on behalf of the copyright owners of such works. The four main licensing PROs in the U.S. are the American Society of Composers, Authors and Publishers (ASCAP); Broadcast Music Inc. (BMI); SESAC; and Global Music Rights (GMR).
PROs sell blanket licenses to businesses (usually a flat annual fee) to play songs in their catalogs, live or recorded. The PROs then pay royalties to rights holders including songwriters, composers, recording artists, record labels, producers and publishers.
This option might be out of the question for most public libraries, however, because of the cost, which varies greatly depending on the type of business, how the music is used, the potential audience numbers, whether the music is live or recorded, and other factors.
Try a streaming service for businesses
Music streaming services geared toward businesses are available for a fee; some require hardware at an additional cost as well.
Spotify directs businesses that want a similar platform for playing music to Soundtrack Your Brand, which used to be a part of Spotify, called Spotify for Business, but is now a separate entity. The Sweden-based company includes about 100 million songs, and functions similar to Spotify, but for businesses.
"Soundtrack … is 100% fully licensed for use in public spaces such as libraries," said Ola Sars, CEO.
PROs like ASCAP and BMI, said Cassie Matthews, sales representative for Soundtrack Your Brand, "are more like a licensing body than a music streaming service. Soundtrack is really similar to how Spotify is structured — it's an app you download, the interface is similar, it's user-friendly. We have our own music library that we have licensed with the record labels, and we have our own playlists, or you can create your own playlists."
Subscriptions are priced "per independent music stream," she said. "So let's say there is storytime in one area in each library and there are 10 libraries, so then you would need to buy 10 subscriptions from us." The least expensive plan is $35 per month per library when paid annually. Other options include Soundsuit, Rockbot, Cloud Cover Music and Jukeboxy.
Doesn't hurt to ask…
Vollmer suggested that librarians who still prefer to use Spotify, Apple Music or any other streaming service they are already familiar with might want to "get together and try to petition these services to offer institutional licenses." 
Please note that ALA cannot give legal advice. If you need legal advice, you should contact an intellectual property attorney.
Date / Time
Tuesday, June 6, 2023 - 13:15