We all need some inspiration sometimes. Here are some places to start.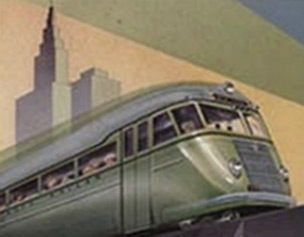 Library and Archival Exhibitions on the Web allows you to "[e]xplore the rich variety of topics, images, and materials featured in online exhibitions from libraries, archives, historical societies, and museums around the world." With the searchable site's more than 3,000 links, you're bound to find something that can serve as a source for inspiration when planning your programs.
For example, planning ahead to Jewish American Heritage Month? Then check out these online exhibitions (just a few among many about Jewish life):
•   Anne Frank, the Writer: An Unfinished Story. Go beyond the diary and explore Anne Frank's surviving short stories, fairy tales, and essays as well as the beginnings of a novel. You can also watch interviews with Buddy Elias, Anne's cousin, and exhibition curators Sara J. Bloomfield and Klaus Müller.
•   From Haven to Home: 350 Years of Jewish Life in America. "[F]eatures more than two hundred treasures of American Judaica from the collections of the Library of Congress, augmented by a selection of important loans from other cooperating cultural institutions." Be sure to take a look at the programming offered during the physical exhibition's run.
•   Heartstrings: Music of the Holocaust. This site offers sixty songs that "link the periods of Jewish cultural life before, during and after the war. They express the experience, ideology, and hope shared by their listeners, both individually and collectively. After the war, these compositions took on the further aspects of remembrance and commemoration."
•   Significant Documents Illuminating the American Jewish Experience. Sure, the title might be a bit dry, but this site offers a wealth of information on such topics as the beginnings of a community; immigration and communal growth; Jews and the American military; minority rights and majority rule; the quest for success, art, entertainment, and American culture; education and intellectual life; life in Cincinnati and the midwest; prejudice and response; and Abraham Lincoln and the Jews.
Or maybe you're planning ahead for Asian-Pacific American Heritage Month? Take a look at these exhibitions:
•   Asia: Body, Mind, Spirit. "In Asia, the wellbeing of humanity has always been interpreted as a balance of body, mind and spirit. The exhibition explored the theories and practices that relate to this harmonious relationship by introducing the great traditions of Asia, which focus on balance in all aspects of life."
•   East of Eden: Gardens in Asian Art. Maybe it's just because I have spring and gardening on my mind, but I was instantly caught by this exhibition. This site looks at the garden's role in history in East Asia and South and West Asia.
•   Echoes of Freedom: South Asisan Pioneers in California, 1899-1965. This exhibition uses images, documents, and publications to tell the story of early Indian immigrants to California.
Finally, a few that I came across searching for "literature" or "fiction":
•   The Afterlife of Alice In Wonderland. This exhibition includes a Lewis Carroll biography, early editions and early illustrators, adaptations, reincarnations, and alternative Alices. Might be of interest, with Tim Burton's Alice in Wonderland movie out next month.
•   Enlarging the Prospects of Happiness: European Travel Writing through the Ages. Take a look at "actual itineraries alongside invented accounts in order to discover what readers seek in their mental travels." This exhibition travels to Italy, France, the United Kingdom, Ireland, Africa, Pacific, Polar, and North and South America, with stops along the way to explore circumnavigation, the philosophy of travel, women travellers, travel publishers, and twentieth-century travel writing.
•   Folly, Fraud, Fakery. Offers biographies and biblographies for thirteen historical fools, frauds, and fakers. Also looks into some of the more famous forms of frauds, including Spiritualism, phrenology, and palmistry.
•   Nancy Drew and Friends: Girls' Series Books Rediscovered. As the site notes, "[g]irls' series books portray a world where capable girls solve mysteries and embark on adventures with pluck, brains, and style. The lasting power of these strong role models for girls is one reason these books are still worthy of consideration today."
Find an online exhibition you'd like to share? Leave a note in the comments!
Date / Time
Tuesday, February 16, 2010 - 16:15
Library Type
Academic / College
Public
School (K-12)
Special
Job Functions
Resources and Program Starters
Audience
Adult
Children / Family
Older Adults / Seniors
Young Adult