'Stepping Forward' in Library Programming: 4 Takeaways from Rich Harwood's New Book
Rich Harwood's latest book, "Stepping Foward," offers community building strategies for libraries to adapt. 
I had a grown-up fan-girl moment while attending a "campaign stop" by Richard Harwood at the Sacramento Public Library to promote his new book, "Stepping Forward: A Positive Path to Transform Our Communities and Our Lives." My library had just wrapped up nearly two years of community conversations and in-depth training through the Harwood Institute for Public Innovation, using our public knowledge summary to build a new strategic plan. I arrived early to claim a good seat, watching as the auditorium filled to capacity.
And I was not disappointed. Harwood spoke from the heart about his influences growing up, the experiences that have shaped his ideas, and a shift in thinking that needs to occur to combat society's polarization.
As I drove back down the 99, I reflected on how to apply it all to libraries and public programming. Here are four takeaways about how a mindset shift can help libraries help their communities.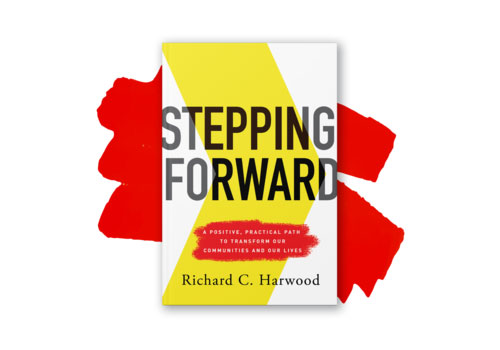 Create community-centered programs and services
Those familiar with the Harwood Institute know about turning outward, or a shift in mindset that places community at the center of everything we do. This means listening to the hopes and concerns of a community, then intentionally using that public knowledge when planning programs and services.
The results reflect back to the community their aspirations and needs. Community becomes the common purpose aligning partnering organizations to something larger than themselves. It implies a focus on impact and outcomes over outputs or statistics.
As Harwood writes, "To be turned outward is to make the community the reference point for all you do. To know that there is something larger that must inform and drive, even supersede, whatever programs, processes, initiatives, and data that consume our attention." (p. 37)
Foster hope and the human spark
Harwood dives deeper in the book, into the fabric of communities and the threads that can either strengthen relationships or lead to isolation. He describes "authentic hope" as the belief that tomorrow can be better than today, that change is possible within a community. 
Through deep listening we can build trust, strengthening a "can do" spirit through positive narratives and stories of impact. Our innate human spark is a desire to contribute to the common good. The spark dims when people don't feel welcome, included or heard, when the value we contribute goes unseen or unrecognized. When people feel invited to participate and goals are realistic and achievable, the community draws together through shared purpose.
Help develop civic culture and confidence 
Civic culture plays an important role in a community's ability to change, either motivating members to pull together or conversely increasing polarization. Confidence emerges through a series of smaller, achievable wins that increase a community's belief that change is possible. As civic confidence develops, Harwood writes, "… capacity for change expands and deepens, and a new can-do narrative takes shape." (p. 120)
The book includes steps for infusing life into a community, which provide avenues for practical application in libraries:
Provide space and support for civic conversations, with shared norms for civic interaction. Libraries can offer safe spaces and facilitate dialogue to help people connect, engage and start building community together. 
 
Develop local leaders and change agents. Libraries are well positioned to be the connector and catalyst that draws aligned organizations together with members of the community for collective action. As Harwood writes, people yearn for engagement and involvement. The result is not an "…institutional response with the help of the community. It is a community response that involves institutions." (p. 75)
 
Help people feel seen and heard — not just as recipients of services but as owners of community. Libraries can invite community members to create or co-create programs and services to share with the public, building on public knowledge from community conversations. Libraries can also ask: Do community voices and public knowledge inform our strategies, policies, programs and services? If not, how can we find opportunities to hear from diverse members of the community to better inform intentional decision-making?
Stop waiting for permission
Harwood writes that "being a passive bystander is not an option" and offers calls to action: stop waiting for permission and have the courage to step forward.
To temper courage with enough humility to remain open, listen deeply and build trust. To be intentional and take ownership of our choices. To be visible, hold ourselves accountable and authentically engage with others. All while keeping community at the center as a common enterprise driving decisions and actions. 
Date / Time
Tuesday, January 28, 2020 - 10:30
Popular Topics
Books and Authors
Community Engagement