Short Title
ALA's Sara Jaffarian Award Presents: Junior Ambassadors
Summary
Learn about the Batesville Intermediate School's Junior Ambassadors program, which used the United Nations' 17 Sustainable Development Goals (SDG) Book Club for young people to bring a global perspective to the school's curriculum.
Description
Batesville (Ind.) Intermediate School was the winner of ALA's 2020 Sara Jaffarian School Library Program Award for Exemplary Humanities Programming.
Led by the school's library, the program served 24 students in the 2019-2020 school year. During meetings, students worked to create multimedia presentations, posters and public service announcements based on the UN's Sustainable Development Goals, such as zero hunger and gender equality.  
In this webinar, media specialist/school librarian Anne Amrhein will guide participants through the creation of the program based on the UN's goals and youth book club, the global learning goals the program achieved and the future of the program.
Learning Outcomes 
Participants will:
Learn about the United Nations' Sustainable Development Goals and their SDG Book Club for young people
Feel encouraged to create similar global programming for their students/patrons
Be inspired to encourage students to give back to the global community
Funding for this webinar has been provided by the National Endowment for the Humanities (NEH) as part of Coronavirus Aid, Relief and Economic Security (CARES) Act economic stabilization plan.
Presenters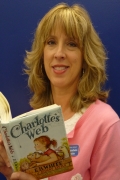 Anne Amrhein worked at Batesville Community School Corporation for 23 years as an elementary classroom teacher and then for 13 years as a media and instructional technology specialist. She has BS and MS degrees in elementary education from Indiana University Bloomington and library certification from Indiana State University. She is a longtime coordinator of the Arts in Education program, is in her fourth term as a member of the Batesville Memorial Public Library's Board of Trustees, currently serving as vice president, and is on the Joan & John Hillenbrand Vision Fund for Innovation board of directors.
She won the Batesville Chamber of Commerce Educator of the Year in 2013, the Rural Alliance for the Arts' Arts in Education Award (2008) and President's Award (2015), and was recently honored with the 2020 Batesville Area Arts Council's Arts in Education Award. Upon her retirement at the end of the 2019-2020 school year, Batesville Intermediate School established the Anne Amrhein Love of Learning Award to be given annually to an outgoing fifth grader.
Registration Deadline
Thursday, November 5, 2020