New for December at EDSITEment
EDSITEment showcases a new lesson, "Boycotting the Baubles from Britain" and highlights a curriculum unit about Pearl Harbor.
EDSITEment showcases a new lesson, "Boycotting the Baubles from Britain" in December. British colonists of all ranks experienced a consumer revolution in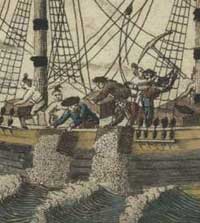 mid-eighteenth-century America. The preparation, service, and consumption of tea required an entirely new panoply of goods: the teapot, the sugar bowl, imported cups and saucers. These items of trade became a potent weapon in the political battle between Great Britain and her North American colonies. This lesson looks at the changes in British policies and the colonists' resistance through the topics of tea, clothing, and other British goods.
Another highlight is an interactive feature on Emanuel Leutze's symbolic scene, Washington Crossing the Delaware. On Christmas Night, December 25, 1776, George Washington led his army across the Delaware River to attack the Hessians at Trenton, New Jersey. This successful attack provided a much-needed victory in America's struggle for freedom. This feature about one of the greatest American icons is enhanced with Met Museum Curator Carrie Rebora Barratt's podcast narration.
Don't miss "The Road to Pearl Harbor: The United States and East Asia 1915–1941," a four-lesson curriculum unit in which students trace the route to open conflict, beginning with the growth of animosity during WWI and ending in the desperate attempts of the two countries to reach an accord on the eve of Pearl Harbor. Includes analyses of primary sources and an interactive timeline.
Also be sure to check out NEH's 2010 professional development summer seminars and institutes for school teachers. Topics range from the Arabic novel to Shakespeare. Join your colleagues in two- to six-week projects in the United States or abroad that deepen your understanding of the humanities. Stipends are available to help defray travel and living expenses.
Finally, get a sneak peek at EDSITEment's new look, to be launched in January.
EDSITEment offers a treasure trove for those searching for high-quality material on the Internet in the subject areas of literature and language arts, foreign languages, art and culture, and history and social studies. All Web sites linked to EDSITEment have been reviewed for content, design, and educational impact. They cover a wide range of humanities subjects, from American history to literature, world history and culture, language, art, and archaeology, and have been judged by humanities specialists to be of high intellectual quality.
Date / Time
Thursday, December 3, 2009 - 16:00
Library Type
Academic / College
Public
School (K-12)
Special
Job Functions
Resources and Program Starters