Creating Accessible Programming Spaces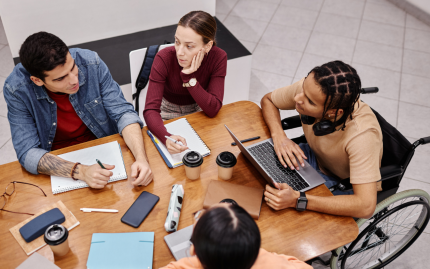 Whether it be in a meeting room or open library floor, are your programming spaces accessible? 
When we set up a program, we are essentially creating a new space in the library. Whether it be on the open floor, in a separate room, or in the basement, this space needs to be accessible physically and sensorially.
While the specific setup depends on the type of program, the following general guidelines establish a baseline of accessibility.
>>The content of this article is taken from the Programs section (written by Carrie S. Banks, Brooklyn Public Library) of ALA's "Serving Patrons with Disabilities Guide">>
 Apply for the LTC: Accessible Small and Rural Communities grant by December 11, 2023.
---
Physical Considerations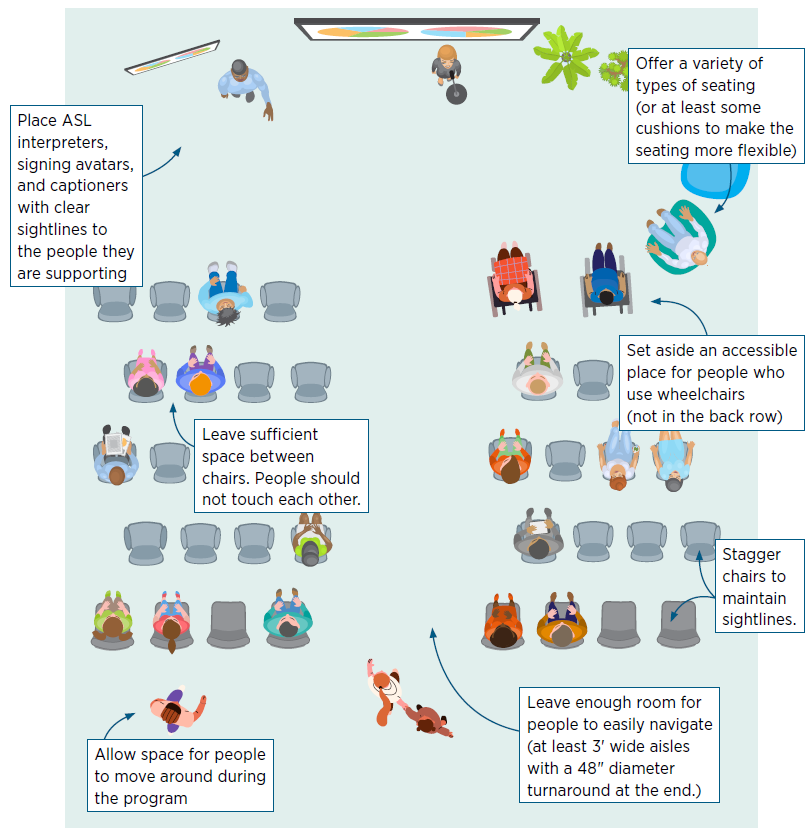 ---
Sensory Considerations
Pass around a basket of fidgets, which can help people self-regulate and maintain focus. Examples include stress balls, rubber bands, stretchy bands stretched across the legs of a chair, knitting, matchbox cars, chenille sticks, or chewing gum.
Always use microphones to support audience members who are hard of hearing or who have attention issues.
Display an agenda (preferably a visual schedule) where the audience can see it. Sharing this in advance will help audiences mentally prepare for a program's various events, and knowing what will happen next can ease anxiety for neurodivergent people such as those with autism, mental health issues, or ADHD, making it easier for them to pay attention.
Use captions to make audio visible.

For slide presentations, turn on captions or other voice-to-text functions.
For other types of presentations, project an empty PowerPoint slide in slide show mode and turn on captions.

Make the visible audible by describing actions and pictures.
Mute or silence mechanical and electronic noises. For example, turn off the hand dryer in the bathroom and the self-check machine.
Offer ball caps for audience members to wear in order to block glare and flickering lights.
Offer noise-canceling headphones.
Offer a tour of the library in advance of a program.
Once you have incorporated these guidelines, there is very little else to do. The last details will depend on the type of program
---
Program Types
Performances
Make sure performers can get to the performance area comfortably and can reach any microphones or podiums. Raised daises can be problematic for performers with mobility issues and those who are short. 
A note on microphones: Lapel mics are the most flexible option, particularly for performers who move around and performers who have difficulty holding things. If microphones are not available, try downloading a free app.
Reserve seating in the front for people with low vision, those who are hard of hearing, and people with ADHD.
Craft or Book Discussion Programs
Try circles or U-shaped set-ups instead of rows, to encourage social interactions.
Place supplies where everyone can reach them. Have two sets of supplies for easy access if necessary.
Technology Programs
Know the accessibility features of your operating system and technology. Make these features evident to users.
Plan for wheelchair clearance under tables or desks and allow equipment to be moved around.
Buy the largest monitor that you can afford and is practical for your space and provide noise-canceling headphones with a microphone to support videoconferencing and text-to-voice output.
---
Feeling inspired by these program ideas and tips? Put them to use with funding from ALA's LTC: Accessible Small and Rural Communities grant. Applications close December 11, 2023.
To learn more about creating accessible programs for patrons with disabilities, download the full "Serving Patrons with Disabilities Guide."
Date / Time
Tuesday, October 10, 2023 - 09:30
Library Type
Academic / College
Public
Rural
Job Functions
Grants and Awards
Resources and Program Starters