Early Literacy Parties in Spanish
Fiestas de Alfabetización Temprana en Español, or Early Literacy Parties in Spanish, are free weekly workshops for Spanish-speaking parents.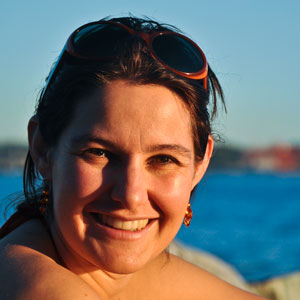 Fiestas de Alfabetización Temprana en Español, or Early Literacy Parties in Spanish, is a featured program hosted at the King County Library System (KCLS) branches and co-funded by the King County Library System Foundation. The Fiestas are not storytimes in Spanish, Spanish language classes, or parenting classes. Rather, they are eight-week series of free weekly workshops for Spanish-speaking parents and caregivers with children ages newborn to five designed to raise awareness of the importance of early literacy and to prepare children for school so they are not at a disadvantage.
In each of the Fiestas, families are provided with information about early literacy, free books in Spanish (one book per week per family), craft materials, snacks, beverages, and the opportunity to socialize with other Spanish-speaking families.
The activities are entirely conducted in Spanish by two native speakers who are trained facilitators. Participants learn about resources offered at KCLS libraries, including ESL, Talk Time, citizenship classes, the summer reading program, and the Ready to Read program. A thirty-minute library tour is included in the curriculum. Registration is not required, but space is limited to room capacity. To deal with the popular demand, a regulation system with participation coupons and a waiting list has begun in locations where attendance exceeds thirty individuals. Childcare is not available, but children are welcome and are always under the responsibility of their parents.
What makes this program unique? It is part of Outreach Services and is offered to the Latino population in King County to address the needs of this cultural group. Spanish is the second dominant language in the country, and Latinos are fastest growing ethnic group. Through Fiestas, KCLS is contributing to changing literacy habits in families and in homes where children have the benefit of being supported to be raised in a bilingual setting. The challenge is attracting new families—usually those with the lowest incomes—who have never been to a library.
The program has been tremendously successful reaching out to the Latino population in King County, with a low-cost, high-efficiency performance. The Fiestas started in 2006 as a pilot project. The program has been established and is now part of KCLS's centrally coordinated program roster. The average attendees per workshop has gradually increased over the past four years from 1.6 individuals per Fiesta in 2006, 6.0 in 2007, 12.6 in 2008, and reaching 13.7 individuals per workshop in 2009. In 2010, the program is attracting more than twenty individuals per workshop.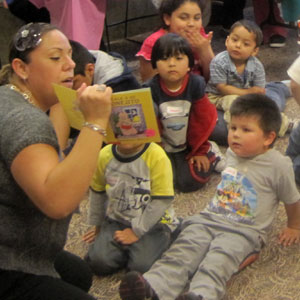 KCLS has an annual budget that supports sixteen workshops per year. The workshops are offered four times a year, in four branches at a time. School calendars and holidays are considered in defining the time intervals, as are geographical, demographics, statistics, and outcomes criteria in assigning sites. The program is managed by one part-time Early Literacy Fiestas Coordinator who recruits, trains, manages, and supports the facilitators. Other duties include acquiring all materials and incentive books, coordinating the yearly schedule, communicating with children's librarians to reserve rooms and provide library tours, promoting the program, and reporting statistics to the KCLS Foundation. There are two facilitators per site. They are paid contractors, trained as Fiestas facilitators. Their duties include conducting all Fiestas sessions, implementing the curriculum, arranging rooms, setting up and cleaning up facilities, reporting statistics to the coordinator, and attending training sessions. All trainings are paid time and mandatory. They are usually held on a Saturday at the beginning of each Fiestas session.
The curriculum is based on Literacy Learning Parties for 3-5 Year Olds: Trainers Guide by Ellen R. Daniels. The guide is the inspiration for a manual created in Spanish for facilitators. Literacy Learning Parties for 3–5 Year Olds: Activity Book has also been incorporated into the curriculum, adapting the activities to the Fiestas themes and changing activities according to program evolution.
Fiesta themes include:
1  Promoting Children's Language Development 1
2  Promoting Children's Language Development 2
3  Literacy through Play 1
4  Literacy through play 2
5  Choosing and Sharing Books, Rhymes, and Chants
6  Engaging Children in Writing
7  Learning the Alphabet, Letters and Sounds
8  Ways to Help Children Read
Incentives are purchased with KCLS Foundation funds, including: books in Spanish, one book per family per workshop (acquired at Scholastics); snacks and beverages (acquired at Costco).
Craft materials are classified with an inventory number and stored in containers. The materials are inventoried at the end of the series. All supplies are shipped out using KCLS's internal shipping department. At the end of the series, each participant is awarded with a certificate of attendance.
To promote the program, flyers with the information for each site are distributed to the branch site, schools, Head Start sites, local food banks, community centers, healthy community clinics, non-profits, Latino food stores, restaurants, churches, and so on. The publicity is also distributed through the KCLS website. A newsletter is sent to KCLS's distribution list, and each library publishes the event in their calendar.
An annual report is written to review and improve program performance. The program is evaluated using statistical figures, facilitators, and participant evaluation forms distributed at the end of each series. In 2009, a total of 1,756 participants (784 adults and 972 children) attend 128 Fiestas at sixteen different locations. The average Fiesta had fourteen attendees. We distributed 763 books and 205 Ready to Read guides in Spanish.
Parents have offered the following comments, reflecting the impact of this program on the King County Latino community:
I am spending more quality time with my children. I am more aware of how they learn, of how I can prepare them and of how to increase their interest in learning so that they can succeed in school.—Yari, Auburn
We read, sing, and or do craft activities every day. I have learnt different ways to help my children with their education. My child is now highly motivated in reading; we love the books that we get from you!—Gricelda, Auburn
My child had the opportunity to interact with children of his age. He has developed his language skills, his motor skills, and now he is capable to focus much more time in the activities we do.—Yolanda, Algona
My daughter used to be afraid of being with other people; she has become more sociable thanks to the Fiestas.— Lucila, Bellevue
It is really important to us that we have the opportunity to gather with other Spanish-speaking families in an educational setting and, in particular, learning together through books and songs.—Elis, Federal Way
For further information visit KCLS Fiestas website or contact Teresa Luengo Cid at tlcid@kcls.org.
Date / Time
Monday, August 2, 2010 - 15:30