June celebrates the important contributions gay, lesbian, bi-sexual, transgender and queer Americans have made in the community.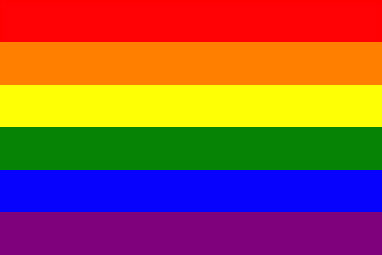 A June 1969 riot at the Stonewall Inn in Manhattan is often considered to be the beginning of the gay liberation movement in the United States. Launched in 2000, Gay and Lesbian Pride Month is held in June to commemorate this important event in lesbian, gay, bisexual, transgendered and queer (LGBTQ) history.
As the
National Women's History Project
puts it, "June is now the month of acceptance and the month to welcome diversity in communities regardless of sexual orientation. Gay and lesbian groups celebrate this special time with pride parades, picnics, parties, memorials for those lost from HIV and AIDS, and other group gathering events that attract thousands upon thousands of individuals. This month is meant to recognize the impact Gay, Lesbian and Transgender individuals have had on the world."
Library Programming
The Portland (Org.) Public Library partnered with Portland Pride to host a panel discussion and exhibit about the GLBT history in the 1970s. The library also hosted weekly LGBT movies on Thursday nights. Finally, the library staff marched with their Bookmobile in the Pride Parade and staff members passed out bookmarks with LGBT literature listed on them. 
The Library of Congress celebrated LGBTQ Pride Month with poetry readings by emerging poets of the GLBT community, a rare book open house, and a panel discussion about LGBTQ people in the military.  
Drag Queen Story Hour is an all-ages story time in which a drag queen reads stories with messages of love and acceptance. These events — many organized by the nonprofit, have been popular in schools, libraries and chilren camps. Tom Donlon, library director at the Port Jefferson (N.Y.) Free Library, held one in 2018 and gave feedback on his expierence.

 
Other Resources
The Library of Congress offers a wide range of LGBTQ resources, including "many books, posters, sound recordings, manuscripts, and other material produced by, about, and for the LGBTQ community. The contributions … are preserved as part of our nation's history, and include noted artistic works, musical compositions, and contemporary novels. The Library's American collections range from the iconic poetry of Walt Whitman through the manuscripts of the founder of LGBTQ activism in Washington, D.C., Frank Kameny."
KQED public television and radio has collected an extensive community guide to LGBT resources, including advocacy, arts, education, family and children, health and safety, and seniors.
Check out Oak Park (Ill.) Public Library's groundbreaking Transgender Resource Collection, which earned the library the 2010 Gordon M. Conable Award from the Public Library Association.
Date / Time
Tuesday, April 7, 2015 - 09:45
Library Type
Academic / College
Public
School (K-12)
Special
Job Functions
Resources and Program Starters
Audience
Adult
Children / Family
Older Adults / Seniors
Young Adult