Kentucky Kids Get Ekphrastic
You may not know what "ekphrastic" means, but these kids from west Kentucky could tell you.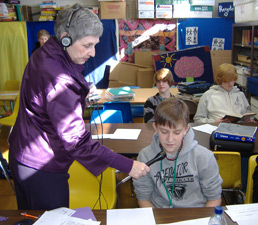 You may not know what the word "ekphrastic" means, but a host of kids from west Kentucky in grades three through nine could tell you.
Ekphrastic poems comment on another art form, such as painting, sculpture, or architecture. Through Picturing America grants from the National Endowment for the Humanities, schools in this eighteen-county region of far west Kentucky received poster-sized reproductions of art works that relate to American history. Using the images to inspire young writers, I conducted poetry writing workshops in the schools.
Students wrote then recorded their poems, and the recordings were broadcast by the region's National Public Radio affiliate, WKMS-FM, during daily "Poetry Minutes" in April to celebrate National Poetry Month. 
Some of the young writers were encouraged to follow the format of William Carlos Williams' poem "The Red Wheelbarrow." Using just sixteen words, they managed to capture images and feelings inspired by the art.
Maddie Balmer, Calloway County Middle School, looked at John James Audubon's "American Flamingo" and wrote:
The beauty is
outstanding
in the pink
flamingo
long legged and
scrawny
the great bird
walks.
Doug Reed, a ninth grader from Marshall County High School, found Emanuel Leutze's "Washington Crossing the Delaware" to be rich material for his short poem:
Small boat sailing
silently
through frigid blue
water
sun's bloody light
fading
behind the water's
edge
Fourth graders responded with vivid imagination to John Singer Sargent's "Portrait of a Boy, 1890." After viewing the picture and identifying observable facts, they read a short account of background related to the painting. The Acrostic form, using the first letter of the painting's title, resulted in dramatic monologues and dialogues between the boy in the painting, Homer St. Gaudens, and his mother, Augusta. Some of them expressed the viewpoint of the artist.
Phoebe Shown, a fourth-grade student at Murray Middle School, wrote her Acrostic this way:
Please, Augusta, make him smile and sit up!
Odd Augusta isn't doing anything about this.
Regret he will when he sees the picture.
Tomorrow, hopefully I will be done.
Reckless little child …
At Reidland Elementary School, fourth and fifth graders tackled the same assignment with "Portrait of a Boy." Olivia Butterworth imagined a conversation between artist and subject. It begins this way:
Please sit still so we can get this
Over with
Right now
Treat your mother with some
Respect, Homer …
The Academy of American Poets also showcases ekphrastic poems.
Date / Time
Wednesday, April 21, 2010 - 17:15
Job Functions
Resources and Program Starters