National Library Week: Libraries Transform
Every day, libraries of all types prove that they are powerful agents of community change. Show your pride during National Library Week.
Every day, libraries of all types prove that they are powerful agents of community change.
No longer just places for books, libraries now offer a smorgasbord of free digitally-based programs and services, including 3-D printing, ebooks, digital recording studios and technology training.National Library Week will be observed April 10-16, 2016 with the theme, "Libraries Transform."
First sponsored in 1958, National Library Week is a national observance sponsored by the American Library Association (ALA) and libraries across the country each April. It is a time to celebrate the contributions of our nation's libraries and librarians and to promote library use and support. All types of libraries — school, public, academic and special — participate.

Celebrations during National Library Week include:
National Library Workers Day
, celebrated the Tuesday of National Library Week (April 12, 2016), a day for library staff, users, administrators and Friends groups to recognize the valuable contributions made by all library workers; and
National Bookmobile Day
, celebrated the Wednesday of National Library Week (April 13, 2016), a day to recognize the contributions of our nation's bookmobiles and the dedicated professionals who make quality bookmobile outreach possible in their communities.
On Monday, April 11, the 2016 State of America's Libraries Report will be released.  The report includes the  much-anticipated list of Top Ten Most Challenged Books of the previous year, compiled by the American Library Association's Office for Intellectual Freedom.
Gene Luen Yang, an award-winning graphic novelist and the 2016-2017 National Ambassador for Young People's Literature, is honorary chair of National Library Week. His 2006 book, "American Born Chinese," was the first graphic novel to be a finalist for a National Book Award and the first to win the American Library Association's Printz Award. It also won an Eisner Award for Best Graphic Album.
This year's celebration will be linked to the
ALA's Libraries Transform campaign
, which is designed to increase public awareness of the value, impact and services provided by libraries and library professionals.
Every day, librarians are transforming their communities.
They include Andy Plemmons, a school librarian at David C. Barrow Elementary in Athens, Georgia, who encourages his students to reach beyond the walls of the schools to connect with a global audience.
He said, "I share our work on a daily basis through social media, but we also seek out opportunities for students to develop projects that allow a global audience to interact with us. One example is our Barrow Peace Prize project with 2nd graders where students participate in a Google Hangout with me to develop criteria for the prize. They write persuasive pieces about 5 people from history and record themselves via Flipgrid. We invite online voting from people around the world and have a celebratory Skype session with the developers of Flipgrid. One student even designed a peace prize medal to 3D print, which now hangs in the Flipgrid office with their other awards."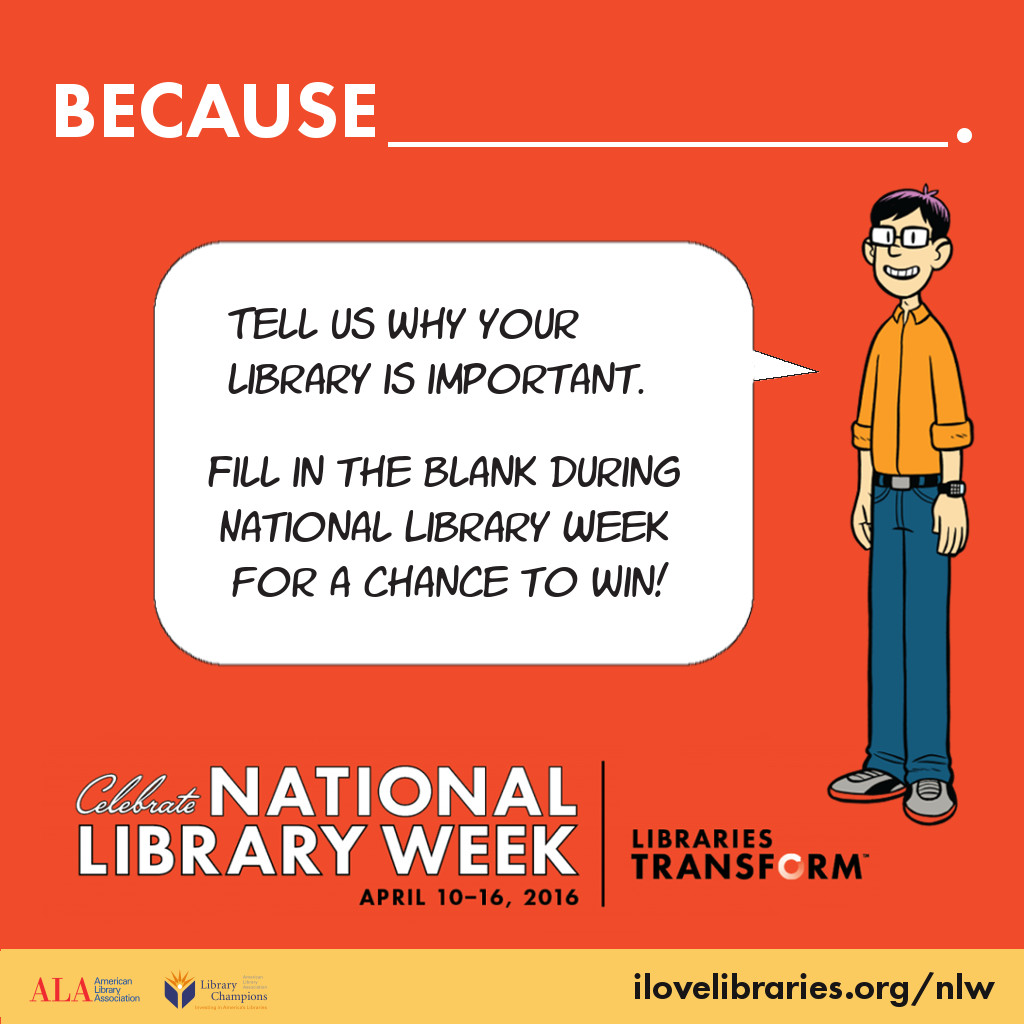 We encourage everyone to join the National Library Week celebration by visiting your public, school or academic library. Libraries across the country are planning special events. You can also participate on social media by taking part in our "Because______________#LibrariesTransform" promotion.
One of the central elements of the Libraries Transform campaign is the series of Because Statements, which illustrate why libraries are transforming – examples include, "BECAUSE LEARNING TO READ COMES BEFORE READING TO LEARN."  We're asking library lovers to create their own Because Statements during National Library Week by filling in the blank to tell us why libraries matter. One randomly selected winner will receive a $100 gift card and a copy of  "Secret Coders," by Mike Holmes and Gene Luen Yang, our National Library Week Honorary Chair.
Entries can be posted to Twitter, Instagram, or on the I Love Libraries Facebook page during National Library Week for a chance to win. Entries can be a picture or text.  Creativity is encouraged. Just be sure to include the word "Because" and the hashtag #LibrariesTransform for a chance to win. Entries can also be submitted directly to the Libraries Transform website. 
The promotion begins Sunday, April 10 at noon CT and ends Saturday, April 16 at noon CT.  
Visit our National Library Week page for details and to learn about more ways to celebrate.
This article was originally published by I Love Libraries.
Date / Time
Monday, April 4, 2016 - 12:30
Job Functions
Resources and Program Starters