National Library Week 2021
This year's National Library Week theme promotes the idea that libraries extend far beyond four walls.
The theme for National Library Week (April 4-10, 2021), "Welcome to Your Library," promotes the idea that libraries extend far beyond the four walls of a building — and that everyone is welcome to use their services.
During the pandemic libraries have been going above and beyond to adapt to our changing world by expanding their resources and continuing to meet the needs of their users. Whether people visit in person or virtually, libraries offer opportunities for everyone to explore new worlds and become their best selves through access to technology, multimedia content and educational programs.

---
Natalie Portman is 2021 National Library Week honorary chair
Actress, author and activist Natalie Portman is lending her star power to shine a spotlight on our nation's libraries as the honorary chair of National Library Week 2021. She will help highlight the essential role libraries, librarians and library workers play in serving their communities, especially during challenging times. A lifelong fan of books, she shares the books she's reading on her Instagram feed, as part of Natalie Portman's Book Club, using the hashtag #whatnatreads. Natalie Portman's "Fables" is her debut picture book.
---
Celebrations during National Library Week
Monday, April 5: State of America's Libraries Report released, including Top Ten Frequently Challenged Books of 2020.
Tuesday, April 6: National Library Workers Day, a day for library staff, users, administrators and Friends groups to recognize the valuable contributions made by all library workers.
Wednesday, April 7: National Library Outreach Day, a day to celebrate library outreach and the dedicated library professionals who are meeting their patrons where they are.
Thursday, April 8: Take Action for Libraries Day, a day to rally advocates to support libraries.
Librarians: Check out our Day-By-Day Guide to Celebrating National Library Week 2021
---
Ways to Celebrate National Library Week
Visit your library [online]
​​Whether you're visiting in person or virtually, libraries offer the opportunity to explore new worlds through access to technology, multimedia content, and educational programs. Take time to connect with your library during National Library Week to see all they have to offer.
Participate in the #MyLibraryIs promotion on social media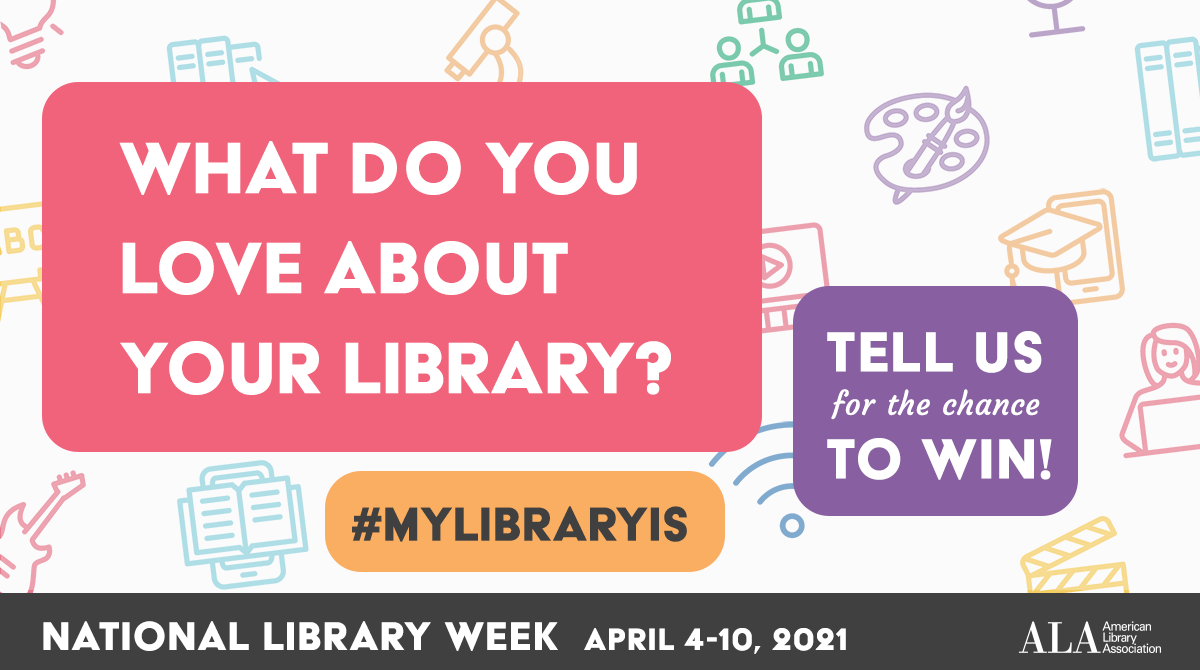 Celebrate National Library Week 2021 by sharing what you love about the resources and services available at your library. Post to Instagram, Twitter, or on the I Love Libraries Facebook page, about an e-book, audiobook, virtual storytime or bookclub, or how your library has made a difference while you've been social distancing at home. Use the hashtag #MyLibraryIs. We'll gather all the entries, and one randomly selected winner will receive a $100 Visa gift card. The promotion starts Sunday, April 4 at noon CT and ends on Saturday, April 10 at noon CT. Don't forget to tag your library!
If you love your library, say it loud and proud: vocal community support helps libraries secure much-needed funding and reminds hardworking library staff that their efforts are appreciated. Participating in the #MyLibraryIs promotion is a quick, easy way to help your library thrive!
Follow your library, ALA, and I Love Libraries on social media
Be sure to follow your library on social media so you don't miss out on all they have to offer, including the most reliable information about keeping your family safe during these uncertain times.
Post one of our available graphics to your social media account and join the conversation by using the hashtags #NationalLibraryWeek and #LibrariesTransform.
Don't forget to follow the American Library Association and I Love Libraries on social media!
Help spread the word about our #MyLibraryIs promotion by sharing these graphics on your social media channels.
---
Free tools to celebrate
Activity Pages
---
Graphics
Natalie Portman graphics 
Post these National Library Week Natalie Portman graphics on your social media pages, blogs and websites!
Graphics with the "Welcome to Your Library" theme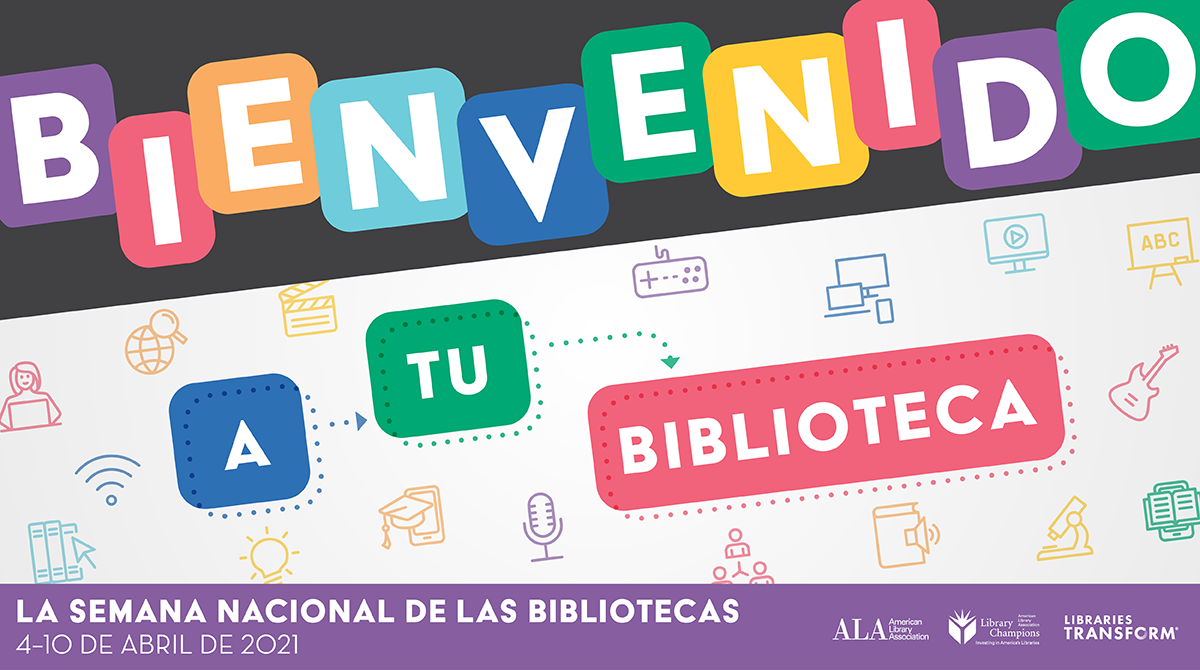 Share these "Welcome to Your Library" graphics on your websites, social media channels, e-newsletters and more!
Canva template to promote resources available at your library
---
National Library Week materials from ALA Graphics
The National Library Week poster and other promotional materials featuring the "Welcome to Your Library" theme are available for purchase through the ALA Store; T-shirts, totes, and other print-on-demand items are for sale at bit.ly/GraphicsGiftShop.
ALA Store purchases fund advocacy, awareness, and accreditation programs for library professionals worldwide.
---
About National Library Week
National Library Week is an annual celebration highlighting the valuable role libraries, librarians, and library workers play in transforming lives and strengthening our communities.
In the mid-1950s, research showed that Americans were spending less on books and more on radios, televisions and musical instruments. Concerned that Americans were reading less, the ALA and the American Book Publishers formed a nonprofit citizens organization called the National Book Committee in 1954. The committee's goals were ambitious.  They ranged from "encouraging people to read in their increasing leisure time" to "improving incomes and health" and "developing strong and happy family life."
In 1957, the committee developed a plan for National Library Week based on the idea that once people were motivated to read, they would support and use libraries. With the cooperation of ALA and with help from the Advertising Council, the first National Library Week was observed in 1958 with the theme "Wake Up and Read!"  The 2018 celebration marked the 60th anniversary of the first event.
Read more about the history of National Library Week at American Libraries magazine, and check out the list of past National Library Week themes.
Future National Library Week dates:
2022: April 3-9
2023: April 23-29
2024: April 7-13
Questions? Contact campaign@ala.org.
Date / Time
Monday, March 22, 2021 - 10:15
Library Type
Academic / College
Public
Rural
School (K-12)
Special